Was ist EZBIS?
EZBIS Office ist ein einzigartig gestaltetes Chiropraktik-Software-Paket für Chiropraktik Praxis-Management, kombiniert einfache Verwendung mit einem voll automatisierten und High-Tech-Software-System. Chiropraktiker können die Kombination von Merkmalen wählen, die sich an die Bedürfnisse ihrer Praxis am besten anpassen. EZBIS bietet Module für Patientenabrechnung und Fakturierung, Sammlung-Werkzeuge, Terminplanung, elektronische Patientenakten und Patienten Self-Check-in. ONC-zertifiziert für die sinnvolle Nutzung von Incentives.
Wer verwendet EZBIS?
EZ BIS ist Entwicklungs- und Marketing-Software, die sich seit 1980 speziell an die Chiropraktik-Industrie richtet.
Wo kann EZBIS bereitgestellt werden?
Cloud, SaaS, webbasiert, Windows (Desktop), Windows (On-Premise), Linux (On-Premise)
Über den Anbieter
EZBIS
Ansässig in Lafayette, USA
1980 gegründet
Telefon-Support
Chat
Erhältlich in diesen Ländern
Kanada, Vereinigte Staaten
Über den Anbieter
EZBIS
Ansässig in Lafayette, USA
1980 gegründet
Telefon-Support
Chat
Erhältlich in diesen Ländern
Kanada, Vereinigte Staaten
EZBIS – Videos und Bilder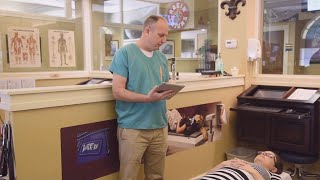 Kosten ähnlicher Produkte wie EZBIS vergleichen
EZBIS Funktionen
Abrechnung & Rechnungsstellung
Automatisierte Terminplanung
Bestätigung / Erinnerungen
Compliance im Gesundheitswesen
Debit-/Kreditkartenverarbeitung
E-Mail Marketing
Ergebnisbewertungstools
Erinnerungen
Für Chiropraktiker
HIPAA konform
SOAP-Notizen
Terminplanung
Terminverwaltung
Verwaltung von Patientenakten
Zahlungsabwicklung
Übungs-Management
Dianne
Office Manager in USA
Verifizierter Nutzer auf LinkedIn
Verwendete die Software für: Mehr als 2 Jahre
I have been using EZBis for over 20 years and they still surprise me with their innovative updates
Kommentare: electronic billing right now- going to implement the treatment notes next, and get more familiar with the other software options.
Vorteile:
It is easy to understand & use, and customer service reps are always patient and helpful. They are always creating new ways to help the doctor & staff do thier jobs more thoroughly.
Nachteile:
It takes a few tries to be able to implement something new- I am not good with 'computer language' so I have trouble finding the right areas on my computer to transfer files to.
Alternative Medizin, 2-10 Mitarbeiter
Verwendete die Software für: Mehr als 2 Jahre
In Betracht gezogene Alternativen:
Always Improving
Kommentare: Great software and always good support to answer any questions you may have.
Vorteile:
I have been using EZ Bis software for over 25 years now! Every year they come out with new updates to improve the software in order to keep up with all the latest and greatest technology. My staff have been able to learn EZ Bis software quickly and there is always plenty of training and tutorials available. Over the years I have looked at other software and could not justify why I would make a change when EZ Bis works so well and I do not have to pay high monthly fees.
Nachteile:
I have tried to use the soap notes but found them to be difficult to learn and set up. So , I do not use EMR.
Antwort von EZBIS
letztes Jahr
Thanks for the review James. Glad to hear you are getting use out of our free help tools and webinars which are readily available for all of our customers. EMR's can be tricky but with a training from our team and help setting up note items and groups, you can be up and charting electronically in no time. If you decide to look into this portion of the program again, give us a call. We've made some major improvements.
Gesundheit, Wellness & Fitness, 2-10 Mitarbeiter
Verwendete die Software für: Mehr als 1 Jahr
Quelle: SoftwareAdvice
Could be a lot better
Kommentare: It's okay. I'm not about to rave to a colleague about how awesome this software is because there is a lot of room for improvement. It looks like you have everything you might need but I wonder if the speed and functionality of the software is affected by how much stuff you have in it. I would love to drop off a lot of things if I could get it to run faster.
Vorteile:
I like that it has access to the ICD-10 codes.
Nachteile:
1. It's too slow!!! - I sit there and click a tab and wait and watch the blue circle spin while it loads up. I had hoped to have a software that I could use in real time while a patient is in front of me but the process is too slow and cumbersome to do that so I have to write my notes later on which is not ideal. 2. There's too much- The SOAP notes program has so many features that I don't use. Maybe they are good in a super large office but not ours. I would estimate that I don't use about 60-70% of the features. Mostly because the software takes too long. 3. It's not portable- I had hoped to have a program that I could take with me from room to room so that I could do the notes in real time on a tablet or something like that. Unfortunately this isn't the case. 4. Training- I was not impressed with the in-person training session. Much of what I do on this product, I feel that I had to learn myself.
Antwort von EZBIS
letztes Jahr
Dr. V, it sounds like something is not right. The software should not be sluggish as you describe. The performance is excellent for our other users. Also, it is definitely possible to have the mobility that you are looking for. Please give us a call so that we can determine what is causing the slowness and to show you how to make EZBIS mobile.
Emerson
Chiropractor in USA
Gesundheit, Wellness & Fitness, Selbstständig
Verwendete die Software für: 1-5 Monate
In Betracht gezogene Alternativen:
EZBis has it all
Kommentare: Overall, EZBis is a very easy platform to learn, implement, and use. I have used it before in years past and just purchased the entire platform late in 2020, and I am still learning all the features. It has already begun to save me time and energy, and I know it will provide more of that the more I learn all the features. Overall, I could not be more pleased.
Vorteile:
I love every feature of the EZBis software. The notes are easy and have every feature needed to keep accurate daily SOAP notes. I have used many software packages in the past, including PracticeSuite, ChiroTouch and many others. EZBis has the features that I enjoyed the most, and they keep upgrading and innovating via client suggestions. There are many features I still have yet to figure out, but the tutorials, manuals and trainings are extremely helpful.
Nachteile:
The only feature I would like to see, since I know documentation necessity very well, it the ability for the EHR to have a more easily customizable combination use box for choices when writing your SOAP notes. Otherwise, I have no cons to the platform at all.
Mindy
Office Manager in USA
Gesundheit, Wellness & Fitness, 2-10 Mitarbeiter
Verwendete die Software für: Mehr als 2 Jahre
EZBIS is superior to other chiropractic software services.
Kommentare: EZBIS is always updating their software with new features and upgrades. The staff is very knowledgeable on every aspect of the software, unlike other medical software companies. If you have a question or concern, EZBIS gets you an answer immediately. Their tech support goes above and beyond to help you. You cannot find a company like this anywhere else!
Vorteile:
I have been using EZBIS for 19 years. The scheduling and billing aspect of their software is far superior to other chiropractic softwares. EZBIS is easy to view, easy to understand and to train others on. EZBIS is user friendly with many features that will help you run your office effectively and accurately. The Collection desk makes receiving payments with a click of a button. All payments are applied to the patient per claim with ease.
Nachteile:
Many chiropractic offices are hiring naturopath doctors into their chiropractic practices. I would like to see the EHR upgraded to include naturopaths. Naturopathic doctors use more medical language and I would love to see this added to EZBIS to make every doctor happy in our office. Otherwise, the chiropractic EHR is excellent.