Was ist ChildWatch?
Ausgezeichneter Wert mit vielen Funktionen. Mit den monatlichen cloudbasierten Kinderbetreuungsmanagementdiensten für PC, Mac oder mobile Geräte kannst du schnell loslegen. Lösungen für Unternehmen jeder Größe, die QuickBooks-Kompatibilität, Mitarbeiter-Stempeluhr, Messaging und Veranstaltungskalender, elektronische Zahlungen, Erfassung mobiler Mahlzeiten und mehr anbieten. Kostenlose Demo und eine 60-tägige Zufriedenheitsgarantie. Umfassende CACFP-Schadensbearbeitungsfunktionalität. Kostenlose Schulungen, Aktualisierungen und Unterstützung
Wer verwendet ChildWatch?
Kinderbetreuung, Kirchen, Vorschulen, Herbergen für Gefährdete, Vor-/Nachschulprogramme.
Wo kann ChildWatch bereitgestellt werden?
Cloud, SaaS, webbasiert, Mac (Desktop), Windows (Desktop), Linux (Desktop), Windows (On-Premise), Linux (On-Premise), Chromebook (Desktop)
Über den Anbieter
Remarkable Systems
1992 gegründet
Telefon-Support
Chat
Erhältlich in diesen Ländern
Vereinigte Staaten
Über den Anbieter
Remarkable Systems
1992 gegründet
Telefon-Support
Chat
Erhältlich in diesen Ländern
Vereinigte Staaten
ChildWatch – Videos und Bilder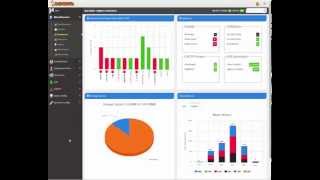 Kosten ähnlicher Produkte wie ChildWatch vergleichen
ChildWatch Funktionen
Abrechnung & Rechnungsstellung
Anmeldung / Onboarding
Elternportal
Kalenderverwaltung
Kommunikationsmanagement
Lebensmittel- / Ernährungs-Management
Mitarbeitermanagement
Mitglieder-Datenbank
Registrierungs-Management
Self-Check-in/-Check-out
Verfolgen der Teilnahme
Zahlungsabwicklung
Alternativen für ChildWatch
Bewertungen über ChildWatch
Bildungsmanagement, 11-50 Mitarbeiter
Verwendete die Software für: Mehr als 2 Jahre
Amazing Product for a Childcare Facility!
Kommentare: Fantastic!
Vorteile:
Childwatch has been a life saver when it comes to being user friendly for staff, families and myself. My administrator staff really loves the amount of data we can provide on childwatch to give us the reports we need, as far as tracking attendance and their billing aspect on the software. The attendance feature makes sure that we are accounting for the children in our facility and billing where is needed. It also allows us to know where our children vs staff ratio needs to be for the day. Our billing feature lets us set up everything per family house hold instead of individual clients which is very time saving for our families. Also I personally love the amount of information I can submit about my staff. Anytime I have had a question and I reach out to Childwatchs support time I receive a response the day of, so no day delay is amazing!
Nachteile:
As a child care facility we need a fully function software that utilizes CACFP functions. Unfortunately right now childwatch is in the works of providing that. Once its up and running there is no comparison!
Antwort von Remarkable Systems
vor 2 Jahren
Thank you for your kind words. We are please to hear our software solution is working well for your business and staff. As of March 2020, the remainder of our extensive CACFP functionality will be updated to reflect the new meal patterns.
Luke S.
Program Coordinator in USA
Bildungsmanagement, 11-50 Mitarbeiter
Verwendete die Software für: Mehr als 2 Jahre
Quelle: SoftwareAdvice
Childwatch review
Kommentare: Again there is not a perfect software out there. Childwatch is a great value for the money and is especially great for smaller programs. Each time we had an issue it was very quickly resolved with support from the childwatch team. I have nothing but nice things to say about the software and the team of people working there.
Vorteile:
The software is very easy to learn, use and train others to use. There are a lot of features for cost which is a great bonus when you are on a tight budget.
Nachteile:
There is not a perfect software out there but for the cost Childwatch is a really great option. I think the biggest problem that we encountered was on the check in/out interface with parents having issues. Some of these were most likely user errors and some wifi capability issues.
Tom V.
Vice president in USA
Bildungsmanagement, 2-10 Mitarbeiter
Verwendete die Software für: 1-5 Monate
Quelle: SoftwareAdvice
Basic software, terrible support, no help, canceled
Kommentare: Very poor, not intuitive and wasted my time. I canceled it and they seem not to care at all. Not recommended. Limited program, thought it would be sufficient but it was poorly written and not supported. Avoid.
Vorteile:
The A/R features were somewhat useful. Sign in seems well thought out though biometrics not supported.
Nachteile:
Support and training sucked. Paid phone support only. Had to submit written questions and wait for answers on a limited schedule. If the program crashed you were out of luck. No searchable help. Online training minimal. We had live training sessions with people who did not know the program. Program is rather simplistic yet not clear at all and I am very experienced using software, writing software, etc. Inexpensive but still not worth it. Also no connection to Quickbooks Cloud.
Antwort von Remarkable Systems
vor 3 Jahren
Thank you for providing your feedback. Sometimes reviews are constructive and provide valuable information for future buyers to make an informed decision. Other times, they are so negative one might question their accuracy & motive.... That said, we are truly sorry that your experience with our services didn't match your expectations. As you can see on other reviews, we are known for providing excellent customer service and taking ownership. We do care deeply about our customers' success with our services. We always aim to deliver a great experience and are gutted when our efforts fail. Thanks again for taking the time to bring this to our attention. We will use the feedback to make us better and to ensure this doesn't happen again.
Stephanie H.
Owner in USA
Verwendete die Software für: 6-12 Monate
The Childwatch system is a good software to use if you have a business in the childcare industry.
Vorteile:
I liked the ability to use different programs and or rooms for the different ages. I like the ability to add photos for the kids and parents. I especially liked the calendar and parent portal.
Nachteile:
My business is a drop in childcare so we had to manipulate the system quite a bit in order to accommodate hourly billing with the many different specials and programs we run here at the drop in child care center. We knew that from the beginning and tech support was very helpful in showing us how to do the things we needed to do in order to make it work for our center.
Carmen B.
HR/Administration in USA
Verwendete die Software für: 6-12 Monate
ALL DAYCARE PROVIDERS SHOULD BE USING THIS SYSTEM! We are able to manage our day-to-day operations
Vorteile:
Our parents & employees were able to easily clock-in/out on any device and had access to the information, features specific to their role. We were able to easily record transitions, milestones, daily sheets, meal counts and so much more.
Nachteile:
Nothing... Our Parents and staff can access everything in their portal from any device at any time. It made keeping up with attendance, ratios and the knowledge of knowing that was present in the center at all times.