Was ist CDM+?
Bietet Kirchen seit 30 Jahren integrierte und innovative Datenverwaltung. Zugriff aus dem Büro, über die Website oder Mobilgeräte auf Daten zu Mitgliedern, Beiträgen, Buchhaltung und Gehaltsabrechnung, Veranstaltungsregistrierung, Einrichtungen und Check-in/Check-out. Außerdem einfach zu bedienende Tools für Online-Spenden, Mitgliederverzeichnisse für Veranstaltungsregistrierungen und Massenkommunikation. Konfigurierbar für deine Bedürfnisse: Mac, Windows, iOS, Android * Lokale oder Cloud-Datenspeicherung * Ab 35 $/Monat.
Wer verwendet CDM+?
CDM+ bietet Lösungen für Gemeinden, Glaubensgemeinschaften und gemeinnützige Organisationen.
Wo kann CDM+ bereitgestellt werden?
Cloud, SaaS, webbasiert, Mac (Desktop), Windows (Desktop), Android (mobil), iPhone (mobil), iPad (mobil)
Über den Anbieter
Suran Systems
1987 gegründet
Telefon-Support
Erhältlich in diesen Ländern
Kanada, Vereinigte Staaten
Über den Anbieter
Suran Systems
1987 gegründet
Telefon-Support
Erhältlich in diesen Ländern
Kanada, Vereinigte Staaten
CDM+ – Videos und Bilder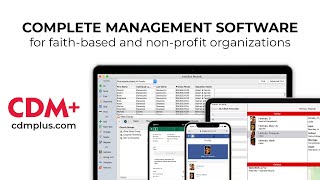 Kosten ähnlicher Produkte wie CDM+ vergleichen
CDM+ Funktionen
Finanzberichterstattung
Fondsrechnung
Forderungen
Freiwilligen-Management
Für religiöse Organisationen
Hauptbuch
Integration in die Buchhaltung
Kleingruppenmanagement
Kontenabgleich
Mitgliederkommunikation
Mitgliederverzeichnis
Mitgliedschaft-Management
Online-Kalender
Online-Spenden
Pfand-Management
Spenden-Management
Veranstaltungsmanagement
Verbindlichkeiten
Verfolgen der Teilnahme
Richard
Regional Minister in USA
Verifizierter Nutzer auf LinkedIn
Verwendete die Software für: Mehr als 2 Jahre
CDM+ is an excellent software for managing congregational membership data.
Vorteile:
A variety of modules allow you to link information about individuals and families including their attendance, giving, and groups with which they are associated. A mobile version of the software provides access to much of the data on mobile phones. Suran Systems continually improves and upgrades the software adding new features. Their support team is responsive, attentive, and cordial.
Nachteile:
Not all pieces of the software are immediately intuitive, such as learning how to run reports that combine different data. So there is some learning curve. However, Suran provides regular training webinars and other helps online and their annual users conference is excellent.
Mary Lynn
Inactive CPA-Review/Audit in USA
Buchhaltung, 2-10 Mitarbeiter
Verwendete die Software für: Mehr als 2 Jahre
From the Perspective of an Auditor/Reviewer
Kommentare: I review all of the churches in our Diocese (83) and create a report for the church and Diocese as to how CDM is used or not used to provide accurate and reliable accounting information. There are suggestion for improvements. I also do training - one on one and presentations at our annual Bookkeepers Conference. I am a resource person for the bookkeepers if they have specific bookkeeping questions.
Vorteile:
The ability to create a Chart of Accounts to match the reporting requirements for the Diocese and provide meaningful information to the pastor, parishioners, and Finance Council. The input screens are similar in each of the modules which is helpful for new users.
Nachteile:
There are areas of the program that a bookkeeper can override good internal control procedures. Example: data can be coded to accounts marked "Inactive." Accounts can be marked "Inactive" when there is still a balance in the account. When the Contribution Module is set to post to the General Ledger, the bookkeeper can still enter donations that do not tie to the General Ledger.
Medina
Pastors Wife in USA
Verwendete die Software für: Nicht angeboten
Bad beginning
Kommentare: We switched to a church program rather than quick books mostly to help with minister taxes and payrolls. The person at CDM that set it up did it ALL WRONG. He obviously did not know what he was doing. When we started to do our minister taxes in 2015 ( for 2014) we had to redo the whole year. All the fling with the government and correct the program reports, etc. Since we didn't find the errors until April 2015, and tried to correct 2014 and 2015, however, there is still bad errors for the government in 2016 (for 2015) that we are having to redo and refile tax forms for the government. The customer service has been helpful in correcting this, but overall, the program has been a major night mare for me with lots of tears. It has been a difficult program to learn. I am good at book keeping and done this sort of thing for many years, but I DO NOT LIKE THIS PROGRAM. I WOULD NOT RECOMMEND IT TO ANYONE. It is not user friendly and I wish that we had never gotten it. It is kind of hard to start over with a new program, and maybe we just had a very BAD beginning, but I wish we were not using it. Sorry. I have never posted a bad review but this one has been a night mare with refilling all the forms for the government and trying to correct. It would have been better to never use them. I'm thanking that my husband has more patience than me in spending the numerous days and hours and even weeks to correct the night mare.
Chris
Executive Pastor in USA
Verwendete die Software für: Nicht angeboten
CDM has truly revolutionized the way we track ALL areas of ministry and finances!
Kommentare: CDM has truly revolutionized the way we track ALL areas of ministry and finances I have been using CDM on a daily basis for the past eight years. Over the years I have watched as the software has grown and adapted to fit the church of today. We use CDM for several things: Attendance ' we track attendance for our sanctuary services, small groups, youth, children, and ministry teams. Address and Individual Records - Any files we have in regard to a member are housed inside this record for easy access. We image membership cards, baptism certificates, baby dedication certificates, marriage ceremonies, marriage licenses, background checks, wills, and pictures. Any documents we need to house can be easily filed, searched, and recalled. Mobile Applications ' I have the ability to customize how any device in our church can access our data. Our small group leaders can see attendance, phone, email, and addresses for only those who attend their group. They also log the attendance each time their group meets. Our staff can access phone, email, address, and attendance for all our members and enter visitation records, pastor records and attendance for any group they are enrolled in. From my phone I can even see the giving history for the past year on all our members. Children/Security ' Check In/Check Out allows us to print nametags and barcode receipts for all children as they enter our children's ministry area. By checking the students out using the barcode I can generate reports detailing when a child was dropped off and picked up and by what authorized adult. We have generated this report and it has been used in court for custody cases. Payroll ' Incredible tracking ' updates every time you open to ensure you are using the current tax tables. Our W2s and 1099s are complete in a matter of moments! Contributions ' We image every check that is given. The software auto loads the donor based on the check number it reads from the scanner. Contribution reports are a breeze and the reports are endless we can create. Accounting ' Incredibly user friendly and versatile. We pay all bills with ease and create amazing custom reports that answer and financial scenario you can come up with. Customer services is never an issue, the tech support team members are always personable and ready to stay with you until your questions are answers. Without hesitation I would recommend CDM!
Erlinda
Secretary/Administrator in USA
Religiöse Einrichtungen, 2-10 Mitarbeiter
Verwendete die Software für: Mehr als 2 Jahre
I find CDM+ to be extremely user friendly. When I cannot figure it out, I call CDM. Always helpful.
Kommentare: It works! Therefore, it makes my job easier!
Vorteile:
Again, it is very user friendly. I am a seasoned, but not sophisticated user. I am so grateful for their support system. Sometimes I use it a lot! We have used CDM+ for nearly 20 years. At times, people on "committees" have suggested other software. I don't know if I am being loyal or stubborn, but as far as I am concerned, the "system" isn't broken, so there is nothing to fix. I have convinced us to stay with CDM+!!! I like the softward, I like the programs.
Nachteile:
Sometimes, we have difficulty upgrading. Not sure if the problem is with CDM/Suran, or our computer system. I don't dislike it at all, because I always call them for help when it is time to upgrade! They always deliver. We have used CDM+ for nearly 20 years