Was ist CargoWise?
CargoWise ist eine leistungsstarke, tief integrierte Logistik-Plattform, die den globalen Handel vereinfacht.
CargoWise ermöglicht Logistikdienstleistern die Ausführung hochkomplexer Transaktionen in den Bereichen Spedition, Zollabfertigung, Lagerhaltung, Versand, Sendungsverfolgung, Landtransport, internationale E-Commerce und grenzüberschreitende Compliance - um nur einige zu nennen. So können sie ihre Betriebsabläufe auf einer zentralen Datenbank über mehrere Benutzer, Funktionen, Länder, Sprachen und Währungen hinweg verwalten.
Weitere Informationen finden Sie unter www.cargowise.com.
Wer verwendet CargoWise?
Die Bandbreite, Qualität und Funktionsfähigkeit von CargoWise ist speziell auf die Bedürfnisse der größten Logistikunternehmen weltweit ausgerichtet.
Wo kann CargoWise bereitgestellt werden?
Cloud, SaaS, webbasiert
Über den Anbieter
WiseTech Global
1994 gegründet
Telefon-Support
24/7 Live-Support
Chat
Erhältlich in diesen Ländern
Australien
Sprachen
Nicht vom Anbieter bereitgestellt
Über den Anbieter
WiseTech Global
1994 gegründet
Telefon-Support
24/7 Live-Support
Chat
Erhältlich in diesen Ländern
Australien
Sprachen
Nicht vom Anbieter bereitgestellt
CargoWise – Videos und Bilder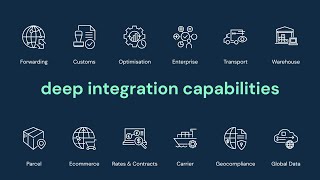 Kosten ähnlicher Produkte wie CargoWise vergleichen
CargoWise Funktionen
3PL-Management
Alarmfunktion / Benachrichtigungen
Auftragsabwicklung
Auftragsmanagement
Auftragsverfolgung
Berichterstattung / Analyse
Buchhaltung
CRM
Dokumentenmanagement
E-Commerce-Management
Für den Güterverkehr
Import- / Export-Management
Inventarverwaltung
Kundenmanagement
Kundenportal
Lagerhaus-Management
Lieferpreisberechnung
Lieferprotokoll
Luftfracht
Raten-Management
Rechnungsmanagement
Sendungsverfolgung
Statusverfolgung
Transportmanagement
Versand auf dem Landweg
Versand-Management
Versandetiketten
Versandmanagement
Webseitenintegration
Alternativen für CargoWise
Bewertungen über CargoWise
Verifizierter Rezensent
Business Owner - Licensed Customs Broker in USA
Verifizierter Nutzer auf LinkedIn
Verwendete die Software für: Mehr als 2 Jahre
It is a good software but they need better videos for training
Kommentare: It offers everything a user would need to run their business for a fair price. It has different functions that you can use when needed and only get charged for the usage. It is user friendly.
Vorteile:
It has a lot of room to grow. Meaning you can make changes to it when you need to use different functions.
Nachteile:
The accounting side needs more training videos. You have to file e-requests and contact call them to resolve and issue.
Antwort von WiseTech Global
vor 4 Jahren
Hello, thank you for sharing your comments! Our WiseLearning team would like a bit more detail from you in order to identify any possible gaps with our training videos. Would you be willing to send a direct email to my attention at info@wisetechglobal (dot) com with specific area you reference? Many thanks, Jennifer.
Verifizierter Rezensent
DevSecOps Manager in UK
Verifizierter Nutzer auf LinkedIn
Transport/Güterfrachtverkehr/Schienenverkehr, 501-1.000 Mitarbeiter
Verwendete die Software für: Mehr als 2 Jahre
In Betracht gezogene Alternativen:
Great product, but....
Kommentare: Benefits realization are easily possible, and anyone here who has said otherwise has definitely made a mistake in their own deployment. With that said, this system is tricky to configure and their customer service do not make it easy at all. However, if you - as a company - are prepared to invest and get behind this product, I would say hand on heart, this product can and will deliver for you.
You do need to have a competent team of IT professionals and Business Analysts to make this a success, however, any software deployment usually requires the same.
Vorteile:
Features, configurability, DB Structure, Cloud Architecture, EDI facilities
Nachteile:
Customer Service is awful, training content doesn't dive deep enough into super technical areas. A lot to learn which can be a struggle for small teams unwilling to invest.
Swati P.
Manager- Logistics in Indien
Logistik & Lieferkette, 201-500 Mitarbeiter
Verwendete die Software für: Mehr als 1 Jahr
Thinking of changing your Freight Forwarding Software to Cargowise One ? Pl. consider this.
Kommentare: CW1 - a story of undelivered promises...
Key reason for choosing CargoWise One as the company's ERP, was to realize substantial savings in resources time & cost. However, even after a year of implementation we've seen only costs escalating.
Vorteile:
1. It is an end to end one stop software. 2. It has a pretty good customer facing 'Track and Trace' feature. 3. Decent accounting package.
Nachteile:
1. Customer Service levels at WiseTech are below expectations. There's no one you can pick up the phone and speak to except during the initial sales. After that you are left on your own. You just have some videos to refer to. If there are issues.. they've to be raised as 'incidents'. It takes a long while for them to ascertain the nature of issues. At times you are just left following up on the issues. 2. The biggest scare is their dynamic & unpredictable pricing policy. While they lure you with attractive discounts initially, they are quick to change their discount structures, the parameters of billing & add new charge heads as they please. Yes ,they give you some notice...but you pretty much have no choice, but to pay. We've already seen multiple pricing revisions so far. Its always been advantage Wisetech. You just cannot predict or manage your ERP/EDI usage cost even if you do not want to expand your business. At times one has to even follow up for billing errors. 3. Cumbersome workflow processes raised to Wisetech in 2017 have been taken up as developments. Neither do they stick to deadlines committed, nor do they give regular updates. 4. Their main selling point is that implementation of this end to end ERP will result in substantial saving of resources, Time & Cost. It's over a year since we implemented …..this is far from the truth. All we see is escalating system costs. There's no guidance on how the "savings" can be achieved.
Verifizierter Rezensent
System Administrator in Kanada
Verifizierter Nutzer auf LinkedIn
Logistik & Lieferkette, 11-50 Mitarbeiter
Verwendete die Software für: 6-12 Monate
Not As Advertised
Kommentare: Cargowise promised a lot from the beginning. Some of their promises were clearly lies and even the ones that we were able to achieve came after spending thousands on an implementation consultant. The whole system is a mirage, sold to you with high hopes but no support to actually realize those capabilities.
Vorteile:
the idea of integrated tracking and a system that integrates sales, operations, and accounting all in one is fantastic
Nachteile:
None of the features are easily attainable nor do they operate as advertised. The customer service is completely useless as well. You can put in online service tickets which you're likely to receive a reply on after 3-4 days, only for them to direct you to a video or document that isn't relevant to your issue
Ibrahim M.
Account Payable Accountant in Kenia
Verifizierter Nutzer auf LinkedIn
Verwendete die Software für: Mehr als 1 Jahr
Best when provided with accurate data
Vorteile:
Edocs. Apart from having supportings in shipment/consol level you can actually put your accounting transactions supporting in edocs. For example you just have to click the pettycash transactions to access petty cash request form and receipts. This really saves time when auditing.
Nachteile:
I think it does not have a link to provide to your clients so that they can download invoices /statements to themselves.
Antwort von WiseTech Global
vor 4 Jahren
Dear Ibrahim, Thank you for your review! You may be interested to explore the Web Tracker features and functionality further, as it does allow you to set up customers to view/download documents such as invoices and statements themselves. To view the 1WEB001 and 1WEB010 videos on WiseLearning and get a step-by-step overview of how this is done, Log into My Account within your CargoWise One system. And if you have any trouble along the way, simply reach out to your key account manager, or submit an eRequest to reach them (hit the [F1] key from within CW1). Again, thank you for sharing your experience with us. Jennifer Sydney, Australia