Was ist Herald?
Herald helps you organize and quantify customer feedback to make better products. This means your team is always aligned around customer needs.
We start by providing the best experience for capturing customer feedback right through your browser. Any time a customer has an important insight, use our app to send it (with the user's info) directly to Herald. Then, Herald's robust analytical engine helps you rigorously qualify and quantify it according to your business goals.
Wer verwendet Herald?
Early stage and fast growing companies looking for an alternative to ProductBoard for a fraction of the cost.
Herald – Videos und Bilder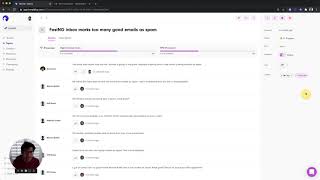 Kosten ähnlicher Produkte wie Herald vergleichen
Startpreis
50,00 $/Monat
13,49 $/Monat
10,00 $/Monat
10,00 $/Monat
Herald – Bereitstellung und Support
Kundenbetreuung
E-Mail/Helpdesk
Wissensdatenbank
Chat
Durchschnittliche Bewertung
Preis-Leistungs-Verhältnis
---
Nutzerbewertungen nach Bewertung
---
Nutzerbewertungen nach Unternehmensgröße (Angestellte)
<50
51-200
201-1.000
>1.001
Daryna K.
Co-Founder and COO in USA
Verifizierter Nutzer auf LinkedIn
Rundfunk, 11-50 Mitarbeiter
Verwendete die Software für: 6-12 Monate
I recommend Herald to other companies all the time
Kommentare: We love using Herald and I recommend it to companies any chance I can!
Vorteile:
Herald is the easiest way to track your feature requests, feedback, testimonials. It's the key to getting product-market fit and you'd be crazy not to use it :) It's easy to use and helps you understand your customers better. Wish I discovered it from day 1 of our company.
Nachteile:
There's very little not to like. The team implements feedback very quickly so anything we suggest makes its way to their product.
Ludvig B.
Product Manager in Schweden
E-Learning, 2-10 Mitarbeiter
Verwendete die Software für: Mehr als 1 Jahr
Herald helps us build what our users want
Kommentare: We are obsessed with user feedback and building what our users want. With Herald, it is simple to keep track of what the users really want, even when customer base grows. Herald helps us across process of 1) gathering feedback 2) sorting & organizing feedback to make product decisions 3) re-connecting with users who requested features and communicating about product updates. The Herald team is amazing to interact with and walk the talk, being really focused on building a great product and listening to user feedback.
Vorteile:
1) Herald makes it simple and fast to gather qualitative feedback from users. Integration to Intercom is great and Chrome plugin makes it easy to use for anyone to use it, regardless of role in the company. 2) Being able to sort and filter the feedbacks and organize it into topics, enables us to take data-driven decisions fast. 3) Being able to reconnect to users who requested certain features is widely appreciated and helps us follow up on new product updates, making sure implementation really have impact.
Nachteile:
No major things atm. All problems I have had or features I have been missing, has been taken care of by the Herald team. Lots of new features have been pushed out last year. If there is something you don't like, expect it to be fixed within a couple of weeks.
Dhawal T.
Growth Lead in USA
Finanzdienstleistungen, 2-10 Mitarbeiter
Verwendete die Software für: 1-5 Monate
One Click Capture is a game changer!
Kommentare: Solid product, great value compared to the competitors, and a pretty intuitive product once you get started.
Vorteile:
The one click capture was an a-ha! moment for us. Between sales, marketing and support, our agents get feedback from customers from all over. We needed a way to capture their feedback and codify it without worrying about some complex setup. From previous roles, I know that the more complex it is, the more unlikely it is that people will capture and codify user feedback. The browser plugin was just click and capture and our team likes that. The weekly Voice of the Customer reports are great to help everyone know exactly why we make the product choices we make. Great features so far!
Nachteile:
I found it cumbersome that I had to install a browser extension and capture something before I could even access my workspace. Of course later on I learned that this little barrier to get started actually saves tons of time in the future and actually increases the likelihood across the team that feedback gets captured.
Telekommunikation, 11-50 Mitarbeiter
Verwendete die Software für: 6-12 Monate
Herald - the perfect product for tracking and following up on feedback, and so much more!
Vorteile:
The ease at which you're able to capture customer feedback is incredible. If you're not familiar with Herald, you can learn how to become a pro in less than a few hours. The speed at which this team releases high-quality, bug-free software is remarkable. They're always shipping! And the one or two times that minor bugs have occurred, they were quick in their replies and resolve the issues within a few hours. The biggest benefit is the easy of which we're able to follow up with our users. Our user's have this "wow" moment, where they're amazed by the personalized outreach when we ship their long-ago requested feature. This is all possible thanks to Herald!
Nachteile:
Nothing that I know of! We haven't used all of it's recently shipped features, but for what we use Herald for, it's incredible!
Jessez Z.
Cofounder in USA
Informationstechnologie & -dienste, 2-10 Mitarbeiter
Verwendete die Software für: 6-12 Monate
Herald - the fastest, easiest way to start aggregating insights from your customer interactions
Kommentare: We use Herald to aggregate customer feedback across emails and notes. It's made all of this a breeze.
Vorteile:
Customer service is insane. As a company building a product about listening to your customers, [SENSITIVE CONTENT HIDDEN] do a great practicing what they preach. A responsive customer service team and a pretty well-integrated tool.
Nachteile:
Not enough automation. Not sure what the solution is, but having to take a few more steps after each customer interaction can get a bit tedious.
Antwort von Herald
vor 9 Monaten
Thanks for this Jessez! We're going to work away at building better automation. In the meantime, glad to hear that our customer service is a bright beacon for you (pun intended)!