Was ist Quenza?
Quenza is a state-of-the-art application that enables coaches and mental health practitioners to digitally engage their clients with homework exercises, assessments, psychoeducation, and online care paths.
Quenza users deliver better care to their clients on a larger scale while eliminating time spent on administrative tasks and email, thereby drastically cutting mental health care costs.
Wer verwendet Quenza?
Coaches, therapists, and other mental health practitioners who want to improve their care by better engaging their clients in their coaching or therapy.
Wo kann Quenza bereitgestellt werden?
Cloud, SaaS, webbasiert, Android (mobil), iPhone (mobil), iPad (mobil)
Erhältlich in diesen Ländern
Australien, Kanada, Neuseeland, Niederlande, Vereinigte Staaten und 1 weitere
Sprachen
Nicht vom Anbieter bereitgestellt
Erhältlich in diesen Ländern
Australien, Kanada, Neuseeland, Niederlande, Vereinigte Staaten und 1 weitere
Sprachen
Nicht vom Anbieter bereitgestellt
Quenza – Videos und Bilder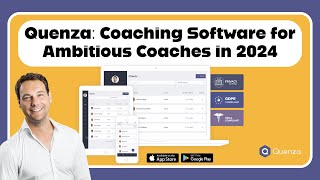 Kosten ähnlicher Produkte wie Quenza vergleichen
Quenza Funktionen
Anmeldung / Onboarding
Fortschrittsverfolgung
HIPAA konform
Inhalt-Bibliothek
Kundenmanagement
Management von Mentoring-Programmen
Programmauswertung
Teilnehmerprofile
Terminplanung
To-do-Listen Verfolgung
Marc-Antoine
Wellness Coach in Kanada
Verifizierter Nutzer auf LinkedIn
Gesundheit, Wellness & Fitness, 2-10 Mitarbeiter
Verwendete die Software für: 6-12 Monate
Quenza increased the quality of our coaching services
Vorteile:
Quenza helped simplify the coaching aspect of our business by helping us give our clients a simpler interface to input their exercises.
Nachteile:
Quenza is a new company that is still in it's growth phase. This doesn't really matter since there is no way around this problem. Quenza's competitors are also new companies or older companies that are offering new services. Quenza's new features come out regularly and bugs are fixed very quickly.
Christopher
Owner/Lead Therapist in USA
Religiöse Einrichtungen, 2-10 Mitarbeiter
Verwendete die Software für: Kostenlose Testversion
If you are serious about client follow up, try Quenza
Kommentare: I love it. If it were less expensive and had an appointment schedule, it would be ideal. The visuals are outstanding. The reflections/"homework" is impressive and robust.
Vorteile:
The library of assignments/reflections is well worth testing this application. The mobile apps are easy to use for clients, and the convenience of a web-based and app-based program is crucial in our high tech society. Clients are raving about the images, which utilize a sketch appearance, which is unique in the counseling/mental health/coaching industries
Nachteile:
It is expensive. I almost did not try it due to the expense. My concern about expense is namely because it does not have a true client management system that books recurring appoints as well as a calendar that clients could use for booking. I would easily pay $50 to $60 for Quenza as it exists plus a client management/scheduling system. At the same time, I am loving the trial. Furthermore, client feedback is great, so I will continue to use it for a hundred days or so just to gauge whether it is worth the additional costs. Having said this, the cost is primarily my concern because I am a student. Although, I have a nice client load, averaging 15 sessions weekly and having 20 as a goal, paying for a third masters degree consumes my finances. I wish they had a 50% off discount for up to 2 years for students so we could use this convenient software/app as they expand it--that is, if they wish to expand it to include bill, client scheduling.
Antwort von Quenza
vor 9 Monaten
Thank you so much for your honest review Christopher. Just to provide you with some context on the pricing, we're planning to develop and launch all the features on the roadmap without increasing the price of the app. This means that, for the same monthly fee, Quenza will become more and more valuable and will enable you to stop paying for some of the other practice management software you may be using right now. Hope this makes sense! Let me know if I can ever be of help with anything. Cheers, Seph
Verifizierter Rezensent
CEO in USA
Verifizierter Nutzer auf LinkedIn
Gesundheit, Wellness & Fitness, 11-50 Mitarbeiter
Verwendete die Software für: 1-5 Monate
Quelle: GetApp
If you are coach, this is must. it saves 80% of your time.
Kommentare: If you are coach, quenza is the best it will save 80% of your energy and focus on the quality of coaching. This is the best app ever. I tried so many app to manage the coaches in my business. We have multiple coaches that help people reverse lifestyle disease. Nothing was working well. Finally I build my own but but it was not user friendly. But quenza is very simple and user friendly. I highly recommend this app for coaches and for anyone that does online client management.
Vorteile:
Easy to manage all the coaches in one place and see how their clients are doing The communication between client and coach is very easy. The coaching forms that is very customizable and we can easily send to the clients. It is very clean appearance and very beautiful The video explanations are very good simple and fun.
Nachteile:
If they could add the billing Service in that it will be good It will be nice to see the graph of client reaching the goal.
Psychische Gesundheitsfürsorge, Selbstständig
Verwendete die Software für: 1-5 Monate
Wonderful Product Offering
Kommentare: Awesome! [SENSITIVE CONTENT] was super helpful and accessible to answer questions that I had and step me through the process to be more effective in my utilization of Quenza.
Vorteile:
I have really found Quenza to be quite helpful in my small clinical practice. Feedback from my pts has been positive as well noting the ease of use, they like the online format and ability to readily communicate back to me with their responses. Found I then integrate what the pt has provided in the forms back into my follow on sessions which has been great.
Nachteile:
Learning how to navigate the site initially was a little uncertain from my end as the clinican. No issues from the pt end. Continue to roll out new worksheets will be helpful. Balance of overall expense to utlization by my patients will be something I will continue to monitor though I would like to keep this in place.
Benjamin
Physical & Mental Health Coach in Schweden
Gesundheit, Wellness & Fitness, Selbstständig
Verwendete die Software für: 1-5 Monate
Professionalism at it's best!
Kommentare: Very satisfied so far! The ease of use, the ease of adding your own stuff, editing their own content, and there's so much help to get both from their website, with tutorials and posts, and also from their amazing customer service!
Vorteile:
The professional aspect of it. Even the clients gets so impressed on how professional it is, and the content it already provides for us coaches to use with the client.
Nachteile:
Nothing special to be honest. There's a couple of features that's missing, but that I don't have a doubt that the team at Quenza will add in the future. You can even se their roadmap and all the things they have planned on adding!
Antwort von Quenza
vor 3 Monaten
Thank you so much for your review Benjamin, it means a lot to us to have you as a user and fan!