Was ist SKYWARD Student Management Suite?
Binde sowohl Studenten als auch Eltern in die K-12-Noten mit verbesserten Kommunikations- und Verwaltungstools ein.
Wer verwendet SKYWARD Student Management Suite?
Skyward bedient K-12-Schulen und -Bezirke in den Vereinigten Staaten sowie Schulen der amerikanischen Botschaft im Ausland.
Wo kann SKYWARD Student Management Suite bereitgestellt werden?
Cloud, SaaS, webbasiert, Android (mobil), iPhone (mobil), iPad (mobil)
Über den Anbieter
Skyward
1980 gegründet
Chat
Erhältlich in diesen Ländern
Vereinigte Staaten
Über den Anbieter
Skyward
1980 gegründet
Chat
Erhältlich in diesen Ländern
Vereinigte Staaten
SKYWARD Student Management Suite – Videos und Bilder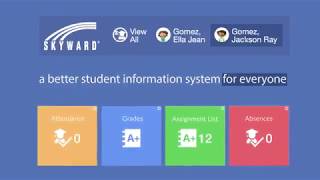 Kosten ähnlicher Produkte wie SKYWARD Student Management Suite vergleichen
SKYWARD Student Management Suite Funktionen
Abrechnung & Rechnungsstellung
Anmeldung / Onboarding
Anwesenheitsmanagement
Berichterstattung / Analyse
Beurteilung-Management
Discipline Management
Eltern-/Schüler-Portal
Elternportal
Finanzmanagement
Fondsrechnung
Hauptbuch
Integriertes LMS
Klassenbücher
Klassenregistrierung
Klassenterminplanung
Klassenzimmer-Management
Kommunikationsmanagement
Kursverwaltung
Online-Kalender
Online-Zahlungen
Personalverwaltung
Studenteninformationen/-dokumente
Stundenplan-Management
Tests/Bewertungen
Transkripte
Verbindlichkeiten
Verfolgen der Teilnahme
Zeugnisse
Zulassungsmanagement
Alternativen für SKYWARD Student Management Suite
Bewertungen über SKYWARD Student Management Suite
Natalie W.
High School English Teacher in USA
Verifizierter Nutzer auf LinkedIn
E-Learning, 11-50 Mitarbeiter
Verwendete die Software für: Mehr als 2 Jahre
Excellent Education Management Tool
Kommentare: Over Skyward provides teachers, students and administrators with up-to-date, accessible and easy to understand grades, disciplinary reports, and academic history. With very little training, I was able to navigate and operate the system within days.
Vorteile:
This software is easily navigable for educators. I can input grades, edit assignments and change due dates with only the click of a button. Its integration with Google Calendar allows my students to keep track of due dates, as well.
Nachteile:
Skyward has pre-set grading periods, but as a teacher there are still intermittent periods (6 week grade period) where I need to manually input each student's grade. This seems an unnecessarily arduous task.
Antwort von Skyward
letztes Jahr
Thank you so much for the review Natalie. We're happy to see that your use of Skyward with Google Calendar is going well. In terms of your issue with the grading periods, we recommend that you put in a service call. Depending upon the way you have your gradebooks set up, someone at Skyward will likely need to learn more about what you are doing and your specific goals in order to help you.
John P.
Technology Director in USA
Bildungsmanagement, 51-200 Mitarbeiter
Verwendete die Software für: 6-12 Monate
In Betracht gezogene Alternativen:
QMLATIV is the most intuitive software!
Kommentare: We're using it both Business and Student and it's just easy to use.
Vorteile:
I have experience with pretty much every SIS in Wisconsin and Qmlativ is definitely the easiest to use. The intuitive nature of it makes it easy to get stuff done. The technical support is the best I've seen in the industry. Everyone is very knowledgeable and is kind.
Nachteile:
I wish Skyward Business and Student are merged, but I know they're working on that. Still would be nice!
Antwort von Skyward
vor 2 Jahren
Thanks for your awesome review John. From the beginning, one of the main goals of Qmlativ was ease of use, so we are happy you are finding it to be intuitive.
Victoria S.
Business Manager in USA
Bildungsmanagement, 1.001-5.000 Mitarbeiter
Verwendete die Software für: Mehr als 2 Jahre
for K12 Skyward is what you want
Kommentare: It's the best software i have ever used that does it all
Vorteile:
it does everything in one location. you can't go wrong
Nachteile:
payroll deals in percentages not dollars and that can be a challenge sometimes but nothing that can't be handled
Antwort von Skyward
vor 3 Wochen
Thanks Victoria. We love a review that gets straight to the point. Hope your school year is going great.
Kevin F.
Technology Director in USA
Bildungsmanagement, 51-200 Mitarbeiter
Verwendete die Software für: Mehr als 2 Jahre
Stuck in 2003; Avoid.
Kommentare: Terrible. Wasn't even interested in looking at their newer option.
Vorteile:
-It is a more reasonably priced option than the bigger players like Campus or PowerSchool. -It is still better than JMC (which is sad). - IF you can figure out how to do things in it and IF you don't mind an ugly program that visually is stuck in 2003, it may work for you.
Nachteile:
- Probably the least user-friendly software I've ever used. It has tons of random settings that are sprinkled all over the software and requires a super-user on your team to accomplish even some of the more regular day to day functions. - Reports are terrible. You have to set the fields and ranges and then waste time running a report to see if it works. I can't tell you how many times I've done this and had the system return a blank report because one tiny parameter was off OR the report doesn't do what I thought it did from the title (with no explanation). - Teachers hate it. It's so limited, it forces your district into changing its grading procedures to fit the limitations of the product - Customer service is dismissive and unhelpful.
Antwort von Skyward
vor 12 Monaten
Thanks for your brutally honest feedback Mr. Furst. As difficult as this review was for us to read, we welcome all feedback--good and bad--and our goal is to deliver a user-centric experience for everyone. One of the reasons we launched our Qmlativ platform a few years ago was because we recognized we needed to upgrade the design and navigation to help create a better experience for users. We hope you reconsider taking a look at Qmlativ and we are confident you will be pleasantly surprised at what you see. Thank you.
Barb R.
Administrative Assistant Pupil Services in USA
Bildungsmanagement, 201-500 Mitarbeiter
Verwendete die Software für: Mehr als 2 Jahre
One stop shop for your student educational needs
Kommentare: The best feature to me is that everything is in one place! Having multiple systems to manage makes data tracking much more difficult. One system, Skyward, allows our district the ability to have our student data more readily available.
Vorteile:
I have been using Skyward Student Information System for the past 25 years. We have slowly added other features to our portfolio. The Student Services system has worked well for assistance with IEPs for our special education students. Having the ability to track information for due dates, form status, etc. has been wonderful. The ability to have it tied to the student database is terrific because if a family moves, the addresses are automatically reflected in the special education areas. We have use the Enrollment feature for the past 5 years now and it has saved countless hours for staff by allowing them to verify information, instead of having to decipher information and enter it into the system. Parents are able to enroll at any time of the day because it is completed through our website, and doesn't require the family having to find the time to come to the school to enroll. Food Service allows a wanding message to be added for those that have allergies or other health issues, which assists the workers when the students come through the line. With Fee Management and Food Service, parents are able to pay fees or add money to their food service account through Family Access. There are many great features about this product and we are very pleased with the product.
Nachteile:
The 504 Accommodation Plan area is a little cumbersome and doesn't flow quite as nicely as the special education model does, but there are not as clear cut state requirements so product development does not work the same.
Antwort von Skyward
vor 3 Monaten
Thanks for the positive review Barb, and for being such a strong advocate for Skyward. We love hearing from all of our customers, but it's especially great when comments come from long-time customers like you!