Was ist WISMOlabs?
WISMOlabs helps eCommerce Retailers provide an outstanding post-purchase experience for customers through shipment tracking, notifications, and more. It talks to customers when they are most receptive and builds brand loyalty through personalization, intelligent marketing, and by keeping your customers in the know during the order journey.
Retailers generate 20-30X ROI, build brand loyalty and improve LTV by 100% or more, increase customer satisfaction and reduce WISMO support calls by up to 90%
Wer verwendet WISMOlabs?
eCommerce Retailers that want to reduce support cost, drive more revenue and build brand loyalty through a great post-purchase experience
WISMOlabs – Details
WISMOlabs
WISMOlabs – Details
WISMOlabs
WISMOlabs – Videos und Bilder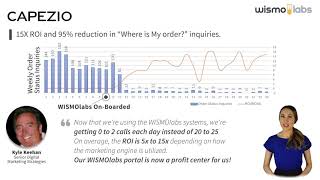 Kosten ähnlicher Produkte wie WISMOlabs vergleichen
Startpreis
Nicht verfügbar
100,00 $/Monat
244,00 $/Monat
N/A
WISMOlabs – Bereitstellung und Support
Kundenbetreuung
E-Mail/Helpdesk
FAQ/Forum
Wissensdatenbank
Telefon-Support
Chat
Training
Live Online
Webinare
Dokumentation
Videos
Funktionen von WISMOlabs
API
Aktivitäts-Dashboard
Alarmfunktion / Benachrichtigungen
Angebote / Schätzungen
Anpassbare Vorlagen
Auftragsmanagement
Auftragsverfolgung
Berichterstattung und Statistik
Daten-Import / -Export
Dokumentenmanagement
Drittanbieter-Integration
E-Commerce-Management
E-Mail-Vorlagen
Echtzeit-Aktualisierungen
Echtzeit-Analytik
Echtzeit-Benachrichtigungen
Echtzeit-Berichterstattung
Echtzeit-Daten
Echtzeit-Vergleiche
Echtzeitüberwachung
Etikettendruck
Etikettierung
Für E-Commerce
Für den Güterverkehr
Historische Berichte
Kostenanalyse
Kundenspezifisches Branding
Leistungsmanagement
Lieferanten-Management
Lieferprotokoll
Lieferschätzungen
Mobile Benachrichtigungen
Paket-Nachverfolgung
Prädiktive Analytik
Rechnungsmanagement
Rollen-basierte Genehmigung
Routenoptimierung
Self-Service Portal
Sendungsverfolgung
Standortverfolgung
Statusverfolgung
Supply-Chain-Management
Terminplanung
Transportmanagement
Versand-Management
Versandetiketten
Webseitenintegration
Wirtschaftsprüfung-Management
Zugriffskontrollen / Berechtigungen
Überwachung
Siehe die vollständige Software für Sendungsverfolgung Liste
Durchschnittliche Bewertung
Preis-Leistungs-Verhältnis
---
Nutzerbewertungen nach Bewertung
---
Nutzerbewertungen nach Unternehmensgröße (Angestellte)
<50
51-200
201-1.000
>1.001
Randall H.
Director of Customer Support in USA
Verifizierter Nutzer auf LinkedIn
Bekleidung & Mode, 51-200 Mitarbeiter
Verwendete die Software für: 6-12 Monate
Awesome customer experience, and so many possibilities
Kommentare: Overall, my experience with WISMOlabs is extremely positive, I love working with the team and enjoy the possibilities that the platform provides. There are a lot of improvements in the WISMOlabs roadmap and I look forward to seeing what improvements we can see in the future!
Vorteile:
There are so many different features available and the platform is so configurable. Working with the WISMO team has been great. I get responses to my questions extremely quickly. The team is extremely proactive in informing me with what I need to worry about in the future in order to better take advantage of the platform.
Nachteile:
I would love to be able to create new notifications like "shipment delayed" based off of business rules. I believe this is on the roadmap and I look forward to that! In addition to that, there are some features like configuration of the tracking page that takes WISMO's team to need to complete.
Abby B.
Co-Creator in USA
Verifizierter Nutzer auf LinkedIn
Unterhaltung, 2-10 Mitarbeiter
Verwendete die Software für: Mehr als 1 Jahr
Easy onboarding and great service
Kommentare: We are very happy working with WISMO. The biggest "solve" was creating a cohesive brand experience for tracking and post-purchase, and we have a much greater opportunity to manage our customer service when customers track on our own platform.
Vorteile:
The product allows for significant customization, letting your customers have a seamless branded experience. And their customer service is amazing; they will do anything to help you get your tracking portal off the ground.
Nachteile:
The only limitation we had, in the beginning, was that it didn't integrate with our international tracking, which was honestly a bigger limitation of our international tracking at the time than of WISMO.
Jason A.
Label Manager in USA
Musik, 2-10 Mitarbeiter
Verwendete die Software für: Mehr als 2 Jahre
Killer customer support
Vorteile:
Great customization and marketing potential.
Nachteile:
The product is a little difficult to use, but the WISMO team is very hands-on in helping us with any issues or features that we can't figure out on our own.
Bekleidung & Mode, 51-200 Mitarbeiter
Verwendete die Software für: Mehr als 2 Jahre
Great customer experience, very customizable and excellent support!
Vorteile:
Lots of great features and customizations possible to make a great experience for your customers. The most impressive part is the configurable business rules for enhancing delivery tracking.
Nachteile:
It can be a little overwhelming to get started with so many possibilities. The Wismo team was right there with us to walk us through it all and ensure we got it working the way we wanted.
Nina H.
Director of Member Experience in USA
Konsumgüter, 51-200 Mitarbeiter
Verwendete die Software für: 6-12 Monate
Great Support, Great Service
Vorteile:
Integration was extremely easy and Dmitri handled all the heavy lifting. Wismolabs also is extremely helpful in helping conversion and ROI.
Nachteile:
It would be nice to design the tracking page more without the help of dev