Was ist Shoobx?
When you're ready to raise your next round, the last thing you want to be worried about is chasing down signatures or figuring out your cap table. Our all-in-one platform gives you all the workflows you need to to manage your company throughout its entire lifecycle, from incorporation, to granting equity, to exit. We leverage industry-standard documents to ensure the process is as risk-free and smooth as possible. If you need it for a financing, you'll find it on Shoobx.
Wer verwendet Shoobx?
Shoobx serves venture-backed Delaware C Corps.
Shoobx – Videos und Bilder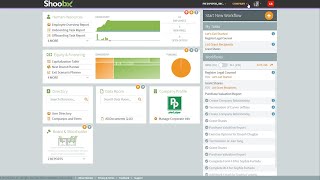 Kosten ähnlicher Produkte wie Shoobx vergleichen
Startpreis
180,00 $/Jahr
3,00 $/Monat
Nicht verfügbar
2,00 $/Monat
Shoobx – Bereitstellung und Support
Kundenbetreuung
E-Mail/Helpdesk
FAQ/Forum
Telefon-Support
Chat
Einsatz
Cloud, SaaS, webbasiert
Mac (Desktop)
Windows (Desktop)
Linux (Desktop)
Chromebook (Desktop)
Funktionen von Shoobx
API
Ad-hoc-Berichterstattung
Administrative Berichterstattung
Aktivitäts-Dashboard
Aktivitäts-Verfolgung
Alarmfunktion / Benachrichtigungen
Anpassbare Berichte
Audit Trail
Ausgabenanalyse
Benchmarking
Berichterstattung und Statistik
Bewertungsmanagement
CRM
Cap Table (Kapitalisierungstabelle)
Compliance Management
Dealmanagement
Dokumentenmanagement
Dokumentenspeicher
Drittanbieter-Integration
Echtzeit-Analytik
Echtzeit-Daten
Entschädigungsmanagement
Finanzanalyse
Finanzmanagement
Finanzmodellierung
Geplante / automatisierte Berichte
Investor-Berichterstattung
Kostenanalyse
Kundenportal
Kundenspezifisches Branding
Leistungskennzahlen
Mehrere Währungen
Mitarbeiter-Bonusprogramme
Mitarbeitermanagement
Options-Management
Planungs-Tools
Portfoliomanagement
Private Equity
Prognose
Public Equity
Rollen-basierte Genehmigung
Statusverfolgung
Subventions-Management
Szenarioplanung
Teilnehmer-Portal
Transaktionshistorie
Vesting Management
Wirtschaftsprüfung-Management
Workflow-Management
Zusammenfassende Berichte
Durchschnittliche Bewertung
Preis-Leistungs-Verhältnis
---
Nutzerbewertungen nach Bewertung
---
Nutzerbewertungen nach Unternehmensgröße (Angestellte)
<50
51-200
201-1.000
>1.001
Kathy N.
Senior Corporate Attorney in USA
Luft- & Raumfahrt, 11-50 Mitarbeiter
Verwendete die Software für: Mehr als 1 Jahr
How Are People running their Startups without Shoobx?!?
Vorteile:
Shoobx is my go-to for running all of the internal corporate activities for my company. From creating NDAs, generating offer letters, granting shares, creating board consents, capturing board meeting minutes... you name it, Shoobx creates the legal documents from scratch. It also has full equity management capabilities, and it updates the cap table and stock ledger with the information it has from the equity-related documents it has created. The documents are pretty advanced, and I recently closed a bridge note (aka convertible promissory note) using Shoobx's document templates. It also provides all necessary data to our investors to cut down on back-and-forth and make information sharing more efficient. Every time I log out 5pm on Friday I thank Shoobx. I'd be working all weekend without the Bx!
Nachteile:
Some of its features are rather advanced. It takes some research and reading to understand how to properly use its stock transfer or stock split workflow, as an example. This is where Shoobx's excellent client service team comes in to help educate and help break down these complex workflows. It is also only applicable to Delaware C-corporation entities (but they will help you incorporate as a DE C-corp, and can still work with you if you transfer later in your corporate lifecycle from an LLC to a DE C-corp).