Was ist Emitto?
Emitto lets you send bulk personalized messaging campaigns in minutes.
Emitto is the easiest way to use SMS, Viber, Facebook Messenger & Web Push to engage in 1-on-1 conversations with customers. Set up any channel within minutes with zero lines of code.
Features include: Audience Segmentation, Personalization & Tags, URL Shortener with UTM Tagging, Content Curation, Campaign Automations.
Wer verwendet Emitto?
Marketing Agencies, Ecommerce & Retail, Brands, News Media
Emitto – Videos und Bilder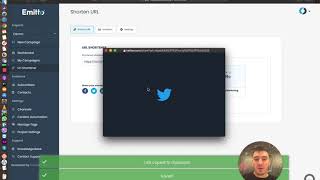 Kosten ähnlicher Produkte wie Emitto vergleichen
Startpreis
100,00 $/Monat
10,00 $/einmalig
9,75 $/Monat
24,00 $/Monat
Emitto – Bereitstellung und Support
Kundenbetreuung
E-Mail/Helpdesk
Telefon-Support
Funktionen von Emitto
Benutzerdefinierte Domains
Drittanbieter-Integration
Für Marketing und Werbung
Kampagnenmanagement
Link-Analyse
Linkbearbeitung
Linkkürzer
UTM-Builder/-Tags
AB-Tests
API
Aktivitäts-Dashboard
Aktivitäts-Verfolgung
Analytik / ROI-Verfolgung
Angebot in sozialen Medien
Anpassbare CTAs
Anpassbare Formulare
CRM
Daten-Import / -Export
Drag-and-Drop
Drip-Kampagnen
Drittanbieter-Integration
Dynamische Inhalte
E-Mail Marketing
E-Mail-Tracking
E-Mail-Verteilung
Echtzeit-Daten
Engagement-Tracking
Ereignisgesteuerte Aktionen
Individuelle Anpassung
Kampagnen-Segmentation
Kampagnenanalysen
Kampagnenmanagement
Kontaktmanagement
Konversion-Tracking
Kundendatenbank
Kundenspezifisches Branding
Lead-Erfassung
Lead-Generierung
Lead-Qualifizierung
Leadmanagement
Marketing-Automatisierung
Marketingkalender
Mehrere Kampagnen
Mobiler Zugriff
Multi-Channel-Kommunikation
Multichannel-Marketing
Multivariate Tests
SMS-Marketing
Segmentierung
Social Marketing
Suchmaschinen-Marketing
Verkaufsanalyse
Visuelle Analytik
Vorlagen-Management
Website-Analytik
Websitebesucher-Nachverfolgung
Workflow-Management
Zielseiten / Web-Formulare
Sheikh S.
Founder & President in Bangladesch
Verifizierter Nutzer auf LinkedIn
Computer-Software, 11-50 Mitarbeiter
Verwendete die Software für: 1-5 Monate
In Betracht gezogene Alternativen:
Excellent SMS Marketing Tool
Vorteile:
The UI is simple and easy to use. The dashboard is beautifully designed. Most importantly, you can set it up within five minutes without coding knowledge. You can create multiple projects to separate clients and run a campaign. You can easily track the campaign report. I liked most the URL shortener & content curation features. Overall it's a complete SMS marketing tool. Team Emitto is super helpful.
Nachteile:
It's completely working well, and I have not found any problem with Emitto yet. Missing WhatsApp in Emitto. Hopefully, team Emittio will bring it soon.
Anja C.
Therapy Area Specialist in Serbien
Verifizierter Nutzer auf LinkedIn
Pharmazeutika, 51-200 Mitarbeiter
Verwendete die Software für: 1-5 Monate
In Betracht gezogene Alternativen:
Love the simplicity!
Kommentare: I love it! Emitto saved me a lot of time on the communication between my team and the stakeholders that we were doing manually before. It also opened many new opportunities and helped us automate the invites to webinars which increased our show-up rate by about 50%. I didn't try other channels but planning on starting Viber campaigns as well, since the interface is super slick, and the cost is cheaper than SMS.
Vorteile:
It's super easy to use and I was able to get set up and run SMS campaigns in a few minutes (not exactly in 5m as advertised, took me about 15m). Deliverability is great and reporting is simple and easy to track. I also liked the process of importing contacts, when they automatically matched the columns from my CSV to those in the database.| I'd say the biggest value for me is the nice Interface, and how easy it is to get things done.
Nachteile:
I'd like to have an email as a channel within the app so that I can keep all my customer campaigns in one place.
Vanessa D.
Customer Success Specialist in Philippinen
Verifizierter Nutzer auf LinkedIn
Design, 51-200 Mitarbeiter
Verwendete die Software für: Kostenlose Testversion
"Easy to use with an amazing customer service"
Kommentare: Emitto is a great tool for mass texting, analytics, and link tracking rocks. Their customer service is simply amazing!
Vorteile:
What I liked most about Emitto is that it's easy to set it up. You can set it up in minutes even as a beginner with zero lines of code which is surprising considering that all the other tools we tried require coding. I can guarantee that you don't need to be a heavy tech user or any kind of developer to use Emitto. I was able to set up all channels in just almost 20 minutes and run campaigns in 5 minutes. It saved a lot of our time, thus giving us more time to check on the other aspects of the business. Love their great customer support too!
Nachteile:
Everything's great so far after signing up though I would love to see Whatsapp/email in Emitto. :)
Aleksandra M.
Media & Marketing Director in Serbien
Informationsdienst, 11-50 Mitarbeiter
Verwendete die Software für: Mehr als 1 Jahr
My go-to tool for SMS messages
Vorteile:
What makes Emitto stand out is the transparency. It makes me feel very safe when I'm sending tons of messages because it shows me how much am I going to spend with each campaign. Comes very handy when you have limited budgets.
Nachteile:
Everything is good so far. I don't have any specific problem with emitto.
Jovana B.
Account Manager in Serbien
Marketing & Werbung, 2-10 Mitarbeiter
Verwendete die Software für: 6-12 Monate
Best app for sms I used so far
Kommentare: Cheap and easy to use
Vorteile:
I always know how much is the campaign going to cost me! Before running a campaign it shows me the cost estimation, that's something I needed badly while using all the other tools. URL shortener is pretty cool, I track all my links I post on Social Media and see all the most important analytics. Great tool overall!
Nachteile:
It would be great to include iOS applications as well