Was ist Learnster?
Learnster ist eine SaaS-Plattform, die es Unternehmen ermöglicht, Informationen in echtes, umsetzbares Wissen umzuwandeln. Die Technologie wandelt komplexe Informationen in einfach zu verstehende Lerninhalte und dynamische Schulungsprogramme um, die gemeinsam mit Kollegen, Partnern und Kunden genutzt werden können.
In einer Welt der informationellen Quantität
ist Wissen Qualität.
Wer verwendet Learnster?
Derzeit betreut das Unternehmen mehr als 100 zufriedene Kunden in Skandinavien in einer Vielzahl unterschiedlicher Branchen.
Wo kann Learnster bereitgestellt werden?
Cloud, SaaS, webbasiert, Android (mobil), iPhone (mobil), iPad (mobil)
Über den Anbieter
Learnster AB
Telefon-Support
Chat
Über den Anbieter
Learnster AB
Telefon-Support
Chat
Learnster – Videos und Bilder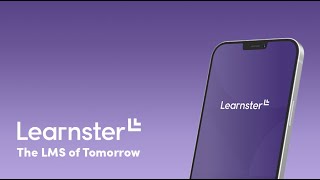 Kosten ähnlicher Produkte wie Learnster vergleichen
Learnster Funktionen
Aktivitäts-Dashboard
Anpassbare Fragen
Asynchrones Lernen
Aufgabenmanagement
Autorensysteme
Benutzer-Management
Berichterstattung / Analyse
Berichterstattung und Statistik
Beurteilung-Management
Compliance-Verfolgung
Content-Management
Daten-Import / -Export
Fortschrittsbericht
Fortschrittsverfolgung
Gemischtes Lernen
Inhalt-Bibliothek
Integrierter Autorensystem-Kurs
Kundenspezifisches Branding
Kurs-Tracking
Kurs-Veröffentlichungen
Kursverwaltung
Lernmanagement
Lernpfade/-verläufe
Mehrsprachig
Mobiles Lernen
Multimedia-Unterstützung
Portal für Lernende
Quiz
SCORM-Compliance
Selbst-Lernen
Soziales Lernen
Synchrones Lernen
Tests/Bewertungen
Trainingsverwaltung
Zertifizierung und Lizenzierung
interaktive Inhalte
Alternativen für Learnster
Bewertungen über Learnster
Elin
Marketing manager in Schweden
Automotive, 51-200 Mitarbeiter
Verwendete die Software für: 6-12 Monate
In Betracht gezogene Alternativen:
My honest opinions of Learnster
Kommentare: Learnster help our managers significantly when they recruiting new staff. That before, it has depended on which manager recruited, what quality the new employee gets in the onboarding and training. Now we can more easily ensure quality and also measure the level of knowledge.
Vorteile:
That is so easy to use, to build educations in the platform is fun and exciting. That its very user friendly and easy to understand. That integrations is easy to solve and so on.
Nachteile:
I have so far not missed any functionality when I have worked in Learnster.
Antwort von Learnster AB
vor 4 Monaten
Thank you Elin, for your nice words and for the 10 star rating. We are very happy to learn that you get so much value from the platform. If anything comes up that would add to the current "non existing cons list", just let us know and we'll be sure to do what we can to aid, as soon as possible.
Johanna
Training & Development Lead in Schweden
Einzelhandel, 501-1.000 Mitarbeiter
Verwendete die Software für: 6-12 Monate
A simple, flexible system that is user-friendly, both from the Admin and the Learner perspective
Kommentare: Given the increased need for LMS in recent years, several new systems have appeared on the market and that makes it important to stay up to date with what the customer wants. So far, Learnster shows good proof of that. The support is really nice/friendly/customer focused and the onboarding contact has been very solution-focused.
Vorteile:
A simple, flexible system that is user-friendly, both from the Admin and the Learner perspective. It also feels like Learnster is keen on updating the system and that things can be updated/improved relatively quickly. They have shown proof of listeing into development needs and quickly get back to us with a solution.
Nachteile:
Two things that I know that the support are looking in to so hopefully it will be sorted out soon: 1) The button "apply know" which is shown on every training, even if the training is free for anyone to log in to. This sometimes make som users not log in to trainings because they think that they are not allowed to. 2) Right now it´s not possible to sort trainings into catalouges on the admin-log-in. This makes all the trainings in to a long long list.
Antwort von Learnster AB
vor 4 Monaten
Hi Johanna! And many thanks for your review and your 10 star rating! Fantastic to hear that you find our Customer Success team so helpful and friendly. When you succeed, we succeed! Also pleased that our LMS works well for both your learners and admins. And you are very right, our support team is looking into your two requests. Thank you for your valuable feedback!
Bertil
Marknadsföring in Schweden
Essen & Trinken, 201-500 Mitarbeiter
Verwendete die Software für: Mehr als 1 Jahr
Good platform for educational purposes
Kommentare: Company information and onboarding for new employees. Short courses for learning new abilities, routines and guidelines. Catalogue for general employee information. Learnster fits these needs nicely but we lack the ability to create engagement.
Vorteile:
The product is overall easy to use and manage. Courses are easy to create and the interface is intuitive.
Nachteile:
The platform is reliant on all administrators to spend a lot of time in user engagement and interactivity. When setting up many teams and team managers all these persons need to be dedicated to continually feed the platform with material. Detailed planning is required by all administrators involved before implementaion and launch. I believe that Learnster would need to attach a project manager to guide toward implementation and launch, not only the technical/administrative usage but also what content to use and how to create interactivity and engagement for each specific launch.
Antwort von Learnster AB
vor 4 Monaten
Thank you Bertil for your valuable feedback! We are pleased to hear that you are happy with the usability of Learnster. User-friendliness is our top priority! Regarding assistance around project launch and implementation, we are investing heavily into our support functions through additional Support Managers and Learning Designers. Please do not hesitate to reach out to us should you need any assistance.
Dominika
CS training coordinator in Malta
Unterhaltung, 51-200 Mitarbeiter
Verwendete die Software für: 1-5 Monate
Learnester has brought our training to new level.
Kommentare: I am absolutely amazed how easy and intuitive the platform is. In one month I was able to build 8 fantastic, colourful and meaningful courses. Our onboarding of new agents has been taken to a completely different level. The only reason I give 9 out of 10 score is that I know you are growing and I know your great ideas, so this is this place for continuous improvement. I mentioned already to your amazing team what can be added to the platform, everything else, works great and makes our agents happy. The feedback we received from them was: the best training I have ever received. Last , but not least, a big round of applause for [SENSITIVE CONTENT] who have made my journey with Learnster exceptional! Thank you 😊
Vorteile:
-Very intuitive - Designing of the course is easy -Big pictures -Pleasant look
Nachteile:
I can't point anything I don 't like about Learnster.
Antwort von Learnster AB
vor 4 Monaten
Hi Dominika! Many thanks for your review and rating! We are absolutely thrilled to hear that you have had such a great start with Learnster. Happy that your agents find your courses in Learnster so valuable - well done! We look forward to a continued successful collaboration!
Einzelhandel, 51-200 Mitarbeiter
Verwendete die Software für: 6-12 Monate
feedback
Kommentare: overall very good
Vorteile:
That you have an digital portal that is easy to update and a system that can reach all the end users in no time, you can follow up the users and you can improve the courses from feedback.
Nachteile:
as always, it is something that can be better in technical setup ( search function etc) and also design, we would like to customize the design more.
Antwort von Learnster AB
vor 3 Monaten
Thank you Anders, for your review and valuable feedback. We're happy to hear that you find it easy to use the Learnster platform and follow up on progress. Your feedback around improvements is much appreciated and is something that we will take with us. Feel free to reach out to our dedicated support team at any time in case you have any immediate questions or concerns. All the best, The Team at Learnster