Was ist Calcurates?
Calcurates von Amasty ist eine Versandlösung, die E-Commerce dabei unterstützt, die richtigen Versandmethoden und -tarife für die Kunden beim Bezahlvorgang ohne Coding zu verwalten und anzuzeigen.
Die Lösung rationalisiert die Versand-Storefront und macht sie kostengünstig.
Lässt sich in große Spediteur- und führende E-Commerce-Plattformen (Magento, WooCommerce, Shopify) integrieren.
Hauptmerkmale: Tischpreise, Live-Tarife, Regeln und Einschränkungen, Liefertermine, dimensionaler Versand, Abholung im Geschäft, Versandzonen, Multi-Carrier-Versand.
Wer verwendet Calcurates?
Magento-, WooCommerce- und Shopify-E-Commerce-Unternehmen.
Wo kann Calcurates bereitgestellt werden?
Cloud, SaaS, webbasiert
Über den Anbieter
Amasty
2009 gegründet
Telefon-Support
Chat
Calcurates Kosten
Startpreis:
49,00 $/Monat
Ja, kostenloser Test verfügbar
Ja, Gratisversion verfügbar
Calcurates bietet eine Gratisversion und eine kostenlose Testversion. Die kostenpflichtige Version von Calcurates ist ab 49,00 $/Monat verfügbar.
Kostenlose Testversion
Über den Anbieter
Amasty
2009 gegründet
Telefon-Support
Chat
Calcurates – Videos und Bilder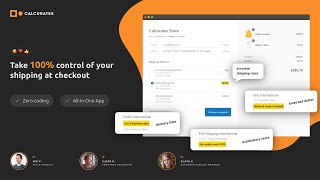 Calcurates Funktionen
E-Commerce-Management
Einkaufswagen
Lieferpreisberechnung
Versand-Management
Alternativen für Calcurates
Bewertungen über Calcurates
Dan-Andrei
Magento Developer in UK
Verifizierter Nutzer auf LinkedIn
Informationstechnologie & -dienste, 51-200 Mitarbeiter
Verwendete die Software für: 6-12 Monate
Massive well done
Kommentare: Sorted out the shipping needs of some really big UK clients, and not only that. Any bug report or feature that has been requested by me ( us , MTC. ) which we know might benefit our client(s) and not only, the development team at calcurates has taken that into consideration and implemented those features in a really short amount of time.
Vorteile:
Ease of use, the fact that i do not have to spend time in creating a million rows long CSV with shipping methods and the fact that the developers of the module are really involved in helping not only me as a person who recommended certain clients, but taking time to present the product to the clients based on their needs and even more than that to start implementing their needs on demo accounts as a showcase on how easy it is to fulfil the needs of website owners.
Nachteile:
i do not think that there is a part of the software / service that i do not like
Antwort von Calcurates
vor 2 Jahren
Dan-Andrei, many thanks for your trust and positive review from the developer's point of view. We are very happy to have you among our clients. All the best to you and all MTC team.
Informationstechnologie & -dienste, 11-50 Mitarbeiter
Verwendete die Software für: Mehr als 2 Jahre
Мery satisfied
Kommentare: Today, about 10 of our clients are already using Calcurates solution in Magento 2
Vorteile:
we have been using the service for more than two years and we see how it has developed: when a good team is behind it, everything works out.
Nachteile:
we faced challenges for customer niches with all sorts of constructions in delivery methods and we always managed to solve it as the [SENSITIVE CONTENT] of the online shop needed it
Antwort von Amasty
vor 6 Monaten
Julia, many thanks for your positive feedback! We are happy to have you among our partners, as well as serve your clients' shipping needs.
Einzelhandel, Selbstständig
Verwendete die Software für: 1-5 Monate
Shipping solution with great features and good support, but some missing features for Woocommerce
Kommentare: I'm so far very happy with the features and support provided. Any minor bugs I reported were fixed extremely quickly. The only downside is the pricing which is relatively high for "just a shipping rate calculator". When all features will be available for Woocommerce this may change this price/value ratio.
Vorteile:
Extremely good and personal support, great table rate features (very flexible to configure), good integration in Woocommerce.
Nachteile:
There are quite a few features not implemented for Woocommerce yet (but they are available for Magento), e.g. landed cost calculation, label printing, etc. This leads to the pricing being quite expensive compared to the competition.
In Betracht gezogene Alternativen: Starshipit, ShipStation und ShippyPro
Warum Calcurates gewählt wurde: Starshipit's table rate system was not very intuitive to use and missed features. But the biggest issue was the faulty implementation of the EU IOSS system which they didn't manage to fix. I can't say yet if Calcurates will be able to implement this any better, but their support is much more reactive and listens to customer requests.
Zuvor genutzte Software: Starshipit
Gründe für den Wechsel zu Calcurates: Calcurates combines an extensively configurable table rate shipping price calculation capability, with live rates which can be provided to Woocommerce. Future features (not implemented yet for Woocommerce) should include landed cost and label printing which would give me a complete shipping solution for my ecommerce business (at the moment I'm using Shipstation for customs declarations label printing)
Antwort von Amasty
vor 7 Monaten
Jan, huge thanks for your detailed feedback! We will do our best to increase Calcurates price/value ratio for you.
Ross
Marketing Manager in UK
Marketing & Werbung, 2-10 Mitarbeiter
Verwendete die Software für: Mehr als 2 Jahre
Really neat solutions with lots of options
Vorteile:
I love the level of customisability of the software, you can integrate with multiple carriers or you can run it as a very simply table based shipping solution.
Nachteile:
It is perhaps a little expensive for what it does.
Jeena
Director of Operations in USA
Musik, 11-50 Mitarbeiter
Verwendete die Software für: 1-5 Monate
Good Software
Vorteile:
Calcurates is a step up from the previous shipping app we were using. After some customizing and tweaking, it performs as we need it and is a nice hands off kind of app once everything is set. The customer service is stellar!
Nachteile:
I haven't needed to go into it too much so I don't know if this is actually true but I feel it could be a little more user friendly. I know there's a learning curve, though, so maybe eventually I'll have a better understanding of it.