Was ist inPixio Photo Studio?
Photo Studio ist ein digitales Schneidetool, das Details, Personen, Objekte oder sogar den gesamten Hintergrund in deinen Fotos zuschneidet und lästige Elemente entfernt. Verwende die Funktion "Entfernen", um unerwünschte Objekte oder Personen für ein perfektes Ergebnis aus dem Foto zu entfernen. Verwende die Funktion "Ausschneiden", um Objekte aus deinen Fotos auszuschneiden oder Fotos zuzuschneiden und diese in andere Bilder und Hintergründe einzufügen.
Wer verwendet inPixio Photo Studio?
Für alle, die ihre Fotos auf einfache Weise retuschieren möchten.
Wo kann inPixio Photo Studio bereitgestellt werden?
Cloud, SaaS, webbasiert, Mac (Desktop), Windows (Desktop), Android (mobil), iPhone (mobil), iPad (mobil)
Über den Anbieter
LULU Software
Ansässig in Saint-Laurent, Kanada
2009 gegründet
Telefon-Support
Erhältlich in diesen Ländern
Kanada
Über den Anbieter
LULU Software
Ansässig in Saint-Laurent, Kanada
2009 gegründet
Telefon-Support
Erhältlich in diesen Ländern
Kanada
inPixio Photo Studio – Videos und Bilder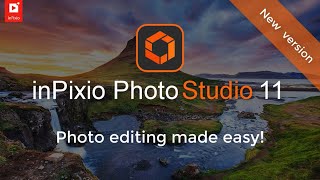 Kosten ähnlicher Produkte wie inPixio Photo Studio vergleichen
inPixio Photo Studio Funktionen
Bearbeiten in Echtzeit
Content-Sharing
Drag-and-Drop
Import / Export von Inhalten
Stapelverarbeitung
Vorgefertigte Vorlagen
Alternativen für inPixio Photo Studio
Bewertungen über inPixio Photo Studio
Design, Selbstständig
Verwendete die Software für: Mehr als 1 Jahr
Easy To Use Photo Editing
Vorteile:
Easy to import media and export once the project has completed.
Nachteile:
None. I have had no problems with the software since installing it
Antwort von LULU Software
vor 3 Tagen
Hello Charles, Thank you for letting us know you are happy with how easy inPixio Photo Studio is. We appreciate your feedback a lot
André O.
Fotografo in Brasilien
Fotografie, Selbstständig
Verwendete die Software für: 6-12 Monate
In Betracht gezogene Alternativen:
Recursos que eu mais uso
Kommentare: Já fiz vários ensaios e uso o inPixio Photo Studio desde 2020 como editor das fotos, usei câmeras profissionais, compactas e celular, e consigo ter uma qualidade excelente, quando necessário fazer um desfoque muito profissional.
Vorteile:
Recursos como redução de ruídos de iso, nitidez, desfoque, correção de pesquisava.
Nachteile:
Correção de lente não tem, correção de cor HSL, e exportação em massa das fotos já editadas.
Fotografie, Selbstständig
Verwendete die Software für: 1-5 Monate
I used the trial version and then made a mistaken purchase
Kommentare: The customer service is good and tries to help in every way 24 hours a day. However, if you need more specific services, like billing and refunds, you will have to do that on a limited-time basis as they are overseas. 3 am to 12 noon Eastern time is the only available time. Although Chat is supposed to help (24 hrs support, not the phone), they can't handle the billing or admin issues. I found overall, that this is a rather good package if you don't mind the subscription for what it is designed to do and are an amateur or cellphone photo taker only.
Vorteile:
The speed for background removal and the effective result was good. The process for sky removal had a lot to be desired but was functional, as it left remnants of objects and smears that are in the foreground that needed to be tidied up. The other feature of removing unwanted parts of the photo was effective but only with lots of tedious effort if the to-be removed objects are very detailed, such as the ends of tree limbs and such.
Nachteile:
Apparently, my mistake was there is no key for this software as it is a subscription. I didn't notice anything related to my decision to purchase an annual subscription on the website rather than a one-time purchase which I typically do. There are many other modules that are required to be purchased/subscribed if someone wants the same features like a decent editing package overall. This one was only for sky replacement, object removal, and background removal, although had the ability to edit lighting, contrast, and similar modifications. On a separate issue, you may be waiting for a couple of days or more if you use their website support email. Currently, at this time of writing, I haven't heard about a refund request for 3 days. After using it for a very short time, I realized that the marketing was more hype than useful. Having several full-featured and complete editing packages I purchase once with continual free updates, I find they are more of a value, all things considered, and certainly better at what they are supposed to do if you do photo editing for a living.
Antwort von LULU Software
letzten Monat
Hello Fred, We appreciate you taking the time to bring to our attention your experience with our software and our support team. Thank you for letting us know that the information about licenses was not presented clearly enough. We will make sure to forward your experience to the corresponding department. Please know that our support team is always ready to help you. Please do not hesitate to contact us if you have any additional questions or requests.
Einzelhandel, Selbstständig
Verwendete die Software für: 1-5 Monate
Cannot get refund from company
Kommentare: Software doesn't work and I can't get a refund.
Vorteile:
The promotion sounded good but it was not what I experienced.
Nachteile:
I downloaded it on my Macbook with the link they sent me and it has no controls for removing background -and there is not a 'one click' button to remove background like the publicity shows. It also does not remove all of the background in the picture. I sent a screenshot to their customer service to show this. It has been one week with no response and no refund. I did not spend $60 for a messed up product and there is no customer service response.
Antwort von LULU Software
vor 2 Monaten
Hi Grace, Thank you for letting us know you are not satisfied with inPixio Photo Studio Mac. Be kindly informed that the video that you are talking about is for the Windows version of the software. Windows and Mac versions are a bit different with a different interface. In the Mac version, there is no such tool as 1 click background removal. But you can do that in the Photo Cutter module. Please be informed that we also have Live chats where our highly skilled support agents will be glad to assist you with the activation issue or your cancelation request. To open the Chat, please follow the steps below: 1. Open the support page: https://support.inpixio.com/hc/en-us 2. Click on the Support widget in the left bottom corner of the page 3. Type any word and press Enter 4. Then select the Live Chat option at the bottom of the widget
Onlinemedien, 2-10 Mitarbeiter
Verwendete die Software für: 6-12 Monate
In Betracht gezogene Alternativen:
Very surprised at how well this software works.
Kommentare: I use this software to create special photos in our business that really helps to make our internet presents standout!
Vorteile:
Simple to use. Easy to create whatever you can imagine.
Nachteile:
I did not see any cons. The learning curve was pretty small. I am 72 years old never been that tech savvy so this product made things easier.