Was ist inPixio Photo Studio?
Photo Studio ist ein digitales Schneidetool, das Details, Personen, Objekte oder sogar den gesamten Hintergrund in deinen Fotos zuschneidet und lästige Elemente entfernt. Verwende die Funktion "Entfernen", um unerwünschte Objekte oder Personen für ein perfektes Ergebnis aus dem Foto zu entfernen. Verwende die Funktion "Ausschneiden", um Objekte aus deinen Fotos auszuschneiden oder Fotos zuzuschneiden und diese in andere Bilder und Hintergründe einzufügen.
Wer verwendet inPixio Photo Studio?
Für alle, die ihre Fotos auf einfache Weise retuschieren möchten.
inPixio Photo Studio – Details
LULU Software
2009 gegründet
inPixio Photo Studio – Details
LULU Software
2009 gegründet
inPixio Photo Studio – Videos und Bilder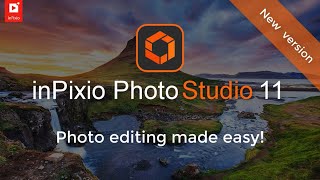 Kosten ähnlicher Produkte wie inPixio Photo Studio vergleichen
Startpreis
79,99 $/Jahr
N/A
Nicht verfügbar
12,99 $/Monat
inPixio Photo Studio – Bereitstellung und Support
Kundenbetreuung
E-Mail/Helpdesk
FAQ/Forum
Wissensdatenbank
Telefon-Support
Einsatz
Cloud, SaaS, webbasiert
Mac (Desktop)
Windows (Desktop)
Android (mobil)
iPhone (mobil)
iPad (mobil)
Funktionen von inPixio Photo Studio
Bearbeiten in Echtzeit
Bildbibliothek
Content-Sharing
Datei-Verwaltung
Drag-and-Drop
Import / Export von Inhalten
Stapelverarbeitung
Suchen / filtern
Vorgefertigte Vorlagen
Wasserzeichen
Werkzeuge zur Zusammenarbeit
API
Abrechnung & Rechnungsstellung
Aktivitäts-Dashboard
Alarmfunktion / Benachrichtigungen
Angebotserstellung
Angebotsmanagement
Anpassbare Berichte
Anpassbare Felder
Anpassbare Kategorien
Anpassbare Vorlagen
Auftragsmanagement
Automatisierte Terminplanung
Daten-Import / -Export
Digitale Unterschrift
Drittanbieter-Integration
E-Mail Erinnerungen
E-Mail-Management
Einkauf & Empfang
Elektronische Zahlungen
Erinnerungen
Eventplanung
Geschenkkarten-Management
Integration in QuickBooks
Kalender-Synchronisierung
Kalenderverwaltung
Kategorisierung / Gruppierung
Klassenterminplanung
Kundendatenbank
Kundenmanagement
Kundenportal
Leadmanagement
Leistungskennzahlen
Marketing-Automatisierung
Meeting-Management
Pipeline-Management
Projektmanagement
Rabattmanagement
Rechnungsmanagement
Reservierungs-Management
SMS-Nachrichtenversand
Social-Media-Integration
Terminplanung
Terminverwaltung
Veranstaltungsmanagement
Verfügbarkeit-Management
Verfügbarkeitsanzeige
Verkaufsberichte
Vertrags-/Lizenz-Management
Vorlagen-Management
Workflow-Management
André O.
Fotografo in Brasilien
Fotografie, Selbstständig
Verwendete die Software für: 6-12 Monate
In Betracht gezogene Alternativen:
Recursos que eu mais uso
Kommentare: Já fiz vários ensaios e uso o inPixio Photo Studio desde 2020 como editor das fotos, usei câmeras profissionais, compactas e celular, e consigo ter uma qualidade excelente, quando necessário fazer um desfoque muito profissional.
Vorteile:
Recursos como redução de ruídos de iso, nitidez, desfoque, correção de pesquisava.
Nachteile:
Correção de lente não tem, correção de cor HSL, e exportação em massa das fotos já editadas.
Onlinemedien, 2-10 Mitarbeiter
Verwendete die Software für: 6-12 Monate
In Betracht gezogene Alternativen:
Very surprised at how well this software works.
Kommentare: I use this software to create special photos in our business that really helps to make our internet presents standout!
Vorteile:
Simple to use. Easy to create whatever you can imagine.
Nachteile:
I did not see any cons. The learning curve was pretty small. I am 72 years old never been that tech savvy so this product made things easier.
Rick L.
Retired in Schweiz
Fotografie, Selbstständig
Verwendete die Software für: 6-12 Monate
Mixed experience
Kommentare: I own a number of InPixio products. When I installed Photo Studio 10, the previously installed products did not integrate; they appear in the start interface as if I didn't purchase them. My overall technical support experience has not been positive. I have several problems that I have not yet raised because raising them is time-consuming for me and the support for past problems has been slow. In brief, I use the software when I must. If I can do the work in Anthropics Portait Pro Studio Max, I do because I have almost no problems and additional features...but sometimes I must use InPixio for features Anthropics do not have.
Vorteile:
The photo editting features, when they work as intended, which has not always been the case. Some of my favorite features are not found in PhotoEditor, but instead with other InPixio products I purchased that do not integrate. I'm not sure why the Photo Editor is called the "Free Photo Editor" cosidering it came as a part of the Photo Studio that I paid for. I'm running a 64-bit computer but some, or all, of my products are 32-bit versions...which may be contributing to my existing problems.
Nachteile:
A series of technical issues resulting in total crash of the product I use the most. Support has been very slow. In some cases I had to wait a week for an initial response. After I modify and save a photo in Photo Editor my computer, Google Photos, Facebook, etc pick up the DATE MODIFIED as the DATE CREATED and use this instead. If I upload he original unmodified photo, I don't have this problem.
Antwort von Avanquest Software
vor 11 Monaten
Hello Rick, Thank you for your review. I am sorry to hear your issue was not resolved fasted. Please be informed that for quicker outcome you can contact our customer support via chat. Is is available Mon-Fri from 8 a.m. till 5 p.m. EST Here is the link (to access chat hit 'Support' in the right bottom corner): https://support.inpixio.com/hc/en-us
Fotografie, Selbstständig
Verwendete die Software für: Mehr als 2 Jahre
All There
Kommentare: I have since retired, but have been buying inpixio products for several years, more or less since it first came out. those days you had to build up you extra programs one by one, individually it wouldn't be as good as any other editing program, but all together and integrated with each other it stood way above most of the best. naturally i was a regular upgrader of the product. Its well worth the money. When the studio versions came out it was like being rewarded for being a regular customer. When I retired i treated myself to the Studio 10 ultimate. Its better than I could have imagined, I can relax and take in these personal . Only missing one update in the pack, which i was surprised about as this was a major update to the program.
The advancement inpixio studio has made my photography cutting room floor so much less cluttered, please continue you advancement into newer things, thank you
Vorteile:
Studio 10 Ultimate had almost everything with it
Nachteile:
The only thing that was omitted was eclipse HD. i assumed that this would be included especially given the price and it had stated that everything was there. Sadly it wasn't.
Jon Y.
Retired Electrical Engineer/Administrator in USA
Versorgungsunternehmen, Selbstständig
Verwendete die Software für: 1-5 Monate
Photo Studio 10 Matches What It Advertises!
Kommentare: I've only used it for a couple of months in preparation of assisting in a virtual (Zoom) workshop for our Church. I serve on the Temple and Family History Committee for our Ward in the Church of Jesus Christ of Latter-day Saints. Part of this "calling" is helping members of the Ward (congregation) with their genealogy by cleaning up old family photos and uploading to Family Tree and Ancestry.com (which church members are provided free access to). I provided examples and step-by-step instruction on use of the InPixio product. I wish I could provide an example of some of that workshop here. But, alas, I can't upload a picture that demonstrates what one can do with the product. Actually, it took a couple of products to do. I didn't switch to Photo Studio 10 and leave the others behind. I added it to the others. My quiver is still not completely filled with editing arrows!
Vorteile:
InPixio products have great value in what you get for the $$ spent. Photo Studio 10 is one of many products that I use. Others include InPixio Photo Editor, Adobe Photoshop Elements, PicsArt Pro, Corel Draw, Corel Photo Paint, etc. I like InPixio Photo Studio for its intuitiveness and simplicity of use. Initially, I was looking for something that would help me to cleanup old photographs (e.g. remove noise, scratches, get rid of old under-exposure or over-exposure, contrast, or colorize black and white photos. A lot of products don't provide some of the aforementioned fixes. Some say they will but don't. Photo Studio 10 does offer some (not all) of the list above. That's why I have so many editing programs. I would say that I like InPixio Photo Studio 10 because id does what it's marketing blurb says it will do!
Nachteile:
It doesn't have all of the features I would like it to have. None of them do. The product could be improved by cherry-picking some of the features of its competitors.