Was ist Kenect?
Kenect brings all of the customer communication at your business under one platform. We convert your main business line into a text-enabled number so you never need to give out your personal number again. Start texting your customers while also generating reviews, increasing web leads, and saving time. The average Kenect user sees a 200% increase in website leads and 350% increase in online reviews. Whether you want to video chat customers or collect text payments, you can do it through Kenect.
Wer verwendet Kenect?
Kenect is the perfect solution for businesses of any size looking to improve customer communication through texting and video chat while also generating online review and web leads.
Wo kann Kenect bereitgestellt werden?
Cloud, SaaS, webbasiert, Android (mobil), iPhone (mobil), iPad (mobil)
Erhältlich in diesen Ländern
Vereinigte Staaten
Erhältlich in diesen Ländern
Vereinigte Staaten
Kenect – Videos und Bilder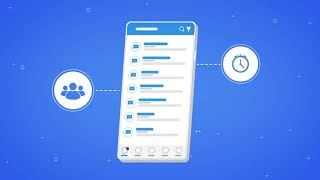 Kosten ähnlicher Produkte wie Kenect vergleichen
Kenect Funktionen
ACH Zahlungsabwicklung
Abrechnung & Rechnungsstellung
Automatische Antworten
Berichterstattung / Analyse
Chat / Messaging
Dashboard
Datensicherheit
Debit-/Kreditkartenverarbeitung
Drittanbieter-Integration
Echtzeit-Benachrichtigungen
Echtzeit-Chat für Kunden
Echtzeit-Gespräche
Feedback-Management
Kampagnenmanagement
Kundenspezifisches Branding
Lead-Distribution
Lead-Qualifizierung
Mehrere Zahlungsmöglichkeiten
Mobile Zahlungen
Mobiler Zugriff
Multi-Channel-Kommunikation
Nachverfolgung der Marken
Negatives Feedback Management
Nutzerbewertungs-Anfrage
Nutzerbewertungs-Notifikation
Online-Zahlungen
PCI-Compliance
Personalisierung
Persönliche Nachrichten
Persönliche Zahlungen
Proaktiver Chat
Prävention von Zahlungsbetrug
Reaktions-Management
SMS-Nachrichtenversand
Sammeln von Nutzerbewertungen
Social Media-Überwachung
Teilen in sozialen Medien
Textanalyse
Transfer / Weiterleitung
Transkripte / Chatverlauf
Vorlagen-Management
Websitebesucher-Nachverfolgung
Zahlungsabwicklung
Überprüfung bewerten
Überwachung der Beschwerden
Anwaltskanzlei, 11-50 Mitarbeiter
Verwendete die Software für: Mehr als 1 Jahr
In Betracht gezogene Alternativen:
Kenect is Killer for Lawfirms
Kommentare: Changed the speed and effiiciency by which we can speak to clients and serve them better
Vorteile:
Much better than Birdeye, based in the US with US people to talk to for support, not someone overseas, exceptionally efficient and helpful for client management
Nachteile:
I can really think of anything at the moment, it is my favorite software purchase alongside Clio
Debb
Office Manager in USA
Automotive, 11-50 Mitarbeiter
Verwendete die Software für: Mehr als 1 Jahr
Officie Manager
Kommentare: Customer like that they can send a text message after hours if they find that they need a part and work during our business hours. they can let us know and we can receive the message in the Morning. that works great for our part manager who is very busy and has lots of phone calls. Customer will sometimes choose to text instead of waiting to talk to parts to. they like the option.
Vorteile:
That we can send out message and get text message from our customer. Our customers like sending pictures to us with there trade in of the 4-w, side by side, snowmobile, motorcycle that they want to trade to buy a new or different unit. now we have a way of doing that. A lot of cell phone voice mails are phone or not set up to leave message that the parts are here or their unit has been repaired and they can come pick it up and we can now text that to them. It is awesome. My customer can get me the information that I need to finish the paper work for the unit that they purchased. Kennect has made things flow better
Nachteile:
sometimes the message goes to the wrong person that is a little frustrating
Automotive, 11-50 Mitarbeiter
Verwendete die Software für: 6-12 Monate
Application works well for the most part.
Kommentare: Overall I do like the application. It is very user friendly and easy to maneuver. However, the things I mentioned above definitely make a huge difference if you are using iPhone VS. Android. I know for a fact that I have missed out on a lot of sales and leads due to this happening. It would be nice if the company coded it a little different to work hand-in-hand as it does with the iPhone software.
Vorteile:
I think the software is very easy to understand and get used to. Everything is very straight forward and it definitely would be easy for even a beginner to figure out and use.
Nachteile:
The first thing is a more user-friendly interface when using this application on an Android phone. Most of my colleagues have iPhones, and I have a Samsung S10+. We work in sales and when we get a notification for a new message from a customer showing interest in a unit it shows up on the iPhone in almost like a text format. They can click on it and it goes straight to the message and they can quickly respond. On the Android platform, I get a notification, but when I click on it it does not take me straight to the message. It just tells me that someone has messaged. I have to physically load the app, search for the customers name, and then proceed to respond. Even though this does not seem like a big deal, these messages are what you would call "first come first serve". So whoever responds to the lead the quickest gets the access to the lead. So I am constantly missing out on these leads just for the fact that I have to go through a couple separate steps to get to where I can respond to the message. One other small thing is it when I am responding to a customer and lets say I get another message from a different customer, if I click off of that first message that I was typing to read the 2nd customers response, the initial message that I was typing up is deleted. I then have to proceed to re-type the whole message. And sometimes this can be a pain if you took some time to structure the message properly and you have to completely redo it.
Kathy
Sales/Finance in USA
Einzelhandel, 11-50 Mitarbeiter
Verwendete die Software für: Mehr als 2 Jahre
Too easy to not utilize!
Kommentare: Kenect made sending pictures, texting and communicating quickly so easy. Before I implemented this service at my business, I was using my personal cell phone to text customers.....always a scary thing as I do not was to give out that info when it is not necessary. This made it a wonderful thing to stay in touch. Also, customers are much more receptive to answering a quick text as opposed to calls or voicemails.
Vorteile:
Kenect has made it beyond easy to interact with our customers in a more digital fashion. Its quick, super easy, and requires very little effort for the user or recipient.
Nachteile:
I would like to be able to sort thru messages depending on what I am looking for.
Brittany
Marketing Manager in USA
Erholungseinrichtungen & -dienstleistungen, 11-50 Mitarbeiter
Verwendete die Software für: Mehr als 1 Jahr
I would never use anyone else!
Kommentare: Great for Customer management for all departments; Sales, Parts, and Service! My employees can do almost all the paperwork for a deal via Kenect!! The payment options and the photo/video capabilities are just perfect! We did almost $500,000 in payment through the Kenect program!!
Vorteile:
Everything about this platform is amazing. We are able to keep track of sales, as well as keeping the phone lines free! The employees at Kenect really listen to your ideas and complaints and actively fixes or adds features to help! Also, the payment feature has been THE BEST feature added in the past year!!
Nachteile:
The mobile app can be glitchy, but I can see that they are always making adjustments and fixing the issues!!