Was ist RevenueCat?
Mit RevenueCat kannst du auf einfache Weise plattformübergreifende In-App-Käufe erstellen, deine Produkte und Abonnierenden verwalten und deine IAP-Daten analysieren. Kein Servercode erforderlich.
Wer verwendet RevenueCat?
Mobile Anwendungen
Wo kann RevenueCat bereitgestellt werden?
Cloud, SaaS, webbasiert
RevenueCat – Videos und Bilder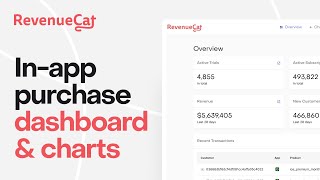 Kosten ähnlicher Produkte wie RevenueCat vergleichen
RevenueCat Funktionen
Abonnementverwaltung
Anmeldung / Onboarding
Content-Management
Dashboard
Drittanbieter-Integration
Kundenprofile
Mehrere Zahlungsmöglichkeiten
Nutzungsverfolgung/-analyse
Produktkatalog
Rabattmanagement
Self-Service Portal
Stornierungsmanagement
Wiederkehrende- / Abonnement-Abrechnung
wiederkehrende Zahlungen mehrerer Zeiträume
Alternativen für RevenueCat
Bewertungen über RevenueCat
David
Chief Learning Officer in USA
Verifizierter Nutzer auf LinkedIn
Internet, 51-200 Mitarbeiter
Verwendete die Software für: Mehr als 1 Jahr
Critical for running my subscription business
Kommentare: Happy customer!
Vorteile:
Just works — provides server-side software and client-side APIs the Apple and Google should provide but don't. Useful charts Supports iOS, Android and many integrations It just works! No drama.
Nachteile:
Nothing comes to mind. It does its job well.
Computer-Software, 2-10 Mitarbeiter
Verwendete die Software für: 6-12 Monate
In Betracht gezogene Alternativen:
Simple Solution for In-App Subscriptions
Kommentare: We turned to RevenueCat because of the hassle that exists trying to verify purchases manually. Doing this ourselves would mean setting up a server, handling all the different cases across the App Store and Play Store, and making sure this server is maintained and always live. For a small team like ours, this just wasn't viable and any potential money "saved" doing it ourselves would be lost in the time we would spend setting up our own solution. That would also mean extra time before an app can be released which would increase our time to market. RevenueCat handled everything we needed it to and took about a week to fully integrate.
Vorteile:
RevenueCat made it really easy for us to implement In-App Subscriptions for our app with absolutely no prior experience in taking payments on mobile devices. It saved us the upfront cost of paying for our own server to verify purchases along with the potential months of headache to handle all of the different scenarios you need to plan for and handle with in-app purchases (buying, renewing, pausing, canceling, etc.) Being able to pull information directly from RevenueCat instead of hard-coding it into our app also meant we could have a single source of truth (the App Store/Google Play Store) where we would update our available products.
Nachteile:
The only thing I wasn't a fan of (which has since been changed) was the payment model. When we first integrated it, the payment model was a fixed monthly rate versus the percentage cut that it is now. Extremely useful features like webhooks weren't accessible for us at the time because of this, but as I stated they've now changed this. Because of that, I cannot name anything I dislike about RevenueCat.
Verifizierter Rezensent
Software Developer in Italien
Verifizierter Nutzer auf LinkedIn
Informationstechnologie & -dienste, 51-200 Mitarbeiter
Verwendete die Software für: 6-12 Monate
A good tool but still need lots of work
Kommentare: Ok, could be much better but still the tradeoff between implementing everything and relying on it is still worth it
Vorteile:
We decided to use revenuecat in order to have "one ring to rule them all" for our IoS and Android app to manage our products and subscriptions. It works fine (most of the times) and takes away that burden from us.
Nachteile:
The key points that come to my mind are: - Calculated revenue is wrong! It does not match the actual app revenue since it does not take into account neither the day of the purchase exchange for the currency and also automatically uses USD dollars for everything - When some events happens RevenueCat is often quite slow in contacting our APIs to tell us about it. I reckon it might be due to the Store updates but still want to mention this since often it gave us problems in sync subscriptions purchases - Sometimes support has taken even 4-7 days to answer our emails and we had to ping them
Computer-Software, 2-10 Mitarbeiter
Verwendete die Software für: Mehr als 1 Jahr
Useful but expensive solution for mobile app subscriptions
Vorteile:
RevenueCat makes it easier to handle subscriptions for mobile apps through the Apple and Google Play Stores. It handles a lot of the behind-the-scenes mechanics of checking users' subscription status and dealing with refunds and cancellations.
Nachteile:
It's very expensive - because you're charged based on revenue processed, it can wind up eating a huge percentage of your profits for apps with moderate or low margins. It's tough to make a business work when Apple or Google takes 15-30% and RevenueCat takes another significant cut off the top. Other issues: the app often has significant downtime/outages which aren't always reported or resolved promptly, and the charts features are quite unpolished.
Gesundheit, Wellness & Fitness, 2-10 Mitarbeiter
Verwendete die Software für: Mehr als 1 Jahr
no brainer for small mobile app
Kommentare: when i started building our app RevCat was a no-brainer. now, when we grow and have $30k revenue monthly, the product starts to be a little bit pricy. in the future, we may consider building our own system and use native apple api. what could hold us at RevCat is a possibility to reach to users who cancel their paying plan and send a push notification with a special offer.
Vorteile:
- easy setup for a developer - i did it a long time ago and since then it works perfectly - dashboard with charts that i check almost daily to have an idea of how many users we have on trials/how is the app performing. - MOST IMPORTANT: i can instantly see if the new version converts users to a paid plan better.
Nachteile:
- there are bugs in the iOS iAPs, so it's hard to point where the fault is, but some of our users complain that they can't restore purchases on their second device. RevCat support suggested they can remove the app and redownload - and that helps... but it is a lot of work for a new user.