Was ist DoorLoop?
DoorLoop is 50% off your first two months! Get a fully customizable property management software that helps manage your properties from one place.
Unlimited free training, support, and migration is included. Try it risk-free, no credit card needed. Backed by our "no questions asked" 30-day money back guarantee.
DoorLoop's award winning platform has raised over $10M in funding and is used for tens of thousands of units in over 100 countries worldwide.
Wer verwendet DoorLoop?
DoorLoop is built for property managers, management companies, owners, landlords, investors, or anyone managing any property worldwide.
Wo kann DoorLoop bereitgestellt werden?
Cloud, SaaS, webbasiert, Mac (Desktop), Windows (Desktop), Linux (Desktop), Chromebook (Desktop), Android (mobil), iPhone (mobil), iPad (mobil)
Über den Anbieter
DoorLoop
Ansässig in Miami Beach, USA
2019 gegründet
Telefon-Support
Chat
Erhältlich in diesen Ländern
Kanada, Vereinigte Staaten
Über den Anbieter
DoorLoop
Ansässig in Miami Beach, USA
2019 gegründet
Telefon-Support
Chat
Erhältlich in diesen Ländern
Kanada, Vereinigte Staaten
DoorLoop – Videos und Bilder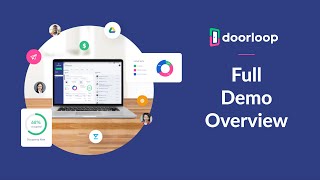 Kosten ähnlicher Produkte wie DoorLoop vergleichen
DoorLoop Funktionen
Abrechnung & Rechnungsstellung
Alarmfunktion / Benachrichtigungen
Arbeitsauftragsverwaltung
Ausschuss-Management
Berichterstattung / Analyse
Berichterstattung und Statistik
Buchhaltung
CRM
Dokumentenmanagement
Drittanbieter-Integration
Elektronische Zahlungen
Finanzberichterstattung
Finanzmanagement
Für Mietlagereinrichtungen
Für geschäftliche Immobilien
Hauptbuch
Immobilien-Datenbank
Immobilienverwaltung
Instandhaltungsmanagement
Kalenderverwaltung
Kommerzielle Immobilienverwaltung
Kommunikationsmanagement
Kontaktmanagement
Kontenabgleich
Leerstandsmanagement
Miet-Nachverfolgung
Mieter-Nachverfolgung
Mieter-Portal
Mietmanagement
Mietvertragsabschluss
Mietverträge nachverfolgen
Mitglieder-Datenbank
Mitgliederkommunikation
Mitgliederverzeichnis
Mitgliedschaft-Management
Online-Zahlungen
Personalverwaltung
Portfoliomanagement
Säumnisgebühren-Berechnung
Transaktion-Überwachung
Veranstaltungsmanagement
Vermietungs-Management
Webbasierte Entwicklung
Website-Management
Wiederkehrende- / Abonnement-Abrechnung
Zahlungsabwicklung
Alternativen für DoorLoop
Bewertungen über DoorLoop