Was ist Hotellinx Cloud?
Hotellinx Cloud is developed for the hospitality industry and adapts itself to the needs of practically any organisation in this branch - hotels, hotel groups, conference centres, holiday resorts, apartments, restaurants. Due to its scalability and flexibility, Hotellinx Cloud covers everything from small inns to hotel chains. The Front Office has what the reception and sales office need in their daily work and the built-in Point of Sales handles room and restaurant bills and other accounts.
Wer verwendet Hotellinx Cloud?
Hotellinx Cloud's ability to cover hotel, restaurant and all other departments in one, makes it useful for hotels of all sizes, especially those that offer also other services than accommodation.
Wo kann Hotellinx Cloud bereitgestellt werden?
Cloud, SaaS, webbasiert, Windows (Desktop)
Über den Anbieter
Hotellinx Systems
1992 gegründet
Chat
Erhältlich in diesen Ländern
Finnland
Sprachen
Nicht vom Anbieter bereitgestellt
Über den Anbieter
Hotellinx Systems
1992 gegründet
Chat
Erhältlich in diesen Ländern
Finnland
Sprachen
Nicht vom Anbieter bereitgestellt
Hotellinx Cloud – Videos und Bilder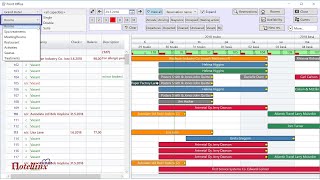 Kosten ähnlicher Produkte wie Hotellinx Cloud vergleichen
Hotellinx Cloud Funktionen
Berichterstattung / Analyse
CRM
Front Desk Management
GDS-/OTA-Integration
Haushaltungsmanagement
Instandhaltungsmanagement
Mitarbeitermanagement
Online-Buchung
Reservierung-Management
Verkaufspunkt POS
Alternativen für Hotellinx Cloud
Bewertungen über Hotellinx Cloud
Yulaine K.
Director in UK
Gastgewerbe, 11-50 Mitarbeiter
Verwendete die Software für: Mehr als 2 Jahre
Hotellinx Cloud Review
Kommentare: With the reports the Hotellinx cloud generates we no longer need to use our own spreadsheets using data manually extracted from our old PMS to help us make decisions - so more accuracy and less time consuming
Vorteile:
We had used the basic version of Hotellinx but felt that the time was right to change to a cloud based PMS -we did our research and shortlisted 3 other cloud based PMS and added Hotellinx to the list. Our final chose was Hotellinx as it matched the requirements we had listed for our new PMS : front desk screen -clear and simple with enough info.without overloading the screen ease of use and training of new staff reports generated which would help with rate and management decisions helpful and responsive people to work with
Nachteile:
Cons? none so far Integration was easy as Hotellinx helped every step of the way with the transfer of existing data Any special request eg Hotel reg. card to comply with UK legislation was helpfully adapted for us
Verifizierter Rezensent
Country Manager in Schweiz
Verifizierter Nutzer auf LinkedIn
Krankenhausversorgung & Gesundheitswesen, 51-200 Mitarbeiter
Verwendete die Software für: Mehr als 2 Jahre
In Betracht gezogene Alternativen:
All-in-one solution for your hotel business, strongly recommended
Kommentare: This is the only software I need to manage my hotel/property. It does the job.
Vorteile:
- I think as the only solution in the market, really has a complete feature set - The user interface allows for a fast, intuitive way of working - Good value for money as it is the only software I need - Responsive customer support - The "Yield manager" feature allows me to optimize pricing => make more money for my property
Nachteile:
- There are cheaper options in the market (but I don't think they are comperable given their lack of features and lack of support)
Verifizierter Rezensent
Hotelli- ja ravintolapäällikkö, yrittäjä in Finnland
Verifizierter Nutzer auf LinkedIn
Gastgewerbe, 11-50 Mitarbeiter
Verwendete die Software für: 6-12 Monate
Wouldn't recommend this to my worst enemy
Vorteile:
You could do a lot with this software. In theory. You could manage a hotel, spa, restaurant and you can. Just be prepared to invest heavily in training your staff and contacting support numeral times a week.
Nachteile:
The chance for a mistake is astronomical. If you haven't had extensive training, you can't learn the system as you go. The software does different things depending on where you access for example an invoice. The procedure is different depending on where you open the invoice and it is inconvenient as hell. If you are in the market for a software that allows you to have a side gig doing a bit of money laundering or commit other accounting frauds, this is the one for you.
Antwort von Hotellinx Systems
vor 8 Monaten
This review is from 2018 when Hotellinx Cloud was quite new and admittedly, there could have been more user guides and other instructions to help users getting started and avoid mistakes. We have since then developed both instructions in writing as well as videos, which you can access directly from Hotellinx Cloud. The software itself has also developed, largely based on user feedback. Regarding the claims about frauds, transactions involving money are all logged, making it possible to trace who made them and when exactly. User rights can be restricted and the database, located on a cloud server maintained by Hotellinx, can only be accessed via the Hotellinx Cloud software, not directly by the hotel.