Was ist Plagiarism Checker X?
Tool zur Erkennung von Plagiaten und doppelten Inhalten, mit dem du deine Inhalte auf ihren Ähnlichkeitsgrad hin analysieren kannst. Keine Wortzahlbegrenzung oder Kosten pro Papier. Scanne unbegrenzte Inhalte, indem du sie direkt in die Software einfügst. Werte Web-URLs und Links direkt auf doppelten Inhalt aus. Überprüfe deinen Text mit einer der drei vorhandenen Funktionen, d. h. Online-Plagiat, Unterschiede im Vergleich einzelner Seiten und Massenvergleich. Deine Daten werden nie in einer Datenbank gespeichert. Erhalte deine Basislizenz mit einer Einmalzahlung auf Lebenszeit.
Wer verwendet Plagiarism Checker X?
Der Softwareanbieter betreut akademische Institutionen, Marketingagenturen, Studios zur Erstellung von Inhalten, Verlage und freiberufliche Content-Ersteller-Communitys auf der ganzen Welt in mehr als 80 Ländern.
Wo kann Plagiarism Checker X bereitgestellt werden?
Cloud, SaaS, webbasiert, Windows (Desktop)
Über den Anbieter
Plagiarism Checker X
2013 gegründet
Telefon-Support
Erhältlich in diesen Ländern
Vereinigte Staaten
Über den Anbieter
Plagiarism Checker X
2013 gegründet
Telefon-Support
Erhältlich in diesen Ländern
Vereinigte Staaten
Plagiarism Checker X – Videos und Bilder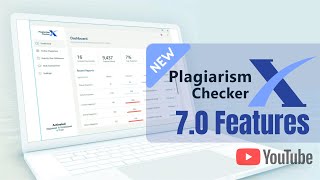 Kosten ähnlicher Produkte wie Plagiarism Checker X vergleichen
Plagiarism Checker X Funktionen
Berichterstattung / Analyse
Content Scan
Direkter Vergleich
Plagiatserkennung
Quelldatenbank
Suchen / filtern
Textprüfung
Unterstützung mehrerer Dateiformate
Warnungen zu Problembereichen
Ähnlichkeitserkennung für Texte
Alternativen für Plagiarism Checker X
Bewertungen über Plagiarism Checker X
Mariana
Bachelor's student in biological sciences in Argentinien
Verifizierter Nutzer auf LinkedIn
Schreiben & Editieren, Selbstständig
Verwendete die Software für: Mehr als 2 Jahre
Infallible tool to detect plagiarism
Kommentare: As a writer for blogs and college projects, Plagiarism Checker X was very useful to me, as it is a great tool for detecting plagiarism. Also, that it is simple to use and provides clear reporting is a benefit. I always recommend it to writers to ensure that their work is as original as possible.
Vorteile:
Plagiarism Checker X is connected to a large number of websites and is compatible with various file formats, which guarantees a thorough search for duplicates. It is easy to understand and has no word limit, when you finish scanning the text it gives you a detailed and color-coded report. In addition, it indicates the phrases that can be considered plagiarism and give you the link to the site where it was found. It is really useful and recommended.
Nachteile:
I find no disadvantages in Plagiarism Checker X, only that if the text is very long, the scanning is slow and takes some time. The free online version does have a limit of 1000 words, however, it is worth paying for this service because it is essential when writing articles and original works.
Samadori Honoré
Professor in Benin
Hochschulbildung, 501-1.000 Mitarbeiter
Verwendete die Software für: Mehr als 2 Jahre
Plagiarism Checker X review
Kommentare: Overall Plagiarism Checker X is a great plagiarism detection tool that I highly recommend in academia, especially in institutions that cannot afford other highly expensive tools. I have been using it for more than 3 years now to assess originality of my own work, my students manuscripts and manuscripts submitted to a journal I am editing. I am very satisfied with the results and the software is very to use.
Vorteile:
Lifetime License (and no words limits or per paper cost). Affordable cost. Highly versatile (support online detection as well as Side by Side Comparison and Bulk Comparison). Customizable settings for similarity detection. Multiple File Format Support. Multi-Language. Detailed color coded report and links to the plagiarized sources. Customer Support (fast and efficient).
Nachteile:
Although it is a Lifetime License, you have still have to pay to extend the maintenance period so as to benefit from all the upcoming updates. Support for other operating systems is lacking. For (very) large documents it can take quite some time to complete the scan. Despite these, Plagiarism Checker X is a must have in academia.
Baikuntha
Managing Director in Nepal
Freizeit, Reisen & Tourismus, 2-10 Mitarbeiter
Verwendete die Software für: Mehr als 2 Jahre
Very useful and Affordable Plagiarism Software!
Vorteile:
Plagiarism checker has a very good detection rate, and is easy to use. It can identify every copied word and highlight it with high precision. It is, however, a very affordable plagiarism tool in the market with a one-time fee.
Nachteile:
One of the biggest downside of this software is that it is not available for Mac OS. Due to this reason, I must use another solution when I am using my Mac. Hope they will comeup with the Mac version very soon.
Addoum
phD student in Marokko
Biotechnologie, 2-10 Mitarbeiter
Verwendete die Software für: Mehr als 2 Jahre
To writte an original article : Plagiarism checker X is here for you
Kommentare: All my publiched work are original and you found 0.04 percent of similarity because i use this tool to improve the quality of my article
Great software
Vorteile:
This software have a great connection with different database wich help us to detect the plagiat and the similarity The premium version is one of the important innovation of x plagiarism because no limit for checked word and we can scanned a paper in one clik Big salute to makers
Nachteile:
May the normal version is limited because we can scanned just 250 word so if i want check a paper of 3000 words , i need at least one or two hours .
Schreiben & Editieren, Selbstständig
Verwendete die Software für: 6-12 Monate
An Absolutely Necessary Tool
Kommentare: From the get go you are taken away by the visual appeal of the product. Particularly the color coded and density-based reports. This is extremely important because it adds to your professional productivity. Using dull products isn't a great stimulus, especially when you are in the writing game.
Vorteile:
Plagiarism Checker X's 16 billion+ indexed web pages feature is by far its biggest asset. This has helped to ensure thoroughness in detecting duplication which is a key factor before you go to publish any written content. The other major plus point is the detailed summary report you get because it makes further edits and changes less of a hassle. Also, the results are color coded and density based which further adds to its function and usability.
Nachteile:
I don't think there is a mobile version of this yet but would be extremely helpful because you are often on the move and want to check for various duplication errors on the fly.