Was ist Piazza?
Kollaborative Online-Plattform für Fragen und Antworten, die die Teilnahme der Lernenden durch die Optimierung des Engagements zwischen Lernenden und Ausbildern verbessert
Wer verwendet Piazza?
Cloudbasierte Lösung, die Schülern und Lehrern in Schulen und Universitäten dabei hilft, an Klassendiskussionen teilzunehmen, Dateien zu teilen, Aktivitäten zu verfolgen und vieles mehr.
Wo kann Piazza bereitgestellt werden?
Cloud, SaaS, webbasiert, Android (mobil), iPhone (mobil), iPad (mobil)
Über den Anbieter
Piazza
Ansässig in Palo Alto,, USA
Telefon-Support
Erhältlich in diesen Ländern
Vereinigte Staaten
Über den Anbieter
Piazza
Ansässig in Palo Alto,, USA
Telefon-Support
Erhältlich in diesen Ländern
Vereinigte Staaten
Piazza – Videos und Bilder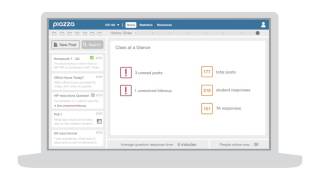 Kosten ähnlicher Produkte wie Piazza vergleichen
Piazza Funktionen
Berichterstattung / Analyse
Echtzeit-Benachrichtigungen
Fortschrittsverfolgung
Interaktives Lernen
Kommunikationsmanagement
Mobile App
Umfragen/Abstimmungen
Divya K.
Teaching assistant in Kanada
Bildungsmanagement, 51-200 Mitarbeiter
Verwendete die Software für: Mehr als 2 Jahre
Piazza is a must have in a virtual classroom
Kommentare: Great. It's been nice and easy. Students can go back to their posts easily on the discussion board and keep the conversation/knowledge transfer going.
Vorteile:
Easy to use. Provides an amazing platform to share knowledge and information. Best discussion board to date. See to track student/course progress and communication methods provided are extremely easy to use.
Nachteile:
Should have assignment submission/plagiarism detection options
Fazla M.
Research Assistant in USA
Computer-Software, 11-50 Mitarbeiter
Verwendete die Software für: Mehr als 1 Jahr
Good free platform for online course management
Kommentare: Many people prefer Piazza. However, I prefer Canvas, which provide more options for online course management and interaction. Piazza helps with job search and communication with potential employers. This is a nice feature, yet not very effective since most people use LinkedIn these days.
Vorteile:
Piazza has an interactive discussion system like many popular website such as stack overflow. Anyone in the course can post a question to everyone or a subset of participating people and start a discussion where others can easily answer and continue the thread.
Nachteile:
I find Piazza lack of many features that some other platforms offer. For instance, grading and its statistics, course calendar, online quiz, etc.
Aniket P.
Student Researcher in Indien
Forschung, 51-200 Mitarbeiter
Verwendete die Software für: 1-5 Monate
Piazza: An intermediate learning management system
Kommentare: Piazza is a powerhouse of learning management systems, with a truckload of features and functionalities that most modern and competitive platforms lack. However, Piazza is limited by its old UI, which if patched, could make Piazza at par with the current platforms. We had to move from Piazza to other platforms that offered a mobile application and integrations, but would be happy to revert once Piazza improves their UI and application.
Vorteile:
Piazza has roles for people involved in a classroom, such as: instructor, teaching assistant, student etc. Users of their specific roles can create posts, polls, archive classrooms, create assignments and what not. Piazza offers an amazing way to communicate with the appropriate instructor/teaching assistant, rather than create a post for the whole class.
Nachteile:
The UI! The UI of Piazza is not at par with the industry standards is a major letdown for me. I had to struggle through the UI for hours to understand a simple aspect. The mobile application is also not as good as compared to other modern learning management systems.
Verifizierter Rezensent
Teaching in Pakistan
Verifizierter Nutzer auf LinkedIn
Bildungsmanagement, Selbstständig
Verwendete die Software für: Mehr als 2 Jahre
In Betracht gezogene Alternativen:
Pros and cons of piazza.com
Kommentare: I was sharing my handouts, ppts and material of daily classes.
I was also maintaing record of lectires with dates.
I can also sharing marks of quizzes and assignments held in the classrooms.
I was also announcing important announcement or notices.
Vorteile:
The most important features was the grouping of lectures, homework and assignments.
Nachteile:
I found that I cannot make a quiz and take from students online. I cannot take video class.
Sudarsan N.
Assistant Professor in Indien
Hochschulbildung, 10.000+ Mitarbeiter
Verwendete die Software für: Mehr als 2 Jahre
A Good Concept Gone Mediocre
Kommentare: Overall, I liked Piazza as it brought together my students and their thoughts in a never-before-seen manner. However, the approach towards making this education platform more accessible to instructors and students across the world seem to be at crossroads with their founder's original vision with whom I have had a discussion during the early days of Piazza.
Vorteile:
As an instructor I have used Piazza across countries since its inception. One feature that attracted me to Piazza was the ability to connect to with students on an almost real time basis giving the students the option to interact with instructors anonymously. Piazza has fostered groups in many courses I have taught from the undergraduate to the Masters/PhD level. The integration of LaTeX support was of great utility to instructors like me who teach course that involve lots of mathematical equations.
Nachteile:
There is no option to set up a timed quiz and there is no integration with cloud storage options such as Google Drive, OneDrive, and Dropbox. Also, integration of short screen-recordings of instructor/student posts would add great value to discussions.