Was ist HaloPSA?
HaloPSA is a single, all-inclusive solution, designed for MSPs and service providers. HaloPSA gives you the power to manage your entire company with powerful out-of-the-box functionality. The platform offers features such as time-tracking and billing, advanced reporting, asset management, remote access, seamless integrations, automation, project management and CRM. Tailored to your requirements with an intuitive UI, you can remedy your client issues with an unlimited PSA solution
Wer verwendet HaloPSA?
Ideally suited to Managed Service Providers looking to for a modern PSA solution.
Wo kann HaloPSA bereitgestellt werden?
Cloud, SaaS, webbasiert, Mac (Desktop), Windows (Desktop), Linux (Desktop), Windows (On-Premise), Linux (On-Premise), Android (mobil), iPhone (mobil), iPad (mobil)
Über den Anbieter
Halo Service Solutions
1994 gegründet
Telefon-Support
24/7 Live-Support
Chat
Über den Anbieter
Halo Service Solutions
1994 gegründet
Telefon-Support
24/7 Live-Support
Chat
HaloPSA – Videos und Bilder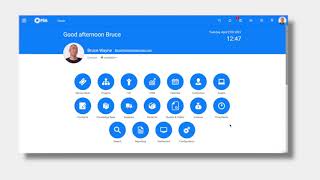 Kosten ähnlicher Produkte wie HaloPSA vergleichen
HaloPSA Funktionen
Abrechnung & Rechnungsstellung
Backup und Recovery
Berichterstattung / Analyse
CRM
Call-Center-Management
Dokumentenmanagement
E-Mail-Management
Konfigurationsmanagement
Kundendatenbank
Leistungskennzahlen
Live-Chat
Multi-Channel-Kommunikation
Portfoliomanagement
Problem-Management
Problemmanagement
Projektmanagement
Remote-Monitoring und -Management
Ressourcenmanagement
Self-Service Portal
Service Level Agreement (SLA) Management
Störfallmanagement
Supportticket-Management
Terminverwaltung
Ticket-Management
Verfolgung von Interaktionen
Vertrags-/Lizenz-Management
Veränderungsmanagement
Warnungen / Eskalation
Warteschlangenmanagement
Werkzeuge zur Zusammenarbeit
Wissensbasis-Management
Zeit & Kosten Verfolgung
Robbie E.
Service Manager in UK
Verifizierter Nutzer auf LinkedIn
Informationstechnologie & -dienste, 11-50 Mitarbeiter
Verwendete die Software für: 1-5 Monate
Top quality Service Desk software
Kommentare: Nethelpdesk has revolutionised our helpdesk team. The team is now logging many more tickets than previously as it is so easy to do so, and we are able to respond much quicker to incoming tickets. We are able to use the reporting to analyse the ticket trends and any support problems we have and act on these quickly. Cannot recommend the software enough!
Vorteile:
We've been using NHD for just over 4 months, and couldn't be happier with the software. It is very configurable, allowing you to change workflows for your specific needs. We took advantage of consultancy when we initially signed up, which helped us to get up and running within a few days. We worked very closely with our consultant who was knowledgeable and able to help us change the look and feel to make it a little more familiar to what we were used to. We are utilising the phone system integration allowing us to log tickets within 5 seconds of the call completion, with most of the required information being collected without any input. Nethelpdesk is incredibly configurable, you can configure it to meet your exact needs. This can be daunting at first as there is often multiple ways to complete the same thing, but there is an option for almost everything. If you do require help the support team are generally very responsive and helpful. The development team are very responsive, and will often patch a bug or improvement you find within a few days/weeks. The feature development is very fast and multiple big features have been developed for the new web ui in the last few months. The reporting functions are again very configurable and if you need an additional report created the support team can do this for you. The dashboard feature has enabled us to show basic helpdesk statistics on a TV in the office which helps everyone keep track of how we're performing.
Nachteile:
The web application is unfortunately not as slick as the desktop web interface. The mobile site is okay, but a new app would be a better alternative.
Informationstechnologie & -dienste, 2-10 Mitarbeiter
Verwendete die Software für: 1-5 Monate
In Betracht gezogene Alternativen:
Easily the Best PSA We've Used
Kommentare: Overall, I have absolutely no complaints with HaloPSA. From our first interaction, the company has been professional and extremely responsive. The product implementation was painless, and support while learning the software has been near immediate. Now that it's in place, our clients have nothing but good things to say about their experience with the software. Ticket submittal and tracking, documentation, a custom service catalog, and countless other benefits have allowed us to provide them with a streamlined professional experience.
Vorteile:
Halo stands out as the most customizable and easy to implement software we've tried. Once the initial learning curve was passed, we've come to realize we can do almost anything we need to from within this software. (So much so that we've been able to save some money and eliminate other products from our stack.) Our clients love the user portal. It's incredibly easy to use and presents a professional, well thought out experience. And, once again, the customizable nature of the software lets us structure it to our practices and procedures instead of forcing us into their methodologies.
Nachteile:
While overall easy to use; there is a bit of a learning curve as to where everything is located within the software. The customizable nature of Halo lends itself to a complicated interface, but the developers have done a wonderful job in making it as intuitive as possible.
Verwendete die Software für: Nicht angeboten
NetHelpDesk Review
Kommentare: NetHelpDesk has a strong, versatile and helpful team. Additionally everyone is willing to go out of their way to help and offer advice no matter the query. Response times are always quick and on the occasion an issue isn't resolved on the phone you will be kept upto date throughout the life cycle of the ticket.
Steven D.
Manager Network Operations in Niederlande
Verifizierter Nutzer auf LinkedIn
Informationstechnologie & -dienste, 11-50 Mitarbeiter
Verwendete die Software für: Mehr als 1 Jahr
Flexible helpdesk software
Kommentare: We've been able to use Nethelpdesk to improve tracking of our billable hours by making our administration of helpdesk work less of a drag. The option to access the database has also enabled us to expand any functionality with our own tooling where we found the fit to our processes wasn't fully realised. Summarised, it's enabled us to do our work as MSPs better than anything we've tried before.
Vorteile:
Compared to many of the industry leaders we've tried, like Autotask and Connectwise, we find Nethelpdesk a refreshing alternative for work on the helpdesk. We've opted to self-host the software which already enables us to get much more responsive software and database access to make our own reports on top of the report manager in Nethelpdesk itself. Most everything in the system in configurable to work with your processes if you wish. The core is a helpdesk solution, but integrated are a small CRM, an asset tracking, sales and po system and (sale) item system that are great supporting tools.
Nachteile:
The only cons we have with the system are small quality of life problems. Fields that might be better on a different position, email history is always the entire ticket and requires you make different tickets if you contact a vendor and want to evade sending other communication to the vendor (you can manually edit old emails out before sending though!). We don't have any big cons that inhibit our work, anyplace the software wasn't a full fit we've made our own extensions using our own programmers directly with the database.
Michael R.
Director in Spanien
Informationstechnologie & -dienste, 2-10 Mitarbeiter
Verwendete die Software für: 6-12 Monate
HaloPSA Review
Kommentare: HaloPSA has been a joy to use. We have tried several systems, including many of the top names and have either found them to be much to overly complex, inconsistent in layout or simply not delivering the features they promised. HaloPSA has been the only one that has really delivered in all of these areas and is very competitively priced indeed. Also, of special note, HaloPSA's support team are very helpful, responsive and thorough which makes the whole experience so much better and enjoyable.
Vorteile:
The system is well designed with a fresh and modern look and interface. It is intuitive and can be as complex or simple as you want it to be. Love all the integrations with new ones added all the time.
Nachteile:
As with any other PSA product worth its salt, HaloPSA can be complicated to get everything configured how you want in order to get the most out of it. However, this is a criticism I would level at any decent and comprehensive PSA systems. They need to be complicated in order to be flexible and cover as many uses as possible and for the uninitiated or trained, this can make it more difficult to get things setup the way you want.