Was ist Quickbooks Point of Sale?
Wer verwendet Quickbooks Point of Sale?
Kleinunternehmen-Verkaufssystem, das in verschiedenen Branchen eingesetzt wird.
Wo kann Quickbooks Point of Sale bereitgestellt werden?
Cloud, SaaS, webbasiert, Windows (Desktop), Windows (On-Premise), Linux (On-Premise), iPhone (mobil), iPad (mobil)
Über den Anbieter
Intuit
Ansässig in Sacramento, USA
1983 gegründet
Telefon-Support
Erhältlich in diesen Ländern
Vereinigte Staaten
Über den Anbieter
Intuit
Ansässig in Sacramento, USA
1983 gegründet
Telefon-Support
Erhältlich in diesen Ländern
Vereinigte Staaten
Quickbooks Point of Sale – Videos und Bilder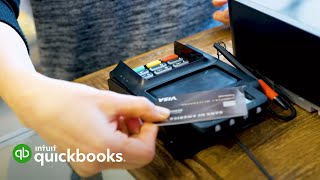 Kosten ähnlicher Produkte wie Quickbooks Point of Sale vergleichen
Quickbooks Point of Sale Funktionen
Alarmfunktion / Benachrichtigungen
Auftragsmanagement
Barcode / Tickets scannen
Berichterstattung / Analyse
Bestandskontrolle
Bestandsoptimierung
Bestandsprüfung
Bestell-Management
CRM
Daten-Import / -Export
E-Commerce-Management
E-Mail Marketing
Einzelhandel-Lagerverwaltung
Einzelhandel-Management
Elektronische Zahlungen
Geschenkkarten-Management
Integration in die Buchhaltung
Inventarverwaltung
Kostennachverfolgung
Kundenkonten
Lieferanten-Management
Mehrere Standorte
Mitarbeitermanagement
Multichannel-Management
Nachbestellungen verwalten
Preismanagement
Produktkennzeichnung
Prognose
Rabattmanagement
Retourenmanagement
Rückgaben nachverfolgen
Suchen / filtern
Touch-Screen
Treueprogramm
Verkaufsberichte
Verkaufspunkt POS
Versand-Management
Zahlungsabwicklung
für den Einzelhandel
Alternativen für Quickbooks Point of Sale
Bewertungen über Quickbooks Point of Sale
Christopher S.
Independent Distributor in USA
Verifizierter Nutzer auf LinkedIn
Bau, 2-10 Mitarbeiter
Verwendete die Software für: Mehr als 2 Jahre
My swiss army knife
Kommentare: Its my go to book keeping tool I have used it I "Trust" it and would highly recommend it to any business no matter the industry or size .
Vorteile:
Easy to understand so its easy to train new users I have used this software in my construction business and a store manager it easily helps me manage multiple pos devices both in store and in the field making tax forms and reports quick and easy to create .
Nachteile:
There is a learning curve for some uses of the software
Antwort von Intuit
vor 3 Jahren
We're proud to be backing Pace Products inc, Christopher. Thank you so much for sharing your lovely review with us, as it's wonderful to hear that you find the program so easy to use. I want to ensure you have all of the resources you need to help those you train get past the learning curve that is usually associated with a new program. For this reason, I encourage you to check out the QuickBooks Community website. It's a resource hub filled with a wealth of self-help knowledge articles that cover a wide range of QuickBooks-related topics. The following link will take you there: https://quickbooks.intuit.com/community/US-QuickBooks-Community/ct-p/community-us Additionally, here's another link that will take you to a list of video tutorials that also cover many of the various features QuickBooks has to offer: https://www.youtube.com/playlist?list=PLVxBmyedTVhTRQRYeZJfVBpz_12zwHc6Z Thank you again for reviewing our software, Christopher! Clay, The QuickBooks Team
Bekleidung & Mode, 2-10 Mitarbeiter
Verwendete die Software für: Mehr als 2 Jahre
Quelle: SoftwareAdvice
QuickBooks POS - not good for Retail, but anything else maybe
Kommentare: I generally liked the QB POS software and what it did for us, ... but we grew out of this. Ideally this would be great for a small business that had fixed assets that didn't change and if the SBO didn't want to pour out too much money for a POS.
Vorteile:
1) They release a new product upgrade every other year so there is no need to update your computer software every year. The upgrades are not necessary, but upgrades to provide more features. 2) Everything is backed up to a single database file on the computer; so in the event of a computer crash as long as you're backing up the QBPOS db, you can re-install the software, re-point the db file and get going again. 3) It's easy to use and navigate. 4) Does not require internet connection if the internet goes down 5) Great reports 6) A great company, with solid reputation, with a good name brand product
Nachteile:
1) Customer support is great, but you have to pay for it. I learned to reach out to 3rd party companies for Support. that seemed more eager and 2) Does not integrate with an online store presence. For our online store each time someone purchased something online we had to update our instore inventory; and vica-versa. 3) The software upgrade is a little pricey for 1 upgrade. I remember it was affordable for an upgrade for me; and we only had 1 POS computer & 1 seat. If we had 2 computers it would have been more expensive. 4) Constantly trying to add new inventory and remove old inventory was kind of a hassle. If your business had fixed assets then ideally this would be a good solution. 5) If your computer crashed or you need to get a new computer, you would have to setup the new computer and reinstall the software on the new computer along with the help of QB POS Tech Support. While this in itself wasn't bad it was trying to schedule a time that they were open and the store wasn't open so I could fix this.
Kimberly R.
Co-owner in USA
Einzelhandel, 2-10 Mitarbeiter
Verwendete die Software für: 1-5 Monate
Quelle: SoftwareAdvice
Minimum expectations not met with QuickBooks POS 18.0
Kommentare: Please save yourself some time/money/stress and a boatload of trouble - DO NOT USE QuickBooksPOS - go with Square, or write your own software. QuickBooks POS is a mess.
Vorteile:
I thought it would be easily interfaced with QuickBooks Desktop. I thought it would track inventory and work well with my small business. I thought it would streamline inventory check in and pricing, and sales tax collection. I was wrong.
Nachteile:
Literally rife with software quirks. The tax collection turns itself off at will - and the "help" line tells you it's because your software is "corrupt" - which is amazing since it's brand new, and ONLY they have been in it. It was not the "online" software, so how can it be corrupt? Be aware that the system will NOT be up and running efficiently - ever....so when they start charging you by the minute for help calls - after 60 days - they will leave you on hold for hours. I am not exaggerating - HOURS - our routine was .....1. open the shop 2. turn on POS terminal 3. Call quickbooks and spend 2 hours on line while they fix the problem of the day. Often times, it was the same problem from a week ago....Even on the way out, they screw you. so many issues with this software - built on an ancient Excel platform and they have not invested $$ to update it. And every time Microsoft sends an update, your system will crash. And every so often, it will just stop adding sales tax to stuff. And, when it is in the mood, it will freeze up and say "oops, something went wrong" on your screen. And every so often, you will have to re-boot the whole system. And you will have to check in merchandise on the sales floor because in order to check in inventory on a computer in the back room, you have to shut down the front register - and they HAVE PROGRAMMED IN A 15 MINUTE DELAY - before you can open it in the back room (sometimes it's 30 minutes). Fortunately, during this 15 minutes, they have a lovely pop up which is trying to sell you another license so you can use the software in the back room (which the sales agent told you would work, but it doesn't....). They never stop creating issues with the intention of getting you to buy another license......for software that doesn't work. It is an abject, complete disaster. DO NOT DO IT.....Don't buy their POS. It's barely functional.....Understand that I have a better than average understanding of inventory management and excel. I could not make it work. Their support people want to do reach outs and they mess with your firewall settings, and will NOT own up to the fact that the software is intentionally designed to make things difficult unless you keep paying them for additional licenses and spending time on the phone at their per minute charge. We switched to Square and have ZERO complaints. Our ONLY issues experienced with Square are directly tied back to QuickBooks POS issues - the way they have their info set up made the migration/import/export tough. Once we wiped out QBPro POS 18.0 - our lives are now peaceful. One last thing - Square payments arrive overnight - 99.9% of the time - QuickBooks delayed up to 4 days. They are holding your money. It's clearly another tactic - our bank did not change, but our processor did. Way faster and cleaner with Square POS - all around.
James C.
IT Manager in Kanada
Verifizierter Nutzer auf LinkedIn
Einzelhandel, 11-50 Mitarbeiter
Verwendete die Software für: Mehr als 1 Jahr
In Betracht gezogene Alternativen:
Best and Easiest POS
Kommentare: We use QuickBooks point-of-sale at work every day. It holds our inventory of over 2 million items. It's rugged, and never let you down. Finding mistakes that your employees made is super easy, and easy to rectify. Whether you are computer savvy, or just using a computer for the first time, You'll be able to use QuickBooks point-of-sale you'll be able to use QuickBooks point-of-sale
Vorteile:
I love how this point of sale is fully customizable to the customers needs. It offers everything you could want in a point of sale system. From sale orders to layaways, with QuickBooks point-of-sale you'll be ready to sell within hours of super simple setup.
Nachteile:
QuickBooks point-of-sale was quite costly to purchase all at once. But you only have to pay once.
Einzelhandel, 2-10 Mitarbeiter
Verwendete die Software für: Mehr als 2 Jahre
D cent POS software for the money but definitely could be better.
Kommentare: It runs my business
Vorteile:
Seamless integration with Quickbooks and fairly simple setup as well as fairly inexpensive software are the best features.
Nachteile:
Poor search features in make a sale and goofy differences between make a sale and sales order screens make it obvious that this is somewhat of an afterthought for QuickBooks.
Antwort von Intuit
vor 4 Jahren
Happy Tuesday, Weldon. We love hearing about how we can improve the product, and interface suggestions are always very much appreciated. I'd be glad to pass your feedback along to the engineers directly, as they frequently review customer feedback when developing new features/enhancements. When you get a bit of downtime, please send your ideas to me in an email (QBCares@Intuit.com). I'll forward them on your behalf, and will keep a lookout for your message. In the meantime, I encourage you to explore the Point of Sale Resource Center at https://quickbooks.intuit.com/point-of-sale/customer-resource-center/. There you'll find expert advice, articles, and workflow tips on the small business fundamentals, with a focus on the Point of Sale product. Until we chat again, wishing you all the best! Jess, The QuickBooks Team