Was ist Blumira?
Blumira's mission is to help SMBs and mid-market companies detect and respond to cybersecurity threats faster to stop breaches and ransomware. Blumira's all-in-one SIEM platform combines logging with automated detection and response for better security outcomes and consolidated security spend.
Blumira's free edition allows you to gain visibility into your Microsoft 365 environment within minutes.
Wer verwendet Blumira?
Blumira's target customer is mid-market organizations with limited security resources in the financial services, healthcare, government, manufacturing and retail industries.
Wo kann Blumira bereitgestellt werden?
Cloud, SaaS, webbasiert, Mac (Desktop), Windows (Desktop), Linux (Desktop), Windows (On-Premise), Linux (On-Premise)
Über den Anbieter
Blumira
Ansässig in Ann Arbor, USA
2018 gegründet
Telefon-Support
Chat
Erhältlich in diesen Ländern
Vereinigte Staaten
Über den Anbieter
Blumira
Ansässig in Ann Arbor, USA
2018 gegründet
Telefon-Support
Chat
Erhältlich in diesen Ländern
Vereinigte Staaten
Blumira – Videos und Bilder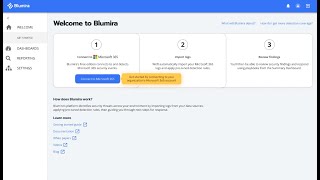 Kosten ähnlicher Produkte wie Blumira vergleichen
Blumira Funktionen
Aktivitätsüberwachung
Alarmfunktion / Benachrichtigungen
Anomalieerkennung
Archivierung & Aufbewahrung
Audit Trail
Bedrohungsanalyse
Berichterstattung / Analyse
Berichterstattung und Statistik
Cloud-Anwendungssicherheit
Compliance Management
Datenvisualisierung
Echtzeitüberwachung
Endpoint Management
Endpoint Protection
Ereignisprotokolle
Erkennungssystem für unberechtigte Eingriffe
Korrektur-Management
Protokoll-Parsing
Protokollerfassung
Richtlinien Managemen-
Schwachstellen-Scannen
Schwellenwert-Warnungen
Server-Logs
Störfallmanagement
Suchen / filtern
Threat Response
Verhaltensbezogene Analysen
Zugriffskontrollen / Berechtigungen
Robert
Senior AE in USA
Verifizierter Nutzer auf LinkedIn
Telekommunikation, 201-500 Mitarbeiter
Verwendete die Software für: Mehr als 1 Jahr
Fantastic SIEM for my customers
Kommentare: your sales reps are fantastic and responsive
Vorteile:
much cheaper than say Splunk plus easier to set up
Nachteile:
not alot of folks have heard of your company
Steven
Information System Security Manager in USA
Forschung, 51-200 Mitarbeiter
Verwendete die Software für: 6-12 Monate
In Betracht gezogene Alternativen:
Blumira SIEM
Kommentare: Blumira implementation was easy, with log collector setup done by script, templates for event forwarding from log sources. Use of this product has greatly reduced the time required of our limited staff searching logs for suspicious activity or indications of misconfiguration. Alert Event information and explanations enable rapid investigation and resolution of most incidents.
Vorteile:
Automatic event alerts for suspicious activities allows us to begin investigation soon after a suspicious event. Automated report generation for less sensitive activities allows us to monitor actions of interest to our organization. The Report Builder UI is straightforward and with practice can be used to create detailed reports of log activity for specific events, as is needed during investigations. Event management UI provides for communication to Blumira staff for additional support, attachment of documents from investigations and documenting the resolution of the event.
Nachteile:
It takes some practice and experimentation to identify which fields to use in filtering logs into reports. Blumira normalizes the logs for storage in the database and it can be challenging to get the right data items into the report you want. However, Blumira support is always ready to help figure it out.
Khan
Network Engineer in USA
Transport/Güterfrachtverkehr/Schienenverkehr, 501-1.000 Mitarbeiter
Verwendete die Software für: 1-5 Monate
Make sifting thru mountains of data something of a mole hill.
Kommentare: I've sent support tickets in and responses have been fast and personalized. Makes our jobs easier.
Vorteile:
Being able to send logs from clients, servers, network equipment, and cloud sources is very important. Knowing what is going on at all times and being alerted to something occurring allows us to look into who did what, when, and find out what was going on which triggered the alert allows us to respond very quickly.
Nachteile:
Filtering data in reports by date or date range is not as simple as it should be. I had to get a coworker to look at this feature with me in order to figure out how to filter by date range.
Antwort von Blumira
vor 4 Monaten
Thank you for your review and feedback, Khan! We've passed your insights about reporting filtering to our team so that we can continue to improve and make this process easier.
Informationstechnologie & -dienste, 51-200 Mitarbeiter
Verwendete die Software für: 6-12 Monate
In Betracht gezogene Alternativen:
Blumira solves the problem of SOC
Kommentare: Extremely positive; they are engaged with their customers and are transparent with their development efforts which help make us successful. Their rapid and knowledgeable communication has blown me away.
Vorteile:
The platform has done an amazing job of taking the various events, alerts, alarms, and other notifications and boiling them down into actionable alerts that any member of an IT team can work with and react against. Alert fatigue is a real concern, and the fact that our support staff can be given the infrequent and important findings -- while being given a playbook on how to respond -- is the reason this software is successful.
Nachteile:
While the initial setup was straightforward, it did not include the same large amount of documentation that other vendors provide. This did involve then reaching out to Blumira support, which has been, hands-down, the most knowledgeable and fastest support team that I have ever used in my 20 years of utilizing untold numbers of networking and security vendors.
Antwort von Blumira
vor 2 Jahren
Thanks for the positive response! We greatly appreciate having you as a customer. Your feedback is also welcomed. We also felt we didn't have accessible documentation and have published our documentation publicly on Blumira's website for all at https://www.blumira.com/integrations/
Michael
Technical Infrastructure Manager in USA
Staatsverwaltung, 1.001-5.000 Mitarbeiter
Verwendete die Software für: 6-12 Monate
In Betracht gezogene Alternativen:
A great solution that works as promised.
Kommentare: We have had a couple of instances where users clicked on a malicious link and their machine started password spraying. Alerted and the device was isolated and remediated in less than a half hour. I am afraid to think how long it would have been that we had this malicious software in our environment without Blumira.
Vorteile:
The ease of implementation was incredible. Other solutions were going to be months to a year to fully deploy.
Nachteile:
Not really any cons about the solution. They are a newer company and are great to work with when we need to new features added.