Was ist Fleet Maintenance Pro?
Fleet Maintenance Pro ist Wartungs-Tracking-Software, die für Deine Flotte schnell und einfach Verfolgung und Organisation von präventiven und Reparatur-Wartungsinformationen macht. Es ist flexibel genug, damit Du so viel oder so wenig Informationen trackst, wie Du benötigst, und automatisierte und farbkodierte PM-Benachrichtigung informieren Dich, wenn ein bestimmtes Fahrzeug oder eine Ausrüstung für die Wartung fällig ist. Alle unerwartete Wartungsarbeiten an einem Fahrzeug werden ebenfalls aufgezeichnet und gespeichert.
Wer verwendet Fleet Maintenance Pro?
Wir dienen jedem Kunden, der eine Notwendigkeit hat, präventive und Reparatur-Wartungen seiner Flotte von Fahrzeugen und Ausrüstung zu tracken
Wo kann Fleet Maintenance Pro bereitgestellt werden?
Cloud, SaaS, webbasiert, Windows (Desktop), Windows (On-Premise), Linux (On-Premise), Android (mobil), iPhone (mobil), iPad (mobil)
Über den Anbieter
Innovative Maintenance Systems
1994 gegründet
Telefon-Support
Chat
Erhältlich in diesen Ländern
Afghanistan, Albanien, Algerien, Amerikanisch-Samoa, Amerikanische Jungferninseln und 225 weitere
Fleet Maintenance Pro Kosten
Startpreis:
15,00 $/Monat
Ja, kostenloser Test verfügbar
Keine Gratisversion
Fleet Maintenance Pro bietet keine Gratisversion, aber eine kostenlose Testversion. Die kostenpflichtige Version von Fleet Maintenance Pro ist ab 15,00 $/Monat verfügbar.
Über den Anbieter
Innovative Maintenance Systems
1994 gegründet
Telefon-Support
Chat
Erhältlich in diesen Ländern
Afghanistan, Albanien, Algerien, Amerikanisch-Samoa, Amerikanische Jungferninseln und 225 weitere
Fleet Maintenance Pro – Videos und Bilder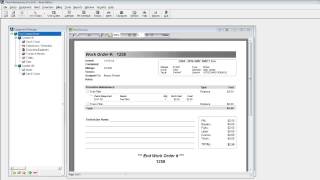 Fleet Maintenance Pro Funktionen
Arbeitsauftragsverwaltung
Fahrzeuginformationen
Garantie-Nachverfolgung
Inspektions-Management
Inventarverwaltung
Kostennachverfolgung
Kraftstoff-Nachverfolgung
Kundendienst-Historie
Reparatur-Nachverfolgung
Verwaltung von Einzelteilen
Alternativen für Fleet Maintenance Pro
Bewertungen über Fleet Maintenance Pro
Eric S.
Operations Manager in USA
Transport/Güterfrachtverkehr/Schienenverkehr, 11-50 Mitarbeiter
Verwendete die Software für: Mehr als 2 Jahre
Fleet Maintenance Pro is very powerful
Kommentare: We are learning what we have been spending every year to keep our fleet on the road. Now we are able to spot vehicles that are costing more on average to keep running and we can make business decisions based on real data.
Vorteile:
Seeing our costs for each truck is very valuable. Being able to run a report on vehicle costs for a given time period is valuable. Issuing POs and tracking invoices helps us streamline our business. Having a great technical support staff is critical and I have found the Fleet Maintenance support staff to be very helpful to get me back on track. FM is very flexible in allowing me to attach documents and photos to my equipment.
Nachteile:
I think the area that is hard to adapt to is the vehicle scheduled maintenance. I'm probably not setting my scheduled maintenance parameters correctly. I will make sure all the other facets of the program are fully understood by me and fully implemented, then I'll concentrate on how to make the scheduled maintenance part of the program useful for me.
Nathan C.
Operations Manager in USA
Bau, 11-50 Mitarbeiter
Verwendete die Software für: Mehr als 1 Jahr
Experience has been good overall. Software has most of the features we need (would like some added).
Kommentare: Prior to having this software, we relied on our shop staff to maintain equipment when needed. As you can imagine, we operated mostly in a reactive state. Having Fleet Maintenance has helped us to move into a proactive state and gives us the tools to really see what is happening with each piece of equipment. We can start to analyze when to deactivate a piece of equipment, we can look at trends as to what repairs/issues seem to be common to equipment and better prepare for those repairs by having parts on hand. We anticipate having equipment that runs longer because we are consistently performing preventative maintenance on the equipment based on the schedules set up in the system...we anticipate this will yield savings in less repairs and not having to replace the equipment as often. This software has helped us to better maintain our equipment, provide better efficiency and effectiveness for our shop employees, and provides us data that we can use to make better decisions for future purchases. It also gives us the ability to track inventory and our entire fleet of vehicles and equipment. Overall, we are very pleased with the benefits of the software and the experience with the Fleet Maintenance sales and customer service/technical support teams have been excellent!
Vorteile:
Ease of use, not hard to navigate or learn. Value for the money. No monthly contract. Setup is easy. Software has a lot of flexibility for data entry. If you forget something, you can add it in at a later date and if you need to take something out or delete it, it can be done with ease. Customer service has been excellent, very responsive and pleasant to work with. Overall the experience from estimate, trial period, purchase, and back-end support has been a pleasure (seems like a great company).
Nachteile:
Would be nice to have an inactive or out of season option/button for an entire category instead of having to do it on each piece of equipment (e.g. snow plows, mowers, etc.). Would also be nice to have GPS capable software to automatically track vehicles, mileage, etc. A bar code scanning option would be nice for inventory/parts. Reports are a bit difficult to learn especially if you want to customize them and sometimes have a hard time pulling data because the option for what we are looking for is not available (no specific example...we have ran into this a couple times over the last year...probably not a big deal, but if there was more flexibility in what data can be pulled for each report, it would make customizing and analyzing the information more robust). Most of the preset reports are great as a starting point...without the robust customization, it limits your ability to explore the trends deeper.
Cortney B.
Matintenace Office Manager in USA
Verwendete die Software für: Nicht angeboten
FMP Review
Kommentare: I quite enjoy the customer service from MTC as well as the user friendly nature of most of the features available. Some of the cons that I see with the program are as follows:
No options for Void or Credit options for Po's.
Not being able to have a long PO automatically entered in to a WO.
I feel like the report builder could be more user friendly.
No compatibility with Quickbooks
Antwort von Innovative Maintenance Systems
vor 7 Jahren
Thank you for your positive comments regarding the customer service you received and the user-friendliness of the software. We also appreciate the feedback on the program features. One of the features mentioned (credits) is present in the latest version of the software, and the other two will be implemented very soon! Thanks again.
Robin W.
Vice President & GM in Kanada
Verwendete die Software für: Nicht angeboten
Safety Canada Limited gives IMS a Thumbs Up!
Kommentare: Overall - Fleet Maintenance Pro enables companies to enter unlimited company information. Whether it be Fleet Management, Fleet Maintenance, Employee personal & training records or Health & Safety Records & Statistics, this software can be fully customized to any company operations. The system can be used as a single terminal operation or as a Vast Network with a company that has work sites all over the globe. We at Safety Canada promote and utilize this amazing software for all our clients throughout Canada. We have set up large operations that use the software for their Equipment Service Center Systems with many locations, as well as large and small organizations across Canada that use the software for their National Safety Code Fleet Managements Systems to help them meet or exceed full compliance. I have seen many different systems on the market but none that come close to Fleet Maintenance Pro. Safety Canada has for many years and will always promote this product to our clients, why give our clients an apple when they can have the whole tree! Ease of Use Not only is Fleet Maintenance Pro the most valuable software to enter unlimited information, the software is the most user friendly and easy to use software on the globe. From set-up to everyday data entry, Safety Canada users never have had a complaint on how to enter information or how to utilize the system in its entirety. Simply put, Fleet Maintenance Pro is the best of the best and this is why we at Safety Canada Limited stand behind this product 100% and will continue to promote it to all our clients throughout Canada for many years to come. Customer Service The developing team at IMS (Innovative Maintenance Systems) are some of the best and most knowledgeable professionals in the world. Their experience and dedication to customer service is superior in all aspects of business. They are personally committed and dedicated to every client they serve. The customer service provided is just one other component as to the very reason I believe Fleet Maintenance Pro is the very best system on the planet!
Stephen K.
Parts clerk in USA
Landwirtschaft, 51-200 Mitarbeiter
Verwendete die Software für: 6-12 Monate
Fleet Maintenance PRO has allowed our company to work at a better level.
Kommentare: The ability to keep up with the equipment maintenance schedule and repairs.
Issue work orders for equipment needing service and repairs.
Reorder and check out parts in a much fast manner.
Our industry is farming and dairy.
Vorteile:
The program does everything and more for the equipment side of our company. Useing the program is easy until more difficult and advanced work is needed and then it requires assistance. Which makes this program stronger because it means that their are more features that are not common sense practices.
Nachteile:
The ability to do some inventory work is limited, however our company charges products out and reorders differently than most customers. I worked with a service representative and figured out a way to work around this however it still has its limitations. Once the system is set up it is great to use. It would be nice if some of the inventory reports came with the ability to change the reports without a add on because there are so many ways to create techniques to find parts and see where they are going.