Was ist SpreadSimple?
Create ready-to-go websites in a few clicks just using the data in Google Sheet, no coding required.
Add a variety of customisable features such as search, sorting, filtering, shopping cart, SEO, custom scripts and others. Manage your website in your Google Sheet in a few clicks as the spreadsheet becomes the content management system and automatically syncs all the changes you make to your website.
Wer verwendet SpreadSimple?
E-commerce, Real Estate, SMEs, Solo-Entrepreneurs, Private Users
Wo kann SpreadSimple bereitgestellt werden?
Cloud, SaaS, webbasiert
Über den Anbieter
SpreadSimple
2019 gegründet
Chat
Über den Anbieter
SpreadSimple
2019 gegründet
Chat
SpreadSimple – Videos und Bilder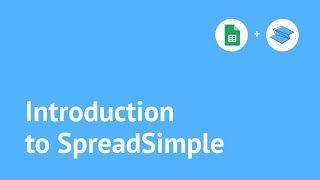 Kosten ähnlicher Produkte wie SpreadSimple vergleichen
SpreadSimple Funktionen
Automatisches Aktualisieren
Bearbeiten in Echtzeit
Berichterstattung / Analyse
Daten-Import / -Export
Online-Shop-Designer
SEO-Management
Vorgefertigte Vorlagen
Alternativen für SpreadSimple
Bewertungen über SpreadSimple
Hoang P.
Owner in Vietnam
Verifizierter Nutzer auf LinkedIn
E-Learning, 2-10 Mitarbeiter
Verwendete die Software für: 6-12 Monate
Spread Simple - simple but great
Kommentare: Today "speed and simple" means the world. And SpreadSimple has both.
Vorteile:
Spread Simple is indeed very simple to use and deploy. I was so amazed to learn that with the ready-made templates of Spread Simple, I can create a website with thousand of items, including photos, descriptions, everything by simply inputting / importing into a Google Sheet. It is also so simple to change / edit / remove / add items, simply by revising the spreadsheet. With Spread Simple, I can create so so many websites to my liking, you name it: e-commerce, books, movies listing, restaurant menus - the only limit is my imagination.
Nachteile:
I would hope that Spread Simple has more and more templates. It would be greatly helpful for users who are busy (like me) to deploy it easier.
Lakshmi narayanan G.
Curator in Indien
Verifizierter Nutzer auf LinkedIn
Marketing & Werbung, Selbstständig
Verwendete die Software für: 1-5 Monate
Does what it promises to do and does it great - launch websites from Google Sheets in a jiffy
Kommentare: - I have used SpreadSimple for an experimental side project of mine where it picks up from a spreadsheet I have and builds a website out of it using the fields mapped. Given it's an e-commerce site, SpreadSimple was the perfect choice for it as very few nocode tools can build sites from Google Sheets without having you pay a fortune before you can even validate your idea
Vorteile:
- I can bring my own sheets rather than being confined to a predefined template - Mapping the fields on my sheet to the fields in the app - Live reload, update your sheet and it's updated on the site within seconds - Great support - I reached out well past midnight and yet, I got quick support from the [SENSITIVE CONTENT HIDDEN] himself - Roadmap - Spreadsimple has a great roadmap planned for making e-commerce sites from Google Sheets a reality and I'm excited about the roadmap
Nachteile:
- Caching options: As it has to do live reload, the product does not offer any caching mechanism right now, which results in slower load times and lower scores in Pagespeed tests - Ecommerce focused: Spreadsimple is very e-commerce focused - what this means is the common use-case for building nocode sites, which is to build curated directories/lists, cannot be built with this product yet
Antwort von SpreadSimple
vor 2 Jahren
Hello Lakshmi! Thank you for the feedback! Though our focus is on e-commerce, we are also working on adding new features that will make SpreadSimple more flexible and fit for many other needs besides creating an e-store. E.g. we already added the list-style card layout and a template for job boards with a form to collect user contributions.
Anshul R.
Founder in Indien
Gesundheit, Wellness & Fitness, 2-10 Mitarbeiter
Verwendete die Software für: 1-5 Monate
Spread Simple : A simple CMS based on Sheets
Kommentare: I used Spread Simple to build a simple e commerce shop and was satisfied with my experience of the software. It took me 10-15 mins to setup and I was quickly able to experiment with the site. I think a few of the features which I require for my use case will coming in the next couple of weeks.
Vorteile:
- I like the different number of options available to display the product specifications - The product is simple to use and easy to set up. - The themes are also nice and mobile responsive
Nachteile:
- I wish the form was editable. Right now, it's fixed. - I wish there was a product display page to go over more details.
Antwort von SpreadSimple
vor 2 Jahren
Hello Anshul! Thank you for your feedback! Right now we are working on adding single item pages, that would allow providing more information on each product. And we'll register the ability to edit the form as a feature request for our future releases.
Druck, 2-10 Mitarbeiter
Verwendete die Software für: 6-12 Monate
Spreadsimple gets better every month with their updates
Vorteile:
They are building a great, user-friendly product that allows for website and e-commerce at scale, with easy of use. I love it!
Nachteile:
I don't really have any cons to list, other than hoping they get more payment method app integrations in the near future.
Dunia C.
Content Creator in Spanien
Marketing & Werbung, Selbstständig
Verwendete die Software für: 6-12 Monate
Spreadsimple is... just that, simple
Kommentare: My experience with Spreadsimple is very positive, but I don't expect more than it can give. I know that Spreadsimple is for building very simple websites and getting to market fast.
If I want to do a bigger project, I have to change platform.
I also use it to enrich the contents of a website built in wordpress and I like it a lot.
Vorteile:
Spreadsimple allows you to create web pages based on Google spreadsheets. The system is extremely simple and in a very short time you can have a website online. It is a very good alternative to build directories or repositories of any kind. Spreadsimple can also be a good option to create an e-commerce and assess if a product can fit in the market.
Nachteile:
Spreadsimple is great, but it has the limitations of a website built on Google spreadsheets. For example, working on SEO has its limitations with this system. The current templates are limited, although I believe the team will continue to create new templates.