Was ist PageDNA?
Platform - Only PageDNA has the features and business benefits with the best value.
Process - Only PageDNA ensures you launch quickly with a complete working storefront, ensures that you gets usage, and checks in with you long after implementation to ensure your continued success.
People - Only PageDNA is staffed with a stable, cheerful US-based team of print industry experts that consistently earn Rave Reviews (read our reviews) for responsiveness and going the extra mile.
Wer verwendet PageDNA?
We specialize in helping Commercial print shops and internal or in-plant print shops adopt and implement our web to print solution.
Wo kann PageDNA bereitgestellt werden?
Cloud, SaaS, webbasiert
Über den Anbieter
PageDNA
Ansässig in Seattle, USA
1997 gegründet
Telefon-Support
Chat
Erhältlich in diesen Ländern
Kanada, Vereinigte Staaten
Über den Anbieter
PageDNA
Ansässig in Seattle, USA
1997 gegründet
Telefon-Support
Chat
Erhältlich in diesen Ländern
Kanada, Vereinigte Staaten
PageDNA – Videos und Bilder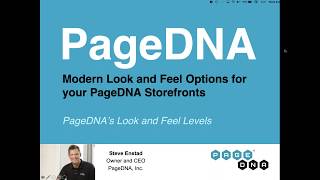 Kosten ähnlicher Produkte wie PageDNA vergleichen
PageDNA Funktionen
Angebote / Schätzungen
Auftragsabwicklung
Auftragserfassung
Auftragsmanagement
Auftragsverfolgung
Berichterstattung / Analyse
Content-Management
Drucken an mehreren Standorten
Genehmigungs-Workflow
Inventarverwaltung
Katalogisierung / Kategorisierung
Kontakt-Datenbank
Produktkonfigurator
Retourenmanagement
Rückstandsverwaltung
SEO-Management
Versand-Management
Vorlagen
Wiederkehrende Bestellungen
Bewertungen über PageDNA
Durchschnittliche Bewertung
Preis-Leistungs-Verhältnis
Nutzerbewertungen nach Unternehmensgröße (Angestellte)
<50
51-200
201-1.000
>1.001
Bewertungen nach Punktzahl finden
Marc P.
Director, IT in USA
Druck, 201-500 Mitarbeiter
Verwendete die Software für: 1-5 Monate
Feature Rich, Easy to Use - Web-To-Print Software
Kommentare: I can't say enough good things about PageDNA. Feature rich, ease of use, stellar support, easy integration, competitive price points along with templates that can do alot of things. Their competitors limit you on what you can do with their templates. Also, some of their competitors require you to purchase a 3rd party product in order to setup templates. So not only do you need to work with the Adobe Creative Suite, you have to know this 3rd party software. PageDNA works with EPS files (No 3rd Party software required) so it makes the template creation setup much easier than their competitors.
Vorteile:
The features of PageDNA web-to-print system are fantastic. We purchased this cloud solution to automate a new customer that we on-boarded. We have some complex templates and PageDNA was to implement all the features needed. The integration of PageDNA via XML into our ERP was simple. It worked flawlessly the first time. We've had issues with other Web-To-Print vendors when it comes to integration with manufacturers but not with PageDNA. Theirs worked right out of the box. The PageDNA Learning Center is a great foundation for the PageDNA administrator along with their . The kick-starter program was great. Their implementation staff was very knowledgeable. They kept the project moving along and help us solve problems during our weekly calls without having to go to support, which saves everyone time and money. PageDNA is constantly evolving their offering by adding features requested by their customers. The keep their customers in the loop with what's new and the features coming out in their releases.
Nachteile:
The only part that is lacking is the order data analytics reporting on the site itself. They are working on enhancing this to allow you to extract the data and import into Crystal Reports or something similar. This will allow their customers to analyze the data however they need to.
Antwort von PageDNA
letztes Jahr
Thank you, Marc. Our team reviewed this feedback and the number one thing we wanted to say - beyond thanking you for putting your trust in PageDNA - is that a lot of your success is due to your team. We love how you took our implementation plan and shifted into high gear, and kept things moving along from your side through our launch and into the adoption. We look forward to many years together, thank you again!
Carly E.
Printing Specialist in USA
Versorgungsunternehmen, 10.000+ Mitarbeiter
Verwendete die Software für: Mehr als 2 Jahre
BEST Support Team & Overall Web to Print Platform!!
Kommentare: My overall experience with PageDNA has been a breath of fresh air!
PageDNA is saving a TON of time for Order Entry & Prepress by letting the customer pick out, create & approve their variable printed items in real time. I'm also upholding the integrity of our brand by creating the online template for our customer to use based on branding guidelines.
Using PageDNA an absolute Win-Win for our Customers & for Us!
Vorteile:
My favorite thing about PageDNA is their FANTASTIC Customer Success Department! I have worked in the printing industry for 10+ years & with all of the great vendors I've worked with, I have never EVER experienced working with a customer service / support team as fast, knowledgeable, & understanding as the folks at PageDNA. They also seem happy to answer & fully explain all of the "How?" & "Why?" questions that I ask. #SupportGOALS! From the million ways an approval can be routed, to the countless look & feel options, PageDNA is WAY more dynamic and customizable than any other Web to Print software I have ever done a demo of, used myself, or seen online. If you can dream it, I'm 1000% confident the PageDNA team can make it happen!!
Nachteile:
Seriously...NO Cons! I feel like for every complicated idea I come up with, either their Knowledge Base or Support Team has answers for me.
Antwort von PageDNA
letztes Jahr
Carly: It's an honor to receive a review this glowing from you and your organization. Your firm literally is keeping the lights on for citizens, and our goal remains to keep our "light" on for you and your customers, and to ensure it keeps shining bright. Thank you for your business and trust - and let us know if we EVER start to slip. -Steve and team PageDNA
James M.
Senior Systems Engineer in USA
Druck, 201-500 Mitarbeiter
Verwendete die Software für: 6-12 Monate
Breath of fresh air
Kommentare: As an implementation team, we are developers at heart, and as such, we look at external vendors with offerings such as PageDNA from a developer's point of view. Namely, is what they are offering going to help us meet our customers' business needs in a way we can be proud to provide? The answer, with PageDNA, has been a resounding YES.
We have been impressed over and over again with both the software itself as well as the team behind it. After years of experience dealing with frustrations from other vendors, working with the PageDNA team has been a breath of fresh air, and we're extremely happy to be working with them.
Vorteile:
Our team has repeatedly been pleasantly surprised with the ease-of-use, depth of customization, and breadth of features available in PageDNA. Each time we have needed a new feature to meet a customer's business need, we have found that it was already built into the system, ready to be quickly implemented.
Nachteile:
We have not yet encountered any negatives with our PageDNA integration. In fact, the team at PageDNA has been very active in their communications with us both before and after launch to find out what, if anything, they could improve, clearly demonstrating their commitment to continual improvement. This forward-thinking has made us confident that they will be able to handle our changing needs in the future.
Antwort von PageDNA
letztes Jahr
Jim: Thank you for your candid feedback, and praise. I have to say, I'm really glad you signed up in 2020 and not when we first met your firm in 2005. What you experienced in the product features, our onboarding process, and ongoing support is the result of a long journey we've been on to transform PageDNA. I'm incredibly proud of how much your team has committed to the platform, which I believe is also a primary contributor to your success. Please let us know if there are any gaps we can address, and meanwhile we look forward to helping you grow your business, online! -steve
Albert A.
President in USA
Druck, 11-50 Mitarbeiter
Verwendete die Software für: Mehr als 2 Jahre
Best software in the marketplace
Vorteile:
User friendly, great features and excellent customer service
Nachteile:
There isn't one negative I can say. It's an excellent software. I've had 4-5 demos with other companies software and pagedna is the best I've seen.
Antwort von PageDNA
vor 4 Monaten
Thank you for the trust you continue to put in our platform, processes and team, Albert. It's one of our favorite things to join you in the sales process and help navigate security and other concerns for your demanding Fortune 100 customers. Thank you for being a great customer since 2006! -steve
Hal G.
Solutions Specialist in USA
Druck, 11-50 Mitarbeiter
Verwendete die Software für: Mehr als 2 Jahre
Best web-to-print on the market with incredible support.
Kommentare: The customer support and responsiveness is a serious step above the competition. From sales support to customer support, they are a cohesive and response team. We also have a direct line to stakeholders at PageDNA who listen to our needs, constantly evolve the product and make things happen.
Vorteile:
Ease of use and endless features. Pretty much if the platform doesn't support it, it doesn't exist. I can't count the number of times that we've asked for a feature and it was implemented. We've been a customer for over 13 years and the platform has helped us automate so many tasks, no just web-to-print. We highly recommend PageDNA if you are looking for a web-to-print solution or a way to automate processes. They also integrate into all the major MIS providers so it eliminate double entry and re-keying of job data.
Nachteile:
I can't think of any cons, we are a fan of the platform and support./
Antwort von PageDNA
vor 2 Jahren
Thank you Hal, for being such a great partner for the past 13 years. Here's to the next 13 years, together!