Was ist iSpring QuizMaker?
iSpring QuizMaker is an application for creating tests where you can choose from a variety of questions types, add multimedia, provide students with feedback, limit test time, brand your quizzes with colors and styles, and even more. There are 14 question types for accurate knowledge assessment. You can publish your test directly on the Internet as an HTML5, or save it on your computer and upload it to your LMS.
Wer verwendet iSpring QuizMaker?
The powerful capabilities and low prices are perfect to help to use for learning, knowledge checks, and skill practice.
iSpring QuizMaker – Details
iSpring Solutions
2001 gegründet
iSpring QuizMaker – Details
iSpring Solutions
2001 gegründet
iSpring QuizMaker – Videos und Bilder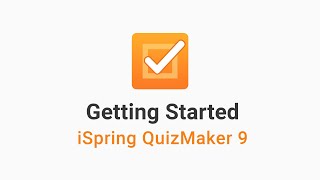 Kosten ähnlicher Produkte wie iSpring QuizMaker vergleichen
Startpreis
370,00 $/Jahr
249,00 $/Jahr
Nicht verfügbar
8,00 $/Monat
iSpring QuizMaker – Bereitstellung und Support
Kundenbetreuung
E-Mail/Helpdesk
Wissensdatenbank
Telefon-Support
24/7 Live-Support
Chat
Training
Webinare
Dokumentation
Videos
Funktionen von iSpring QuizMaker
API
Ad-hoc-Berichterstattung
Aktivitäts-Dashboard
Aktivitäts-Verfolgung
Anpassbare Berichte
Anpassbare Fragen
Anpassbare Vorlagen
Beaufsichtigung
Berichterstattung / Analyse
Berichterstattung und Statistik
Beurteilung der Kompetenzen
Beurteilung-Management
Bewerber-Tracking
Bewertungen
Daten-Import / -Export
Datenvisualisierung
Drittanbieter-Integration
E-Mail Erinnerungen
Echtzeit-Analytik
Echtzeit-Berichterstattung
Einmalige Anmeldung
Einstellungstests
Feedback-Management
Fortschrittsbericht
Fortschrittsverfolgung
Fragenkatalog
Fähigkeiten testen
Fähigkeiten-Nachverfolgung
Individualisierte Beurteilung
Job-Bewerbermanagement
Kollaboration mehrerer Nutzer
Kundenspezifisches Branding
Leistungskennzahlen
Leistungsmanagement
Lernmanagement
Personalbeschaffungs-Management
Sichere Datenspeicherung
Statusverfolgung
Talentsuche
Test-/Quizerstellung
Umfragen & Feedback
Video-Unterstützung
Visuelle Analytik
Vorlagen-Management
Vorstellungsgespräche planen
Wechselseitige Audio & Video
Wertung
Workflow-Management
Zertifizierung und Lizenzierung
Zusammenfassende Berichte
Benjamin B.
Leiter Schülerforschungszentrum Saarlouis in Deutschland
Verifizierter Nutzer auf LinkedIn
Bildungsmanagement, 2-10 Mitarbeiter
Verwendete die Software für: Mehr als 2 Jahre
Macht sehr einfach und elegant, was es soll.
Kommentare: Ich kann mit der Software sehr schnell hochwertige Lernerfolgskontrollen erstellen.
Vorteile:
Die Erstellung von bewerteten und unbewerteten Quizzes fällt leicht, geht schnell und liefert optisch ansprechende Ergebnisse. Auch die erst seit der letzten Version eingebaute Möglichkeit, mathematische Formeln einzubinden, hat den Wert des Produkts noch einmal erhöht. Zudem ist der Support sehr schnell und sehr hilfsbereit! Zu allen Produkten gibt es häufig online-Fortbildungsveranstaltungen.
Nachteile:
In der mir zur Verfügung stehenden Version werden die Ergebnismails über einen Server von iSpring gesendet. Aus Datenschutzgründen würde ich gerne in die Lage versetzt werden, einen eigenen Emailserver zu nutzen. Schade! Man kann die Ergebnisse an einen php-Server schicken, was ich auch nutze, ich würde gerne beide Systeme, Email über eigenen Mailserver und php-Server, gleichzeitig nutzen können.
Ignitius D.
ICT Teacher in Simbabwe
Verifizierter Nutzer auf LinkedIn
Bildungsmanagement, 501-1.000 Mitarbeiter
Verwendete die Software für: Mehr als 2 Jahre
In Betracht gezogene Alternativen:
Qualified e-learning authoring tool that allows incorporation of various learning areas.
Kommentare: There have not been interactive quizzes that cater for minor learning areas and also vernacular languages. Ispring makes this possible.
Vorteile:
The incorporation of audio and videos in the quiz.
Nachteile:
They could have allowed for a hyperlink to bring in other components such as other stand-alone apps to be brought into the quiz. The quizzes could easily be incorporated into the existing school management system
Antwort von iSpring Solutions
vor 7 Monaten
Hi Ignitius, Thank you so much for reviewing iSpring here on Capterra! We appreciate it greatly. It's wonderful to hear that iSpring fits your needs just perfectly. As per your feature request, thanks a lot for sharing. I will pass it on to our Product Development team. Keep up the great work!
Rick K.
Training and Systems Manager in USA
Verifizierter Nutzer auf LinkedIn
Personalbeschaffung & -besetzung, 51-200 Mitarbeiter
Verwendete die Software für: 1-5 Monate
Adequate Tool When Bundled Within the iSpring Suite for PowerPoint
Kommentare: My experience with iSpring QuizMaker has been positive - with one caveat. I'm using the combined bundle of the iSpring creation content tools along with the iSpring Learn LMS. The integration is seamless. I can only speak to how iSpring QuizMaker works in this arrangement and not in a situation where one creates with this tool and then posts in a non iSpring LMS.
Vorteile:
I like the point of use availability as part of the iSpring Suite which embeds within the PowerPoint desktop app. When I access the QuizMaker via this method it is quick and easy - create a slide, click the dedicated button on the tool bar and then dive right into creating my quiz. There's a good range of question types which give a wide range of means of assessing learner's progress and keeping learner engagement!
Nachteile:
The user interface is dated and not adequately intuitive. Additionally, a number of the question types - "drag and drop" is one of the most useful ones - do not translate well into the mobile device's functionality. As most of my learners access assessment via this pathway, the lack of translation of the functionality is disappointing and unfortunate.
Leonardo F.
Consultant in Brasilien
Telekommunikation, Selbstständig
Verwendete die Software für: 6-12 Monate
iSpring solved my quiz/exam development needs!
Kommentare: I needed to create engaging, effective, and compelling quiz/exam content and I found pretty much everything I needed on iSpring QuizMaker. Overall, I am very satisfied. Plus, their technical support is fast!
Vorteile:
The variety of questions types is very interesting! I am able to develop intuitive, engaging quiz/exam content to address my over-demanding educational projects. The software is very easy to work with and exceeds my project's expectations and needs.
Nachteile:
It is supported on Windows only. Mac users such as myself need to run Windows over VMware Fusion or Parallels. For months I had to run iSpring QuizMaker on Windows 10 with VMware Fusion on my old MacBook Pro (Intel), which is a quite noisy and somewhat slow machine for this kind of work. However, recently I managed to install Windows 11 ARM64 (although still under Microsoft's Insider Preview; alpha release) on my Mac Mini (M1) with Parallels and get iSpring QuizMaker to run very easily on it. iSpring technical support helped me out during this process.
Antwort von iSpring Solutions
letzten Monat
Hi Leonardo, Thank you so much for reviewing iSpring here on Capterra! It means the world to us. We are happy to have you on board and hope that you keep enjoying working with the product! Hope iSpring keeps serving you well :)
Daniel K.
Instructional Designer in Australien
E-Learning, 2-10 Mitarbeiter
Verwendete die Software für: 6-12 Monate
Great Customer service
Vorteile:
accessible and well-integrated into powerpoint
Nachteile:
difficulty with text boxes, which sprawl out as I type, go off the page sometimes, slow loading speeds
Antwort von iSpring Solutions
letzten Monat
Hi Daniel, Thanks a lot for posting your review here on Capterra! We very much appreciate it. It's great to hear that you are happy with iSpring solution. Hope it keeps serving you well :)