Was ist Knowee?
Internet service that transforms business cards into a sustainable communication channel and the best sales tool.
Comprehensive SaaS suite for business card and CRM management.
Centralized control for creation/editing/deleting buiness cards within a corporation.
ID Enforcement through validation process.
Full integration ( if requested) with existing Corporate IT Systems.
Wer verwendet Knowee?
From individual users to large corporations. The only tool that enables you to give your own buiness card, truly compatible and digital. No more papercards. Save 1 million trees every Year!
Knowee – Details
Knowee
2013 gegründet
Knowee – Details
Knowee
2013 gegründet
Knowee – Videos und Bilder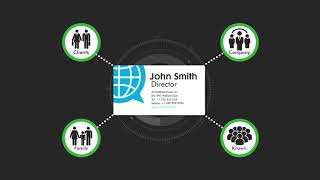 Kosten ähnlicher Produkte wie Knowee vergleichen
Startpreis
5,00 €/Monat
15,00 $/Monat
25,00 $/Monat
12,00 $/Jahr
Knowee – Bereitstellung und Support
Kundenbetreuung
E-Mail/Helpdesk
FAQ/Forum
Telefon-Support
Einsatz
Cloud, SaaS, webbasiert
Windows (Desktop)
Android (mobil)
iPhone (mobil)
iPad (mobil)
Training
Persönlich
Live Online
Dokumentation
Videos
Funktionen von Knowee
API
Aktivitäts-Dashboard
Aktivitäts-Verfolgung
Alarmfunktion / Benachrichtigungen
Angebot in sozialen Medien
Anpassbare Berichte
Anpassbare Felder
Anpassbare Vorlagen
Benutzer-Management
Berichterstattung und Statistik
Bildbearbeitung
Bildbibliothek
CRM
Daten-Import / -Export
Datenerfassung und Übertragung
Datenextraktion
Datenspeicher-Management
Datensynchronisation
Designvorlagen
Dokumenten-Abbildung
Dokumentvorlagen
Drittanbieter-Integration
Druck-Management
E-Mail Marketing
E-Mail-Management
E-Mail-Verteilung
Echtzeit-Berichterstattung
Erinnerungen
Etikettierung
Kategorisierung / Gruppierung
Kommunikationsmanagement
Kontakt-Datenbank
Kontaktmanagement
Kundendatenbank
Kundenspezifisches Branding
Lead-Erfassung
Lead-Generierung
Leadmanagement
Live-Chat
Mehrsprachig
Multi-Channel-Kommunikation
Multichannel-Marketing
Schritt-für-Schritt-Assistent
Sichere Datenspeicherung
Social-Media-Integration
Suchen / filtern
Verfolgung von Interaktionen
Video-Unterstützung
Vorlagen-Management
Zugriffskontrollen / Berechtigungen
Gabriel C.
founder in Spanien
Verifizierter Nutzer auf LinkedIn
Finanzdienstleistungen, 2-10 Mitarbeiter
Verwendete die Software für: Mehr als 2 Jahre
best alternative to exchange corporate information
Kommentare: Great service by Pedro & Jose Luis
Vorteile:
The data a corporation can get out of a business card exchange.
Nachteile:
It takes time and motivation for the employees to get the maximum information out of the software.
Antwort von Knowee
letztes Jahr
Thank you very much for your feedback, Gabriel!
Onlinemedien, 2-10 Mitarbeiter
Verwendete die Software für: Mehr als 2 Jahre
ESSENTIAL APP for Manage Your Contacts
Kommentare: Great experience and big value for me
Vorteile:
What I like most about this application is that it optimizes the management of your contacts and you also always carry your business cards with you.
Nachteile:
Is complicated to make it more friendly to use, the people normally refuse to move a routine if the process is not absolutely for kids.
Antwort von Knowee
letztes Jahr
Many thanks for your comments, David!
Architektur & Planung, 2-10 Mitarbeiter
Verwendete die Software für: Mehr als 2 Jahre
Great impact to my clients and stakeholders
Kommentare: Nice. I spent time to set up once and from then on, it works alone from my email. I am in a meething and if I need to share my card either I show the QR or send it as a Whatsapp, text message or even email. It's also a fun icebreaker in a cocktail type meeting.
Vorteile:
How easy you can send your card to others. I have it on my email signature and I am sending cards with every email without even noticing. It's also nice to see how the perform over time, as you can see how many clicks every card is getting. I use the link to my card to sign my plans and also include the QR code just in case the PDFs get printed. Really useful.
Nachteile:
I had to send them the PDF of my card for them to replicate it. But it was quick, so not bad. They managed to replicate the design perfectly. Not automated. I believe that you can stick to one of the predefined templates they offer. Then it's immediate. Or you can upload your own image
Antwort von Knowee
letztes Jahr
Thanks, Laura for your kind review! Appreciate the time taken to help us.
Fernando D.
Sales Manager in Spanien
internationale Angelegenheiten, 2-10 Mitarbeiter
Verwendete die Software für: Mehr als 1 Jahr
Best paperless solution to advertise our company and enhance our networking
Kommentare: Easy to use and finding out every day that more people in my country are using it. 2 years ago I was a pioneer but nowadays it is very popular in Spain.
Vorteile:
- Cheaper than Business cards - Ecofriendly- paperless- foot-print reduction - Easier to share - A lot of functions - Good user experience
Nachteile:
- you might go trough the user's guide to squeeze all the options
Antwort von Knowee
letztes Jahr
Thanks for your kind words, Fernando!
Pedro M.
Founder and CEO in Spanien
Investmentbanking, 201-500 Mitarbeiter
Verwendete die Software für: 6-12 Monate
Perfect for the post covid world
Kommentare: Excellent
Vorteile:
Know.ee allowed us to get rid of business cards for once and for all. The best feature is the possibility to add marketing information to your employees signature
Nachteile:
There is nothing relevant to add in this section
Antwort von Knowee
letztes Jahr
Many thanks, Pedro.