Was ist Lectora?
Lectora is a user-friendly, award-winning authoring tool available as both a cloud-based and desktop solution. Part of the eLearning Brothers Authoring Suites, Lectora empowers you to quickly create, WCAG-friendly interactive eLearning courses that achieve extraordinary results. With more productivity shortcuts than any other authoring tool, Lectora is as simple or advanced as you need it to be.
Wer verwendet Lectora?
Lectora has thousands of users ranging from solo freelancers to global enterprises. As the leader of accessibility, it also serves government agencies including all 5 military branches.
Wo kann Lectora bereitgestellt werden?
Cloud, SaaS, webbasiert, Windows (Desktop)
Über den Anbieter
eLearning Brothers
Ansässig in American Fork, USA
1999 gegründet
Telefon-Support
Erhältlich in diesen Ländern
Vereinigte Staaten
Über den Anbieter
eLearning Brothers
Ansässig in American Fork, USA
1999 gegründet
Telefon-Support
Erhältlich in diesen Ländern
Vereinigte Staaten
Lectora – Videos und Bilder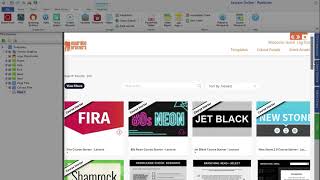 Kosten ähnlicher Produkte wie Lectora vergleichen
Lectora Funktionen
Ablaufplan
Asynchrones Lernen
Audio- / Videoaufnahmen
Aufgabenmanagement
Berichterstattung / Analyse
Fortschrittsverfolgung
Gamification
Gemischtes Lernen
Kommunikationsmanagement
Kurs-Veröffentlichungen
Kursverwaltung
Medienimport
Mobiles Lernen
SCORM-Compliance
Synchrones Lernen
Tests/Bewertungen
Vorlagen-Management
Maria L.
CEO in Deutschland
Professionelles Training & Coaching, 2-10 Mitarbeiter
Verwendete die Software für: 6-12 Monate
Wenig intuitiv, holprig. veraltert. Übersetzung ins Deutsche ist ein Witz.
Vorteile:
Viele Gestaltungsmöglichkeiten, Responsive Design. Funktionsumfang und Testmöglichkeiten sind gut.
Nachteile:
Die Übersetzung ins Deutsche ist mehr als mangelhaft. So gibt es z. B. die Funktion: "Staaten einstellen" - gemeint ist damit die Möglichkeit, den Status eines Objektes zu setzen. Die absolut unbrauchbare Hilfetexte wurden offenbar hin und her übersetzt. Ergebnis: ein völlig unverständlicher Textsalat, der jeder Beschreibung spottet. Ein Beispiel: wo im deutschen Satz der Artikel "die" stehen müsste, findet man stattdessen regelmäßig das Wort "sterben". So heißt es, Studenten sterben... etc. anstelle von "die Studenten". Wer Lust auf eine außergewöhnliche Herausforderung seiner sprachlichen Intelligenz hat, kann sich gerne mit diesen unglaublichen Texten befassen. Die Funktionen sind nicht stabil nutzbar, an der Software wird offenbar gearbeitet. Mal kann man keine Lerneinheiten aus eigenen Vorlagen erstellen, mal kann man eigenen Vorlagen nicht mehr speichern. Fehler 500/Upgrade-Fehler mit der Unmöglichkeit der Nutzung inklusive. Die Funktionen sind so platziert, dass man diese intuitiv nicht finden kann. Insgesamt gesehen macht die Software den Eindruck, aus verschiedenen, z. T. deutlich veralteten Modulen zusammengesetzt worden zu sein. Die Nutzung ist holprig. Beim responsive Design muss man alle 5 Ansichten einzeln anpassen. Das wäre eigentlich nur zeitaufwändig - nicht schlimm. Aber: Beim Erstellen einer der 5 Ansichten passiert sehr oft, dass die Änderungen sich auch auf andere (nicht alle) Ansichten übertragen. Dann kann man wieder von vorne beginnen...
Heidi S.
President in USA
Verifizierter Nutzer auf LinkedIn
E-Learning, 2-10 Mitarbeiter
Verwendete die Software für: Mehr als 2 Jahre
In Betracht gezogene Alternativen:
Lectora Review
Kommentare: We have used Lectora for over 10 years and find it to be the most stable authoring software, and the most flexible if we need to add additional programming outside of what is available within Lectora.
Vorteile:
This is the most powerful and flexible authoring software, although there is a learning curve. It is great for those that are responsible for developing eLearning.
Nachteile:
Support has not been as responsive as they used to be. However, now that ELB is in charge, I'm sure that will change for the better. When new updates are released, there can be problems when updating older courses because the new programming does not always match to previous programming.
Antwort von eLearning Brothers
vor 2 Jahren
Thank you for taking the time to leave us a review and for highlighting one of Lectora's greatest strengths, the flexibility to meet any learning need. Customer support is also very important to us. In addition to making continuous improvements to Lectora, we are committed to providing an exceptional customer experience, and look forward to demonstrating that commitment first hand.
Domenic C.
Founder in USA
E-Learning, Selbstständig
Verwendete die Software für: Mehr als 2 Jahre
Power to Unleash Your Potential
Kommentare: The Lectora support team and community is very helpful.
Vorteile:
The interface is super easy to use and provides quick access to advanced features. I usually work from a blank page or corporate template where I have complete control of design and programming. Adding actions to objects is very helpful. The properties ribbon gives me quick access to all the information I need. There is often many ways to do something and I can easily experiment to find the best method. Adding exams, surveys, knowledge checks, progress bars, custom menus, variables, HTML windows, and JavaScript, are all easy to do. If you want to create adaptive courses to personalize learning, Lectora is by far the easiest program to use.
Nachteile:
With power comes a few caveats. Occasionally a deleted action does not get deleted. The solution is to rebuild the action using a different name. Moving an object using xy coordinates is easy, but there is no easy way of detecting those coordinates. Having that feature would make designing games much easier. The recent addition of Elearning Brothers assets is great. I just wish the search feature worked better. After each search you have to start from the beginning. There is no way to select multiple objects or save searches.
Antwort von eLearning Brothers
vor 2 Jahren
Thank you for underscoring the flexibility of Lectora to build content in multiple ways and the extensibility to incorporate other web technologies. Your points are fantastic! We also forwarded your feedback to our product team. We greatly value long-time users like you and want you to know we are committed to continuous innovation and improvement.
Tyson R.
KansasTRAIN Administrator in USA
Staatsverwaltung, 1.001-5.000 Mitarbeiter
Verwendete die Software für: Mehr als 1 Jahr
Lectora Inspire for Online Course Development
Kommentare: We use Lectora Inspire to create all of our online training. There is a learning curve for the system but I found it very intuitive once I began creating content. I have used a few other authoring tools in my career and Lectora is my personal preference. The downfalls of the system are offset by the additional software that comes included in this package. While there are some changes I would love to see, my overall experience with Lectora is positive and I would recommend it over the other tools I have used.
Vorteile:
- Makes great courses - Can output projects to a number of formats (scorm, AIC, etc). - Continuous updates - Software fits the needs of any experience level - Allows for total customization of courses - Responsive design feature allows you to optimize your course for different hardware (tablets, phones, and PC) without having to create three entirely different courses - The Lectora Inspire package also includes the a screen capture and image editing software called Snagit and the video recording/editing software Camtasia. These are great additions and I use Snagit many times throughout the day. - Reviewlink is another addition to the software package that allows courses to be easily shared among stakeholders and evaluators before the course is uploaded to our learning management system.
Nachteile:
- Terrible customer support. The one time I've actually been able to get ahold of someone, they insisted that the problem was due to my computer. Thankfully, every time I encountered a problem, I was able to solve it using Google. - Many of the advanced features are inaccessible meaning they do not meet Section 508 requirements. - The training that they provide on the software is very overpriced. Hundreds of dollars just to have someone walk you through a manual page by page. - Compared to competitors, the price for the Inspire package is justified. However, it is still expensive in general than I believe it really should be.
Dave O.
Manager - Learning and Development in USA
Bankwesen, 10.000+ Mitarbeiter
Verwendete die Software für: Mehr als 2 Jahre
Lectora Online used Globally
Kommentare: I really enjoy Lectora Online. I wish I could spend more of my time developing and organizing the tool for our global training teams because this tool has the capability to make a huge impact on leading a Global training organization like no other.
Vorteile:
Having a tool that can allow teams globally to work on projects is invaluable. Auto back up of all projects is great. Adding the text to speech is a nice touch. Now having the ability to import PPT slides inside a title using a corporate template was a much appreciated addition.
Nachteile:
Syncing audio with on screen animations (having a timeline similar to Articulate/Storyline) would be great. Having built in functionality to add the audio script to each slide to be able to be read. Having some built in games again (jeopardy, basketball, skiing down a slope, etc.) like the flash games that was in previous versions. The responsive design is a bit clunky at times and could use some improvement. I have had a couple internal teams say that tools like Articulate 360 handles responsive design better.
Antwort von eLearning Brothers
vor 2 Jahren
Hi Dave, thank you so much for your review! I passed on your comments to Joe (chief architect) and rest assured, a timeline is coming!