Was ist AutoManager?
Gebrauchtwagenhändler-Software und Websites. AutoManager bietet DMS-, Website- und CRM-Händlersoftware zur Maximierung der Rentabilität und Optimierung der Lead-Generierung. DeskManager DMS, das umfassende Fahrzeugmarketingsystem WebManager und Automotive CRM haben 1.000 Händlern aller Größenordnungen geholfen, ihr Geschäft auszubauen. Die Software ist einfach zu verwenden, mit vielen Funktionen ausgestattet und erschwinglich. Die Websites sind vor allem für Mobiltelefone geeignet, einschließlich Facebook Marketplace, und unterstützen HD-Bilder und Website-Text.
Wer verwendet AutoManager?
Der Schwerpunkt liegt auf unabhängigen Fahrzeughändlern. Ob Gebrauchtwagen, Wohnmobile oder Boote, AutoManager ist ideal, um die Bedürfnisse von Händlern jeder Größe zu unterstützen. Die Produkte sind einfach, funktionsreich und erschwinglich.
Wo kann AutoManager bereitgestellt werden?
Cloud, SaaS, webbasiert, Windows (Desktop), Windows (On-Premise), Android (mobil), iPhone (mobil), iPad (mobil)
Über den Anbieter
von AutoManager
1987 gegründet
Telefon-Support
Chat
Erhältlich in diesen Ländern
Kanada, Vereinigte Staaten
Über den Anbieter
von AutoManager
1987 gegründet
Telefon-Support
Chat
Erhältlich in diesen Ländern
Kanada, Vereinigte Staaten
AutoManager – Videos und Bilder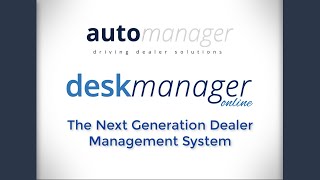 Kosten ähnlicher Produkte wie AutoManager vergleichen
Startpreis
50,00 $/Monat
Nicht verfügbar
1.000,00 $/Monat
N/A
Funktionen von AutoManager
API
Aktivitäts-Dashboard
Aktivitäts-Verfolgung
Alarmfunktion / Benachrichtigungen
Angebote / Schätzungen
Anpassbare Berichte
Anpassbare Formulare
Automatisierte Terminplanung
Barcode / Tickets scannen
Berichterstattung / Analyse
Berichterstattung und Statistik
Bestandsführung
Bestandsverfolgung
Buchhaltung
Dokumentenmanagement
Dokumentenspeicher
Drittanbieter-Integration
E-Mail-Management
Echtzeit-Aktualisierungen
Echtzeit-Analytik
Echtzeit-Berichterstattung
Finanzierungsmanagement
Formularverwaltung
Für Automobilhändler
GPS
Gebrauchtwagenverkäufer
Hier-Kaufen-Hier-Bezahlen
Inkasso-Management
Integration in QuickBooks
Integration in die Buchhaltung
Inventarverwaltung
Kalenderverwaltung
Kommunikationsmanagement
Kontakt-Datenbank
Kundendatenbank
Kundendienst
Kundenhistorie
Lead-Erfassung
Leadmanagement
Mietverträge nachverfolgen
Neuwagenverkäufer
Preis- / Margen-Management
Rabattmanagement
Rechnungsmanagement
Terminverwaltung
Verkaufsberichte
Verkaufsflächenmanagement
Webseitenintegration
Website-Management
Zusammenfassende Berichte
AB-Tests
API
Aktivitäts-Dashboard
Aktivitäts-Verfolgung
Analytik / ROI-Verfolgung
Angebot in sozialen Medien
Anpassbare CTAs
Anpassbare Formulare
CRM
Daten-Import / -Export
Drag-and-Drop
Drip-Kampagnen
Drittanbieter-Integration
Dynamische Inhalte
E-Mail Marketing
E-Mail-Tracking
E-Mail-Verteilung
Echtzeit-Daten
Engagement-Tracking
Ereignisgesteuerte Aktionen
Individuelle Anpassung
Kampagnen-Segmentation
Kampagnenanalysen
Kampagnenmanagement
Kontaktmanagement
Konversion-Tracking
Kundendatenbank
Kundenspezifisches Branding
Lead-Erfassung
Lead-Generierung
Lead-Qualifizierung
Leadmanagement
Marketing-Automatisierung
Marketingkalender
Mehrere Kampagnen
Mobiler Zugriff
Multi-Channel-Kommunikation
Multichannel-Marketing
Multivariate Tests
SMS-Marketing
Segmentierung
Social Marketing
Suchmaschinen-Marketing
Verkaufsanalyse
Visuelle Analytik
Vorlagen-Management
Website-Analytik
Websitebesucher-Nachverfolgung
Workflow-Management
Zielseiten / Web-Formulare
Aktivitäts-/Newsfeeds
Aktivitäts-Dashboard
Alarmfunktion / Benachrichtigungen
Anpassbare Berichte
Anrufprotokoll
Aufgabenmanagement
Aufgabenmanagement
Berichterstattung / Analyse
Bestenlisten
Daten-Import / -Export
Dokumentenmanagement
Drittanbieter-Integration
E-Mail-Management
E-Mail-Vorlagen
Elektronische Unterschrift
Ereignisgesteuerte Aktionen
Erinnerungen
Ertragsmanagement
Filesharing
Gebietsmanagement
Kalenderverwaltung
Kanban-Tafel
Kommentare / Notizen
Kundenspezifisches Branding
Lead Scoring
Leadmanagement
Live-Chat
Mobile App
Mobiler Zugriff
Planungs-Tools
Produktkatalog
Provisionsmanagement
Prozess-/Workflow-Automatisierung
Sales-Pipeline-Management
Suchen / filtern
Terminplanung
Transfer / Weiterleitung
Verfolgung von Interaktionen
Werkzeuge zur Zusammenarbeit
Zielsetzung / Nachverfolgung
Zugriffskontrollen / Berechtigungen
Bradley T.
President in USA
Automotive, 11-50 Mitarbeiter
Verwendete die Software für: Mehr als 2 Jahre
Great people, great value, great support
Kommentare: The people are top notch pros. They offer service and support 2nd to none. The software is a very good value for all the the features it includes, and they continue to improve it all the time.
Vorteile:
It does everything we need. It runs pretty fast on a local network.
Nachteile:
modular system (DMS tool is a different system that the website tool)
Antwort von AutoManager
vor 2 Jahren
Thank you for letting us know your feedback regarding our employees. They are the reason for our success. We're glad you had such a good experience!
William L.
Sales Manager in USA
Automotive, 2-10 Mitarbeiter
Verwendete die Software für: Mehr als 2 Jahre
You own it
Kommentare: Easy to use F&I software for car dealers. Good communication from the company about updates and just staying in touch.
Vorteile:
I like that we own the software. You can choose a yearly maintenance plan, which comes with the initial purchase. But if you don't want it down the road, no cost. You just may not get timely software updates. One of the most stable products since Manheim Tracker. Very similar in layout and use. I much prefer that type of software to the monthly subscription service that you never stop paying...ever....
Nachteile:
Can't get direct access to outside warranty providers like GWC or ASC. If you write warranty or gap coverage, you must go to a dealer portal website. No intergration.
Antwort von AutoManager
vor 2 Jahren
Thank you for taking the time to leave us this positive review. We appreciate it. Thank you also for spotlighting the "ease-of-use" aspect of our products. We strive for that.
Automotive, 11-50 Mitarbeiter
Verwendete die Software für: Mehr als 2 Jahre
Lots of glitches; problems with printing forms all the time. you must call them to update
Kommentare: only the printing forms and loading inventory to other sites from them.
Vorteile:
Easy to use, sorts inventory well. going back to do reports or print history of inventory is good. Keeps a good record.
Nachteile:
Printing is off quite often. Have to pay for updates often, anytime you need anything they want money to help you. Also cannot look up any info from another computer unless you pay to have it installed there also. Not convenient.
Antwort von AutoManager
vor 3 Jahren
We hear you and welcome your feedback. Please give us the opportunity to see how we can make this better. We offer a huge assortment of forms from plain paper to ePay forms. We know how difficult a dot-matrix printer can be. All our staff are onsite and are working diligently and with urgency to make our customer's experience a good one.
James J.
IT/SEO Consultant in USA
Automotive, Selbstständig
Verwendete die Software für: Mehr als 2 Jahre
Featured desking
Kommentare: I have used at least 4-5 desking software, so far this is the best. It it great software and they are constantly improving it.
Vorteile:
DeskManager by automanager is great desking software with features that help keep track of Car dealership sales process. Its quickbook module integretion make bookkeeping job easy.
Nachteile:
I would say improvement. Reporting definitely could be improved. It is not easy to figure out how to create reports.
Nicole M.
F&I Manager/ Title clears. in USA
Verwendete die Software für: Mehr als 2 Jahre
It got the job done.
Vorteile:
The ability to have the inventory of two car lots all in the same system; allowing is to view any vehicle's info that the company owned
Nachteile:
Customer service is terrible. It's hard to understand, and they were always annoyed that you even called them.
Antwort von AutoManager
vor 4 Jahren
Hi Nicole, we really appreciate your feedback. We would like to learn more about your experience. It's always our goal to create customer satisfaction and are not happy that didn't occur here. In order to get a better understanding and rectify this, please call your sales rep at 800-300-2808 ext 103. Thank you.