Was ist AWaiver?
aWaiver ist eine cloudbasierte Software, die es dir ermöglicht, deinen Haftungsverzicht online für eine Unterzeichnung vor Ort oder zuhause anzubieten. aWaiver ist so einfach, dass eine Unterzeichnung weniger als 15 Sekunden dauert. aWaiver ist sicher, weil die Bestätigung deiner Verzichtserklärungen und die Identität des Kunden durch audiovisuelle und digitale Signaturen erfasst werden. Dies bietet dir Schutz gegen Forderungen bei einer Pay-per-Use-Rate von nur 15 c/Verzichtserklärung. Alle Verzichtserklärungen werden ohne zusätzliche Kosten sieben Jahre in der Datenbank gespeichert.
Wer verwendet AWaiver?
Jedes Unternehmen, das sich über eine elektronische Verzichtserklärung schützen oder Unterschriften oder Initialen von Teilnehmern erfassen möchte. Steige auf digital um und arbeite papierlos.
AWaiver – Details
Indexic
2010 gegründet
AWaiver – Details
Indexic
2010 gegründet
AWaiver – Videos und Bilder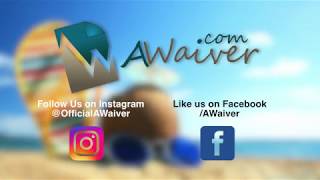 Kosten ähnlicher Produkte wie AWaiver vergleichen
Startpreis
30,00 $/einmalig
Nicht verfügbar
Nicht verfügbar
399,00 $/Monat
AWaiver – Bereitstellung und Support
Kundenbetreuung
E-Mail/Helpdesk
Telefon-Support
Chat
Einsatz
Cloud, SaaS, webbasiert
Android (mobil)
iPhone (mobil)
iPad (mobil)
Training
Live Online
Dokumentation
Funktionen von AWaiver
AB-Tests
API
Aktivitäts-Dashboard
Alarmfunktion / Benachrichtigungen
Anpassbare Felder
Anpassbare Formulare
Anpassbare Vorlagen
Barcode / Tickets scannen
Benutzer-Management
Berichterstattung und Statistik
Datei-Verwaltung
Daten-Import / -Export
Datensynchronisation
Digitale Unterschrift
Dokumentenmanagement
Dokumentenspeicher
Dokumentvorlagen
Drag-and-Drop
Drittanbieter-Integration
Durchsuchbare Datenbank
E-Mail Marketing
E-Mail-Management
E-Mail-Tracking
E-Mail-Vorlagen
Echtzeit-Daten
Elektronische Unterschrift
Erinnerungen
Formularverwaltung
Geschenkkarten-Management
Kalenderverwaltung
Kontaktmanagement
Kundendatenbank
Kundenspezifisches Branding
Mehrere Standorte
Mehrsprachig
Mobile Unterschriftenerfassung
Offline-Zugriff
Online-Signierung
QR-Code
Rechnungsmanagement
Registrierungs-Management
Ressourcenzuordnung und -planung
Sichere Datenspeicherung
Social-Media-Integration
Statusverfolgung
Suchen / filtern
Vorlagen-Management
Waiver Kiosk
Web-Formulare
Zugriffskontrollen / Berechtigungen
Siehe die vollständige Software für Abtretungserklärungen Liste
Sport, 11-50 Mitarbeiter
Verwendete die Software für: 6-12 Monate
Great asset!
Kommentare: Overall A Waiver integrates seamlessly with my booking software and is easy to use.
Vorteile:
I love that I am not wasting paper and that it is easy to keep records with any notes as well. Love that I can attach the electronic waiver to a reservation so there is no hunting for it if needed.
Nachteile:
Small font used on the form fill out section.
Antwort von Indexic
vor 2 Jahren
Hi Melanie, our new aWaiver app has increased the font size greatly. Download the new app and that will solve the small font issue. Thanks for being part of our Indexic family.
Angela G.
CEO in Griechenland
Verbraucherdienste, Selbstständig
Verwendete die Software für: 6-12 Monate
Adventure travel operators definitely need this one!
Kommentare: Having adventure tours clients sign a paper waiver at spot is time consuming and loads of paper to handle and keep track of. With A waiver clients can sign the waiver either online prior the tour (with a photo capture to ensure the validity of the signature) or on spot before starting the tour through a tablet, a laptop, a pc or even a smart phone! Say bye to all that paper and having to keep it filed. A waiver keeps all signed waivers for you so you can just login and find it easily. Time saver!
Vorteile:
Simple, affordable, life saver! No more need to keep pile of papers. Very fast to setup and use and with the great feature of attaching a picture of the person signing so you avoid any unpleasant circumstances.
Nachteile:
Not too much integrations with booking systems. You'll have to email the client the waiver to sign after booking. Still works though and keeps you and your business.... out of trouble!
Antwort von Indexic
vor 2 Jahren
Hi Angela, thanks for the review. We appreciate you taking the time to do it. We do provide you with a link in the user portal for you to place on your website so people can sign the waiver prior to arriving at your facility. It is under the Manage Waivers tab, you will see a highlighted link under the descriptions column. I will have someone follow up with you to make sure you find it. As for not integrating with other reservation software, that is a decision of the reservation software, not ours. We have an API that we can supply to anyone but I can't just connect without their permission and some programming on their part. We do have our own reservation software, go to www.indexic.net for information, and obviously our waivers are linked to that software. If you have any other questions or issues, feel free to contact us. Would love to help.
George C.
General Manager in USA
Unterhaltung, 2-10 Mitarbeiter
Verwendete die Software für: 1-5 Monate
A bit frustrating
Kommentare: We ran a 50% success rate using this program. It was great having it tied to our website so customers could do it on their own but we didn't have great success with it.
Vorteile:
It lists all the customers so it's easy to find the one you need.
Nachteile:
Customers complained they never got the Waiver or the end result would be a blank screen
Antwort von Indexic
letztes Jahr
George, I appreciate your taking the time to provide us your feedback regarding aWaiver. We are continually making improvements to our software and are working on ways to improve our product. Thank you again, Mark
Erholungseinrichtungen & -dienstleistungen, 2-10 Mitarbeiter
Verwendete die Software für: Mehr als 2 Jahre
Non-existent customer support
Kommentare: The waivers are fine. I just can't find a phone number to speak with a live person. I've used their contact us link which lets me fill out an email request for help. I never heard back from them.
Vorteile:
It works well. Our customers do not have a problem with the waiver.
Nachteile:
Just their customer support is awful. I can't find a phone number anywhere on their website
Antwort von Indexic
vor 2 Monaten
Meg, Sorry about the miscommunication on our phone number. It 's 800-742-4781
Verbraucherdienste, 2-10 Mitarbeiter
Verwendete die Software für: Mehr als 2 Jahre
A+ on AWaiver
Kommentare: This product helps make my business run so much smoother and less clutter with no using paper waivers
Vorteile:
*brings paperless to my business *easy use for customers and employees
Nachteile:
*no ability to either scan or enter valuable information; like driver license, address ect
Antwort von Indexic
vor 2 Jahren
Hi Mike, thanks for the review. We have just added a new feature that addresses your issue. I will call you about it and get you set up.