Was ist PhotoWorks?
AI-powered software for easy yet efficient enhancement of portraits, landscapes and pictures of other genres. Apart from the essential photo editing tools, PhotoWorks offers top-notch pro-level features that are rarely found within software of the same price range. Most editsare performed automatically, which significantly reduces the time spent on retouching. Some of the key strengths of PhotoWorks are selective color grading, AI-driven portrait editing, and efficient old photo restoration.
Wer verwendet PhotoWorks?
Best for: photo studios and individual photographers who search for a fast and easy way to retouch their pictures without sacrificing the result.
PhotoWorks – Details
AMS Software
2003 gegründet
PhotoWorks – Details
AMS Software
2003 gegründet
PhotoWorks – Videos und Bilder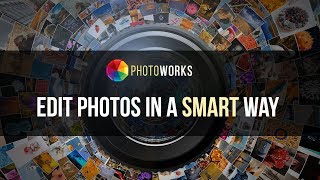 Kosten ähnlicher Produkte wie PhotoWorks vergleichen
Startpreis
Nicht verfügbar
12,99 $/Monat
19,99 $/Monat
Nicht verfügbar
PhotoWorks – Bereitstellung und Support
Training
Live Online
Dokumentation
Funktionen von PhotoWorks
Bearbeiten in Echtzeit
Bildbibliothek
Content-Sharing
Datei-Verwaltung
Drag-and-Drop
Import / Export von Inhalten
Stapelverarbeitung
Suchen / filtern
Vorgefertigte Vorlagen
Wasserzeichen
Werkzeuge zur Zusammenarbeit
API
Benutzerdefinierte Pinsel
Benutzerdefinierte Schriftarten
Bildbearbeitung
CAD-Werkzeuge
Content-Management
Datenspeicher-Management
Datenvisualisierung
Design-Management
Designvorlagen
Digitales 3D-Asset-Management
Drag-and-Drop-Editor
Drittanbieter-Integration
Druck-Management
Engagement-Tracking
Import / Export von Inhalten
Inhalt-Bibliothek
Kommentare / Notizen
Kundenspezifisches Branding
Mehrsprachig
Mobile App
Muster, Farbe & Kunstlager
Präsentations-Tools
Sichere Datenspeicherung
Social-Media-Integration
Suchen / filtern
Textbearbeitung
Versionskontrolle
Videobearbeitung
Vorschaufunktion
Wasserzeichen
Werkzeuge zur Zusammenarbeit
Workflow-Management
interaktive Inhalte
Siehe die vollständige Grafiksoftware & Bildbearbeitungsprogramme Liste
Heather L.
Business co-owner in USA
Bau, 2-10 Mitarbeiter
Verwendete die Software für: 1-5 Monate
For small business owners
Kommentare: Overall, quick to learn with tutorials and videos. Easy to use beyond learning. I liked the background remover - used the tutorial, and then it was like magic to remove!
Vorteile:
I was able to learn quickly how to insert our logo and add it to images via overlay. Important for our remodeling and construction before/after pictures. We like adding our logo, so our photos can be trusted (and owned) as our work. It is important to brand!
Nachteile:
I was excited about the "batch" view - but it would not let me save our unique logo file. You can create and save a "signature" template - which must be created (and not imported) within the software. [I had wanted to add our logo as overlay on a batch of pictures, and am only able to do so on individual images.]
Antwort von AMS Software
vor 3 Monaten
Hi Heather, thank you so much for your review, and for the comment on adding logos! I've forwarded this to the project manager, so we might add the option of importing a custom logo and saving it as a template in future updates.
Gerry P.
Music Producer in USA
Musik, 2-10 Mitarbeiter
Verwendete die Software für: 1-5 Monate
PhotoWorks - my thoughts
Kommentare: Very user friendly, easy to learn, great tools and time savers
Vorteile:
I got Photoworks very recently and have used it quite a bit, since I had some important face swapping  photo work I needed to do. Photoworks is very user friendly and easy to figure out and the videos are extremely helpful. I also have had GIMP a long time, which is a very complex graphics program. It's much more difficult to do the work on GIMP. I'm now using both programs together on my pics.  GIMP can pretty much do anything, but it's very difficult to learn and I must say there are certain things on PhotoWorks that are incredible time savers that would take forever on GIMP like the photo touch up tools that can zero in on the face or the complete photo. You can very quickly try about 20 variations until you find the best one. If you're looking for a program that's easy to learn and also powerful in certain features, PhotoWorks may be the best choice.
Nachteile:
Can't save the workspace to continue on another day. No manual, only tutorials
Verifizierter Rezensent
student in Argentinien
Verifizierter Nutzer auf LinkedIn
Unterhaltung, Selbstständig
Verwendete die Software für: 1-5 Monate
PhotoWorks is OK
Kommentare: I use for basic images.
Vorteile:
The best of PhotoWorks are: Ease of use, good tools and user friendly.
Nachteile:
The worst of PhotoWorks are: Performance, in some tools the app takes long time to respond.
Chris D.
Software Tester in Neuseeland
Informationstechnologie & -dienste, Selbstständig
Verwendete die Software für: 1-5 Monate
A good solid package that needs further improvement
Kommentare: Overall I like PhotoWorks, but I have decided not to use it until the issues summarised above have been resolved.
Vorteile:
I need photo editing software for personal use to clean up thousands of old 35mm colour slides that I have digitised. My goal is simply to remove defects from the images, e.g. incorrect exposure, colour balance and blemishes, not to add special effects. I compared PhotoWorks version 10.0 with Adobe Photoshop Elements version 18.0. Both have easy-to use auto enhancement features that produce similar results. However PhotoWorks offers more granular manual correction of individual image attributes, which enables good results to be obtained from problem images, eg very under- or over-exposed. The only retouching option I have used is the Healing Brush, which allows blemished due to dust, fibres, mold, etc to be corrected. PhotoWorks performs well at this. The PhotoWorks team was very responsive when I requested an option to add templates for visible captions on images.
Nachteile:
Performance is disappointingly slow when PhotoWorks applies corrections to images - typically with lag times of 1 or more seconds - which makes the removal of a large number of blemishes time-consuming. One of my must-have requirements is the ability to add visible captions to each photo using a consistent format (font, size, colour, opacity, position on canvas, etc). The PhotoWorks Text Templates option goes some way towards providing this, but does not yet offer consistent caption positioning, nor the ability to alter a caption once the image has been saved. The opacity option also needs improvement.
M. jo wendorff W.
Independent in USA
Öffentliche Sicherheit, Selbstständig
Verwendete die Software für: 1-5 Monate
Want to Save Dark Photos??
Kommentare: Love the ease of Photoworks. The Learning curve is great. Staff offers help with any questions when purchasing. I really enjoy moving the bars (sharpness, etc. ) & seeing immediate changes on the photo!
Vorteile:
I absolutely love this program. It has saved me many hours of set up & retaking photos. I am NOT a pro. I am volunteered (or volunteer) to do photos of projects for groups. My camera did not respond, many pictures were very dark & I was physically sick. I searched the net, found PhotoWorks, and did a few tests with some of the darkest pictures. I honestly could not believe the results! I bought the program the same day ( early Christmas present to me)!! i mam thrilled! have used PhotoWorks more time than i thought i would, always wit6h great results.
Nachteile:
Haven't found any negatives yet! add on I wish the disc of the program would have cost a bit less. I bought it (I did not want to take any chances on losing PhotoWorks)