Was ist Arrendale?
Arrendale's Transcript Advantage (TA+) is a fully HIPAA-compliant cloud-based application suite for clinical document management. We deliver multiple dictation methods, front and back-end speech-to-text, HL7, a robust word processor with workflow management and transcript grading, keyword search, eSign, and multiple delivery methods plus EHR integration. With a modular deployment and affordable volume-based pricing, TA+ provides the best value, newest features and great reliability.
Wer verwendet Arrendale?
Community Hospitals, Clinics, Health Systems and MTSO's,
Arrendale – Details
Arrendale Associates
1990 gegründet
Arrendale – Details
Arrendale Associates
1990 gegründet
Arrendale – Videos und Bilder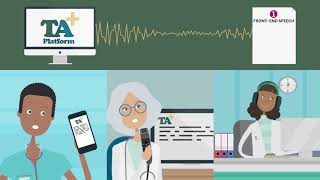 Kosten ähnlicher Produkte wie Arrendale vergleichen
Startpreis
Nicht verfügbar
Nicht verfügbar
0,10 $/Monat
N/A
Arrendale – Bereitstellung und Support
Kundenbetreuung
E-Mail/Helpdesk
Telefon-Support
24/7 Live-Support
Chat
Einsatz
Cloud, SaaS, webbasiert
Windows (Desktop)
Windows (On-Premise)
Android (mobil)
iPhone (mobil)
iPad (mobil)
Training
Persönlich
Live Online
Webinare
Dokumentation
Funktionen von Arrendale
API
Aktivitäts-Dashboard
Aktivitäts-Verfolgung
Alarmfunktion / Benachrichtigungen
Ambulanz-Management
Anpassbare Berichte
Anpassbare Vorlagen
Apotheken
Arzt-Management
Aufgabenmanagement
Auftragserfassung
Automatisierte Terminplanung
Berichterstattung und Statistik
Betten-Management
Compliance Management
Compliance-Verfolgung
Daten-Import / -Export
Diagramm-Erstellung
Dokumentenmanagement
Dokumentenmanagement
Dokumentenspeicher
Drittanbieter-Integration
Echtzeit-Aktualisierungen
Echtzeit-Berichterstattung
Echtzeit-Daten
Elektronische Rezepte
Erinnerungen
Ertragsmanagement
HIPAA konform
Integration in die Buchhaltung
Inventarverwaltung
Kalenderverwaltung
Kommunikationsmanagement
Kundenportal
Laborinformationsmanagement
Lohn- und Gehaltslisten-Management
Medizinische Abrechnung
Mehrere Standorte
Registrierungs-Management
Reklamationsabwicklung
Richtlinien Managemen-
Self-Service Portal
Stationäres Patientenmanagement
Terminplanung
Terminplanung
Terminverwaltung
Verwaltung von Patientenakten
Vorlagen-Management
Workflow-Management
Zugriffskontrollen / Berechtigungen
API
Abkürzungserkennung
Anpassbare Makros
Archivierung & Aufbewahrung
Audio- / Video-Dateiupload
Audiodatei-Management
Automatische Transkription
Berichterstattung und Statistik
Compliance Management
Computergestütztes Coding
Datenbank für medizinische Terminologie
Diagramm-Erstellung
Digitale Unterschrift
Dokumentenprüfung
Drittanbieter-Integration
Echtzeit-Daten
Elektronische Unterschrift
HIPAA konform
KI/Maschinelles Lernen
Mobiler Zugriff
Sprach-Erkennung
Spracherkennung
Stimmenerfassung
Suche in natürlicher Sprache
Textbearbeitung
Transaktionshistorie
Verarbeitung natürlicher Sprache
Vorlagen-Management
Workflow-Management
Zugriffskontrollen / Berechtigungen
für das Gesundheitswesen
Krankenhausversorgung & Gesundheitswesen, 2-10 Mitarbeiter
Verwendete die Software für: Mehr als 2 Jahre
Essential Tool For Managing Transcription Workflow and Processes
Kommentare: Using TA+ has allowed us to automate and streamline our transcription business which has led to increased productivity and efficiency.
Vorteile:
The software Transcript Advantage (TA+) is user-friendly and the interface allows users to manage all aspects of transcription workflow and processes including managing users, document types, jobs, reports and billing. A turn-key solution for managing a transcription company.
Nachteile:
The software is only compatible with Internet Explorer web browser, which is not a big deal since our office staff was familiar with this web browser.
Antwort von Arrendale Associates
letztes Jahr
Hey Sunil, Thank you for your feedback! We are delighted to hear about your positive experience with our system. There is a free extension for Google Chrome called IE Tab, and while it is active, TA+ can be utilized fully in Chrome. Viewing and editing documents does require Internet Explorer or the IE Tab Extension in Google Chrome, but the other activities available work with all major browsers, and even from your tablet or smartphone! We would be happy to assist you in getting set up with this method if you wish, just give us a call.
Janelle N.
Medical Transcriptionist in USA
Krankenhausversorgung & Gesundheitswesen, 501-1.000 Mitarbeiter
Verwendete die Software für: Mehr als 2 Jahre
User perspective
Kommentare: I have been on this platform for years, first as a director of HIM and now a transcriptionist part time. It has been very reliable and the support staff is excellent.
Vorteile:
It is easy to access, easy to use, and the equipment is maintained off site so is updated and maintained on a regular basis, not relying on our own staff to do so. I also like to be able to access this from my phone or iPad so I can watch when I have new jobs to transcribe.
Nachteile:
I think the only improvement I can think of is the issue we have had lately with telephone access. It has happened a couple of times where our physicians could not call in to dictate, but that is a rare occasion.
Antwort von Arrendale Associates
letztes Jahr
Hey Janelle, Thank you for using our platform! We apologize for the call-in dictation downtime your clinicians have experienced. Construction near our data center resulted in a voice carrier fiber cut and we had to work with the carrier and data center to restore connectivity. We know that even rare downtime is still too much! We have recently added an extra layer of redundancy to our connectivity by installing a second fiber bundle to our servers, entering the data center from a separate location. We have additionally attained an escalated TSP priority level for dictation through the FCC and Homeland Security.
Pamela S.
Medical Transcriptionist in USA
Medizinische Praxis, 11-50 Mitarbeiter
Verwendete die Software für: 1-5 Monate
Off-site transcription software
Kommentare: I have been very pleased with the set-up and customer service I have received thus far.
Vorteile:
Sound quality is superb. The large print and formatting options allow improved accuracy. Editing and ability to make modifications to reports assures satisfaction with end result. The line count provides easy ability to track production.
Nachteile:
Because I am not transcribing directly into physician's EMR, it is extra work on someone else.
Carolyn A.
HIM Director in USA
Gesundheit, Wellness & Fitness, 51-200 Mitarbeiter
Verwendete die Software für: Mehr als 2 Jahre
Love it
Kommentare: We have really been happy with Transcript Advantage easy to use. easy to train on and the doctors love it
Vorteile:
We really like the ability to have everything at our finger tips. The doctors really like the phone feature to transcribe on the run. when we need back up they are always there and quick to respond. Great company
Nachteile:
The only thing I would change would be that some of the dictations will get stuck on phones and down load 1-2 days latter.
Antwort von Arrendale Associates
letztes Jahr
Hey Carolyn, Thank you for the review! The mobile application requires a stable connection to either WiFi or a cell tower in order to submit dictations to the server. If connectivity is impaired, the app will attempt submission again once it is restored. If connection is stable and the job is still not going through, restarting the app or the phone itself will resolve the issue.
Shelley C.
account manager in USA
Krankenhausversorgung & Gesundheitswesen, 2-10 Mitarbeiter
Verwendete die Software für: Mehr als 1 Jahr
Very easy platform
Kommentare: Nothing specific, just good support and ease of use. It really helps to have something transcription friendly to move around in.
Vorteile:
Very easy to use and maneuver around in. We were able to move from previous system to this without many problems. Very user friendly and able to understand. Support services are amazing as well.
Nachteile:
Honestly about the only thing I would really change so far is the fact voice files are only held a short time and I think that should be longer plus Admin needs the ability to download voice files off of TA+ to listen to on home computer.
Antwort von Arrendale Associates
letztes Jahr
Hey Shelly, We appreciate the kind words! The length of time audio is retained in our database is flexible and varies depending on the contract.