Was ist GroundsKeeper Pro?
GroundsKeeper Pro ist eine spezialisierte Unternehmensführungssoftware für Landschaftsbau und Rasenpflege. Zu den branchenspezifischen Softwarefunktionen gehören Abrechnung und Rechnungsstellung, Routing, Planung, Kostenvorkalkulation und Buchhaltung.
Lade noch heute eine kostenlose Testversion herunter!
Die GroundsKeeper Pro-Software ist für eine einmalige Gebühr von 479,00 $ verfügbar. Außerdem wird ein 4-Raten-Zahlungsplan angeboten.
Wer verwendet GroundsKeeper Pro?
Profis in den Bereichen Rasenpflege und Landschaftsbau
Wo kann GroundsKeeper Pro bereitgestellt werden?
Cloud, SaaS, webbasiert, Windows (Desktop), Windows (On-Premise), Android (mobil), iPhone (mobil), iPad (mobil)
Über den Anbieter
Adkad Technologies
1993 gegründet
Telefon-Support
Erhältlich in diesen Ländern
Vereinigte Staaten
Über den Anbieter
Adkad Technologies
1993 gegründet
Telefon-Support
Erhältlich in diesen Ländern
Vereinigte Staaten
GroundsKeeper Pro – Videos und Bilder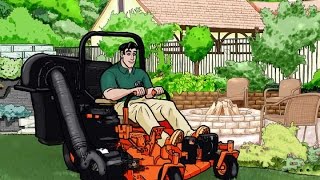 Kosten ähnlicher Produkte wie GroundsKeeper Pro vergleichen
GroundsKeeper Pro Funktionen
Abrechnung & Rechnungsstellung
Angebote / Schätzungen
Für die Gartenpflege
Job-Management
Kundendatenbank
Kundenhistorie
Kundenmanagement
Mobiler Zugriff
Routing
Terminplanung
Vertrags-/Lizenz-Management
Alternativen für GroundsKeeper Pro
Bewertungen über GroundsKeeper Pro
Verbraucherdienste, 2-10 Mitarbeiter
Verwendete die Software für: Mehr als 2 Jahre
Quelle: SoftwareAdvice
Upgrades
Kommentare: Need to have the ability to send out invoice out to more than 1 email account.. figure out how to optimize the scheduling , so you use a starting point, and the list will optimize the traveling..
Last but least.. need to create phone app, so my workers can use there phones, instead of me printing the schedule for each person.
Vorteile:
Great , just needs some new updates that I have listed below. So let me know if they are in the works
Nachteile:
Scheduling , need to optimize my schedules so my drivers drive from a start point to each property.. I have to use Google maps.
Antwort von Karen
vor 4 Jahren
Thank you for taking the time to give us your suggestions for our software. Your feedback will help to shape the future of our software, software updates and overall way of doing business. We appreciate the unique opportunity to see ourselves through the eyes of our customers and are eager to gather ideas on how our software can be improved. Thank you again for sharing your thoughts with us. We appreciate your time and effort in providing this feedback to us.
Umweltdienstleistungen, 2-10 Mitarbeiter
Verwendete die Software für: Mehr als 2 Jahre
Quelle: SoftwareAdvice
Very simple and straightforward software and Very economical pricing for even the smallest lawn co.
Kommentare: I've used this since 2007. GK Pro has assisted me to grow from $60K in sales/yr to 5x that in 6 years. Other factors have limited the company's growth since then. But if you'd like a simple-to-use software for 1 single dirt-cheap fee (compared to the monthly priced softwares), this one is a solid choice.
Vorteile:
The ease of use is unapproachable compared to some of these "smart" software products. I've tried RG and SAP.... they do not compare to the simplicity of Groundskeeper Pro. Set up on GK Pro is a tiny fraction compared to these others.
Nachteile:
It would be nice if this had some of the "smart" functions that other software has, but if that were the case, it would be as overly complex and difficult to set up and learn as the rest of them.
Chemikalien, 2-10 Mitarbeiter
Verwendete die Software für: 6-12 Monate
The Software is mediocre at best
Kommentare: There customer service is terrible. These guy wont do anything unless you have some sort of support package. They are sneaky in giving a temporary registration number, and then sending another registration number that I guess is permanent maybe? But if you delete or lose this information they are always trying to extract more money out of you. After you have already purchased their product. Instead of trying to train someone they want you to watch tutorials, so they can simply do nothing and get paid for it. Pretty much how insurance works also another huge rip off.
Vorteile:
There is not one feature on this program that doesn't need additional help in order to be better at what it was designed for. I am also positive that whoever designed the program has never in their whole life has owned a lawn mowing company or has ever done the actual job of Lawn Care. The only positive thing I can say is it is decent at best at storing information. Just hope your computer never crashes because I have a feeling that it will be like pulling teeth for them to restore it for you and you better bring your pocket book.
Nachteile:
everything about this program needs improvement. And someone from their office needs to actually do lawn care. I made a suggestion to a gentleman on the phone trying to improve his company and he acted like I was stupid. I have been taught to listen to customer feed back and correct any flaws they may see in any work that I have been in.
Antwort von Adkad Technologies
vor 5 Jahren
Adkad offers a Silver support annual plan, when renewed yearly, is as low as $40 for the years subscription. The GroundsKeeper Pro software is so easy to use most don't need training but they do offer that service also. Please refer to their website for details on support. Adkad welcomes all user feedback to help improve their software products and has a link on their website for user suggestions. Updates are regularly released when new features are added and/or bugs are fixed. There are thousands upon thousands of happy users in the Adkad family of software products. The temporary registration number is necessary to be able to offer a 4 payment plan and also a 30 day money back guarantee. At the end of the 4 months the software gives a message and with 1 simple click of a button, the permanent registration number is generated for free, and is sent via email & regular mail. The Adkad Software has no annual or monthly fees. Refer to the End User Agreement on their website.
Landwirtschaft, 2-10 Mitarbeiter
Verwendete die Software für: Mehr als 2 Jahre
Groundskeeper Pro - Very User Friendly
Kommentare: I have been using groundskeeper pro for 15 years and they do come out with upgrades and newer versions every so often. Customer support is also very prompt and friendly staff. You can even order your paper products with them that are cheaper than staples.
Vorteile:
The use of running my everyday business and sending out invoices is done effortlessly with this software. There are many software companys for the lawn care business, but I am glad I chose groundskeeper pro.
Nachteile:
Web based/cloud access is a little pricey compared to other softwares.
Antwort von Adkad Technologies
vor 2 Jahren
Thank you Robert for being a loyal customer since January 2005!
Verwendete die Software für: Nicht angeboten
400 customers or less, its great
Kommentare: When building a business from scratch this is perfect. Easy to understand and use. It works well to add and schedule customers, invoicing is very easy also. Very easy to enter charges and apply payments. Not very good if you need to work on more than one computer, you will need to build a server/network to link them and you have to manually run backups. It does not integrate with a credit card processor anymore and is missing some very minor details that you would think they would add. Long story short, great for start up - 4/5 employees but once you get past that it will not work to build a business with 10,000 customers like the program will hold. The people and the product are great and if you make it to the point where you need a bigger system you will not regret starting with this.
Antwort von Adkad Technologies
vor 7 Jahren
Thank you for the review! Our software was specifically designed for the small to medium size lawn care maintenance service company or landscape industry businesses. We offer easy to use desktop/laptop/tablet software at a lower cost (1 time fee) than the other web based software products that charge monthly fees. No training needed on our software product either :). Thanks again -Adkad Technologies