Was ist Oroson?
Oroson is the first online proofing software that lets you create an entire dashboard for a project. With Oroson, you can consolidate all assets and feedback in one place so you can finally kill endless email threads.
Teams that give feedback on visual content will love reviewing all file types from Video, Images, Documents, HTML5, and Audio files. You can structure a project to fit your teams entire workflow from start to finish, upload assets and add collaborators and reviewers.
Wer verwendet Oroson?
Marketing Team, Creative Agencies, Full Service Agencies
Wo kann Oroson bereitgestellt werden?
Cloud, SaaS, webbasiert, Mac (Desktop), Windows (Desktop)
Über den Anbieter
Oroson
Telefon-Support
24/7 Live-Support
Chat
Erhältlich in diesen Ländern
Vereinigte Staaten
Oroson Kosten
Startpreis:
99,00 £/Monat
Ja, kostenloser Test verfügbar
Keine Gratisversion
Oroson bietet keine Gratisversion, aber eine kostenlose Testversion. Die kostenpflichtige Version von Oroson ist ab 99,00 £/Monat verfügbar.
Über den Anbieter
Oroson
Telefon-Support
24/7 Live-Support
Chat
Erhältlich in diesen Ländern
Vereinigte Staaten
Oroson – Videos und Bilder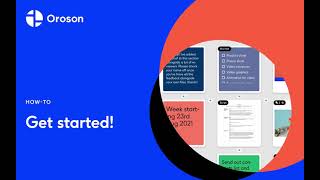 Kosten ähnlicher Produkte wie Oroson vergleichen
Oroson Funktionen
Aufgabenmanagement
Dokumentenprüfung
Drittanbieter-Integration
Filesharing
Fortschrittsverfolgung
Kontrolle des Genehmigungsprozesses
Versionskontrolle
Bewertungen über Oroson
Durchschnittliche Bewertung
Preis-Leistungs-Verhältnis
Nutzerbewertungen nach Unternehmensgröße (Angestellte)
<50
51-200
201-1.000
>1.001
Bewertungen nach Punktzahl finden
Lucy C.
Account Director in UK
Verifizierter Nutzer auf LinkedIn
Marketing & Werbung, 11-50 Mitarbeiter
Verwendete die Software für: 1-5 Monate
Potential to revolutionise the way agencies work
Kommentare: Overall very positive, when used properly with colleagues and clients it will absolutely make our work more efficient.
Vorteile:
The software is incredibly intuitive, myself and the set up team found ti easy to navigate and quickly saw the benefits of using it to streamline client and internal feedback. It's the perfect place for live projects, great to tracking versions and collaborative for the multiple teams to input in one place. I'd definitely recommend Oroson to other creative agencies and businesses looking for a collaborative tool.
Nachteile:
This isn't a criticism of the platform, but working remotely we found it more difficult to onboard teams and get them using Oroson from home. There was a feeling that we already used a lot of software and this was just something else. Having said that, the core team could absolutely see the benefits over current systems we use - and we'll definitely look to use Oroson full time on our return to the office.
Antwort von Oroson
letztes Jahr
Thank you, Lucy! We appreciate your kind words!
Aoife L.
Marketing Assistant in UK
Gastgewerbe, 201-500 Mitarbeiter
Verwendete die Software für: Mehr als 1 Jahr
Oroson has changed the way we work and collaborate as a team and improved efficiencies!
Kommentare: The ability to view our campaigns in visual form all in once place has been a major solution to our marketing team. The ability to upload files in many formats has saved many headaches and a lot of time and effort.
Vorteile:
I love how visual this software is. We previously relied heavily on Google Drive but our files were buried in folders inside folders. We would email back and forth constantly throughout the day with amends to artwork and attaching documents and images with ideas, concepts and drafts. Oroson enables us to compile all elements of a campaign or project into one single board, broken into sections and at a glance we can see the campaign develop end to end. We can provide feedback on each asset with a quick comment. It's much more efficient, visual and collaborative for us as a team and on an individual level. Integration was smooth. We work on Google Drive largely so the fact that Oroson integrates nicely with the Google Suite was a major advantage. The team at Oroson are incredibly responsive and the client support is fantastic. We have given feedback and suggestions and within days this has been implemented. The tool continues to improve constantly within new features and functionality that help us work better.
Nachteile:
There is little to dislike about Oroson, it does everything we have needed it to do. If there is anything that is causing us issues, we can flag it with the Oroson team and their developers are straight onto it. 10/10.
Antwort von Oroson
letztes Jahr
Thank you for the feedback - it means a lot to us!
Ryan M.
Marketing Lead in UK
Gastgewerbe, 501-1.000 Mitarbeiter
Verwendete die Software für: Mehr als 1 Jahr
An essential tool for creative collaboration
Kommentare: The major benefit of Oroson to us is for the generation of ideas and feeding back on concepts and designs. Even prior to COVID it has been extremely handy to be able to use it as a scrapbook to house and collaborate on ideas, but given that we're all currently working outside of the office it's become a vital part of our working processes and negates the need for lengthy email chains or multiple shared folders and instead displays everything in an intuitive and easy to access layout.
Vorteile:
My team has been long-time users of Oroson even before 2020 and always found it a helpful tool, but the platform has really come into its own in the past 14 months with the introduction of working from home. It's no longer possible to jump into a meeting room physically and shoot the proverbial in person, and so Oroson has become a vital resource for creative collaboration, idea generation, feedback, and iterative design improvements. It's visually led and intuitive to use; easy to set up new boards and start populating them with ideas and simple to leave annotations and feedback. We use it for virtually all of our major marketing activity and the platform has become an essential part of how we work. The platform's UX has also improved greatly in the past year and the team releases consistent updates on a regular basis, often taking direct feedback and ideas on board.
Nachteile:
It would be nice to be able to add attachments and files directly to comments and annotations, sometimes collaborating involves a bit of back-and-forth and the need to provide examples. At the minute we have to send any files across separately rather than being able to pin them directly within a comment.
Antwort von Oroson
letztes Jahr
Thanks for your review! It is sincerely appreciated!
Sam M.
Graphic Designer in UK
Personalwesen, 2-10 Mitarbeiter
Verwendete die Software für: 6-12 Monate
Oroson is a must use app, we use it daily and it is great!
Kommentare: Before we were using email to communicate, providing a lot of back and forth, mix ups on communication and uploading of images was limited, with the help of the Oroson app we are now saving a lot of time, effort and communicating as a team, its easy to make edits on designs and to all bounce ideas enabling the work to be more effective
Vorteile:
Easy to use product, has a lot of beneficial features that help the team to get from idea to finished project. The comment features allow us to work collaboratively whilst the images allow the team to visually see how the creative process is going. We are able to communicate easily with each other whilst going between various projects.
Nachteile:
The app is great, I honestly cannot fault it, they keep adding new features which means its getting better and better. As a team we all use it for every project that we have and it's used on a daily basis. We would be lost without the app now, before we were corresponding through email and it was a long drawn out process, Oroson has helped to save us a lot of time whilst also making it easier for the whole team.
Antwort von Oroson
letztes Jahr
Thank you so much for the review! We appreciate it!
Danny G.
Client Partner in UK
Marketing & Werbung, 11-50 Mitarbeiter
Verwendete die Software für: 6-12 Monate
In Betracht gezogene Alternativen:
Great for remote working
Kommentare: This has made the time to feedback and collate amends for video work far more streamlined - providing better results to the client.
Vorteile:
Oroson has been incredibly easy to use, from initial training and product run-through, to sharing with clients and getting them to use it. The best feature in my opinion has been the ability to pin point feedback on video, which saves a lot of time, emails and any potential confusion - especially since may colleagues and clients have been working from home / having remote meeting in the last 12 months.
Nachteile:
For the functionality that we mainly use the software - commenting and critiquing creative work, there is very little, if anything, I would change. The only comment would be if you can send all amend notifications at once as a setting, rather than getting multiple emails over the course of a half-hour period.
Antwort von Oroson
letztes Jahr
Thanks for your review! We really appreciate it.