Was ist UDA ConstructionSuite?
Erfahre, wie über 500.000 Profis in 75 Ländern mit UDA ConstructionSuite schneller und genauer Kostenvoranschläge abgeben. ConstructionSuite wurde für Generalunternehmen, Bauunternehmen und Subunternehmen entwickelt und verwaltet Projekte im Wert von über 65 Milliarden $ mithilfe von branchenspezifischen Tools wie RSMeans Cost Data, AIA-Zahlungsanwendungen, Voranschlagsvorlagen, echter bidirektionaler QuickBooks-Integration, Änderungsauftragsverwaltung, und Integration mit führenden CAD-Programmen. Fange noch heute an!
Wer verwendet UDA ConstructionSuite?
Wachsende Generalunternehmen, Bauunternehmen, Umbauunternehmen, Subunternehmen und Spezialunternehmen
Wo kann UDA ConstructionSuite bereitgestellt werden?
Cloud, SaaS, webbasiert, Windows (Desktop), Windows (On-Premise), Linux (On-Premise)
Über den Anbieter
UDA Technologies
Ansässig in Auburn, USA
1999 gegründet
Chat
Erhältlich in diesen Ländern
Vereinigte Staaten
Über den Anbieter
UDA Technologies
Ansässig in Auburn, USA
1999 gegründet
Chat
Erhältlich in diesen Ländern
Vereinigte Staaten
UDA ConstructionSuite – Videos und Bilder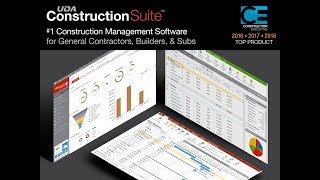 Kosten ähnlicher Produkte wie UDA ConstructionSuite vergleichen
UDA ConstructionSuite Funktionen
Abrechnung & Rechnungsstellung
Angebote / Schätzungen
Anpassbare Vorlagen
Audit Trail
Auftragnehmer-Management
Auftragskostenrechnung
Auftragsänderungsmanagement
Bestell-Management
Budgetverfolgung / Auftragskostenrechnung
CRM
Dokumentenmanagement
Genehmigungsmanagement
Historische Datenbank
Integration in die Buchhaltung
Kosten-Datenbank
Kundenmanagement
Kundennachverfolgung
Mobiler Zugriff
Projekt-Nachverfolgung
Projektmanagement
RFI und Vorlagen
Sales-Pipeline-Management
Schätzung
Terminplanung
Vertrags-/Lizenz-Management
Was-wäre-wenn-Analyse
Wohngebäude
Alternativen für UDA ConstructionSuite
Bewertungen über UDA ConstructionSuite
Michael
President in Kanada
Verifizierter Nutzer auf LinkedIn
Bau, 2-10 Mitarbeiter
Verwendete die Software für: Mehr als 2 Jahre
Great product
Kommentare: I am pleased with the program, it has given us a more professional look and organizes our estimates in a concise format.
Vorteile:
The fact that it stops me from making mistakes. I had several painful experiences using other software and spreadsheets.
Nachteile:
Having to do takeoffs with another software package like Plan Swift. The estimate should be archived even if deleted, mistakes happen.
Bau
Verwendete die Software für: Mehr als 2 Jahre
Quelle: SoftwareAdvice
Good Product - Support Fair
Vorteile:
Good product for managing projects. The software can be used for construction projects as it was designed, but can also be used for other projects as it is a good tool for managing projects. From one person operations to small companies this tool can be used as a means to have a good workflow system for managing projects. I have used it for construction but also for environmental consulting. It would be pretty easy for UDA to tweak the software to make it less tied to construction and more general for project management. But all in all it is a well designed and pretty easy to operate project management software.
Nachteile:
The biggest issue I have with ConstructionSuite and UDA is their TotalCare program. It is almost like I have to know the secret handshake. With other software vendors (e.g. Microsoft, Autodesk, Adobe) I can download the software by getting into my account. So if I have to reinstall, which I recently had to do, I had to talk to the UDA folks to get the most recent version (I switched from Windows 7 to Windows 10 in the interim and the version I had saved on my computer was not compatible with Win 10. It took 2 calls to UDA to finally get what I needed. On the other hand when I needed to reinstall my Office Suite all I needed to do was log into my Microsoft account, deactivate the computer Office was associated with, download the latest software, and reinstall. I didn't have to communicate with Microsoft staff at all. Same for my Autocad/Revit software and my Adobe software. That said the last person at UDA, Cydney, took ownership of my issue and in about 5 minutes I had resolved my issue.
Bau
Verwendete die Software für: Mehr als 2 Jahre
Quelle: SoftwareAdvice
Construction Suite
Vorteile:
UDA is a great program to manage a project from the first lead contact to the Final inspection, when I have had a glitch or a question on the program total care has been really great with solving the problem or question. I really like the Job management capabilities UDA has the dash board works well and is easy to navigate.
Nachteile:
the proposal writer is probably my least favorite option, I like the concept and how the proposal writer is set up however there is a big learning curve on how you enter it in the estimate portion especially if you pulling it from a assembly or the item data base as far as wording an item as to how it pulls it into the proposal I find I do a lot of editing. Also I wish you could chose to pull in a few columns such as allowances, or options and maybe a few other columns you can see in the estimate view next to the line in the proposal item like you see it in the estimate as it sits now you can only have them grouped in the allowance or option category at the top. I also wish there was a Specification integration button in the estimate, they have great sub contractor specification templates I wish you could modify these and save them to fit your company, so then you could click a button in the estimate and pull the specification up and edit and save it in the job and maybe even attach it to the line item in the estimate in the notes category. This is a big part of a job, the specification could be then sent from the job folder in a email attached to a PPF set of plans and be easily sent out, then some how integrate the returned specification and estimate to the job folder and line item. This would streamline the tracking of all theses items.
Md
Corporate Affairs Manager in Bangladesch
Chemikalien, 1.001-5.000 Mitarbeiter
Verwendete die Software für: 6-12 Monate
Quelle: SoftwareAdvice
You can rely on UDA construction suite for your real estate business
Kommentare: We have China Garden Developers Ltd. under our group of companies. We have been managing our national and international construction through this software. This software has brought transparency and accountability in the company. As the corporate affairs manager, the client management and CRM feature is more important for me. I am delighted with the performance of this software. I do strongly recommend UDA ConstructionSuite.
Vorteile:
UDA ConstructionSuite is easy to use and a reliable software for the construction business. I like the following features - a. Budget tracking vs estimated cost. b. Automated billing and invoicing. c. CRM & Customer management d. Customizable cost dashboards and data extraction feature. e. Audit trails with the flow of the job. f. Scope of organizing the projects. g. Availability in mobile phone is also amazing.
Nachteile:
UDA ConstructionSuite is a great application and I do not see anything to dislike about this software.
Fred
Operations Partner in USA
Bau, 2-10 Mitarbeiter
Verwendete die Software für: Mehr als 2 Jahre
I made a user error that resulted in my need for help.
Kommentare: Better cost controls for more accurate pricing of our products
Vorteile:
The ease of use and great support that UDA offers. We are a small home building company 25 to 35 homes per year. UDA is the right tool for our size of company.
Nachteile:
With a production office in KY (UDA) and a central accounting office in WI (QuickBooks) it causes issues and extra steps that when a PO is created in QuickBooks for a job that PO can longer be seen in KY with UDA only in WI with QuickBooks open