Das könnte dich auch interessieren:
Was ist Edficiency?
Edficiency is a web-based RTI/MTSS scheduling software that automates daily rosters by priority for middle/high school flex time, activity, & tutorials periods to save schools time and enable teachers to get more time with the students that need it the most.
Wer verwendet Edficiency?
Middle and high schools with flex periods and/or before/after-school tutoring and activities.
Edficiency – Details
Edficiency
2015 gegründet
Edficiency – Videos und Bilder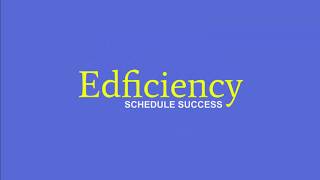 ▶︎
Edficiency – Details
Edficiency
2015 gegründet
Kosten ähnlicher Produkte wie Edficiency vergleichen
Startpreis
1.285,00 $/Jahr
Nicht verfügbar
Nicht verfügbar
N/A
Edficiency – Bereitstellung und Support
Kundenbetreuung
E-Mail/Helpdesk
FAQ/Forum
Telefon-Support
Einsatz
Cloud, SaaS, webbasiert
Mac (Desktop)
Windows (Desktop)
Windows (On-Premise)
Chromebook (Desktop)
Training
Persönlich
Live Online
Webinare
Dokumentation
Videos
Funktionen von Edficiency
Tim M.
Instructional Technology Facilitator in USA
Bildungsmanagement, 51-200 Mitarbeiter
Verwendete die Software für: 1-5 Monate
In Betracht gezogene Alternativen:
Edficiency - making flex time scheduling a breeze
Kommentare: I can't overstate how perfect Edficiency has been for our school. It's really a combination of the product itself and the support that comes along with it. Some of our support sessions have been less about the how-to of using the product (click here, click here) but more about how it can be molded to support our schools educational vision.
Vorteile:
From the very first sales call, it was clear that Edficiency was designed with our exact use case in mind: balancing student and teacher needs and priorities in scheduling flexible learning sessions. Every single time we met with [SENSITIVE CONTENT], we came away with the assurance that it could handle everything we wanted it to. Each concern we had already had a feature designed to take care of it. Not only is the software great, but the support team is really outstanding as well. They are, by far, the best educational support company I have ever worked with. Not only do they understand the software, but they immediately understood our own vision for its implementation.
Nachteile:
The software is really great at its core purpose, but the graphic design of it is dated. In high usage times, there have been severe performance issues. Additionally, there are some quirks such as changes not being reflected until users log out and log back in.
Antwort von Edficiency
vor 2 Monaten
Tim - thanks so much for the feedback. We've enjoyed working with you to ensure our software can support you in your school's vision and specific needs. We also take your points about the design, quirks, and performance during high usage to heart. We believe we've resolved the performance issues at high peak times after growing far more than anticipated right at the start of this school year, but if you ever experience anything like that, or any other quirks, in the future, please don't hesitate to share them and we'll make sure to address them. Thanks again for the feedback and for helping us continually improve.
Mary R.
Math Coach in USA
Bildungsmanagement, 51-200 Mitarbeiter
Verwendete die Software für: 1-5 Monate
In Betracht gezogene Alternativen:
Look no further
Kommentare: Edficiency allows us to bring STUDENT CHOICE and VOICE into our weekly schedule. The set up and implementation has been so easy. We were able to start using Edficiency to schedule our flextime sessions even in this most challenging year of being back in person. The program is going to help us help our students.
Vorteile:
The implementation of Efficiency software has been the easiest and most satisfying full school implementation of anything I have ever done. The Edficiency team is brilliant - they can solve problems you have and those you don't even know you have. It is clear they understand how schools work, school needs, and are invested partners. The software is super smart and is the answer to all flexible scheduling at a school.
Nachteile:
It would be nice if students could make a back up request. Students can search by teacher, which is most often the way to go, but if we are doing full school workshops that are not related to classes, it would be nice that students would sign up by session name - not the attached adult.
Antwort von Edficiency
vor 4 Wochen
Thanks so much for sharing your experience, Mary! We're really glad to hear that implementing Edficiency has been the easiest and most satisfying you've ever done - that means a lot! We're also glad to hear that your student have more choice and voice in their week, as we believe that has a big impact on their experience and outcomes, too! We're considering adding a "backup" option and have recently added the ability for students to see if they're waitlisted for a requested session so they can change their request if they'd like. And students can search by session title and location in addition to teacher name when looking for sessions, so please let us know if that's something you'd need to discuss in more detail or if any students share they're having trouble with it. Thanks again! We look forward to continuing to work with you!
Josh M.
HLL/BARR Program Coordinator in USA
Bildungsmanagement, 51-200 Mitarbeiter
Verwendete die Software für: Mehr als 2 Jahre
Edficiency in Education at the Secondary Level
Kommentare: Overall, Edficiency has been a cost-effective and effective tool. The customer service is phenomenal, the price is right, and while there are a few minor issues in software design, we have been very satisfied.
Vorteile:
Edficiency remains a high-quality product for student and staff scheduling. At Cooper High, we use Edficiency to create a flex period during that today that allows students a measure of choice in what teacher they would like to receive help from during the day, and as an intervention tool for teachers looking to provide student assistance. The benefits of this system are numerous. We can easily provide academic support to students during the school day and the system itself is relatively easy to initialize.
Nachteile:
Although the system itself is effective and provides a cost-effective solution to student scheduling, there are a few elements of Edficiency that could be improved. Edficiency requires some student and staff training, and its design is not always intuitive. For example, when students make a selection and schedule their sessions, switching between the days of the week and finding the right teacher makes for a "clunky" experience. This is not a problem in the coding of software, but rather one in design. Additionally, there is currently no easy tool that allows admin to exclude individual students from select sessions. It would also be helpful to have an attendance system that syncs with Infinite Campus.
Antwort von Edficiency
vor 2 Monaten
Thanks for the feedback, Josh! We'll pass your feedback along to our head of technology and reach out directly to follow up on the limiting sessions to specific students and attendance sync with IC, as we'd love to explore the current options with you and see if there could be room to include any others. But thanks again for the feedback and we're glad to hear that our software is helping to make the process of providing academic supports to your students easier (and cost-effective).
Bildungsmanagement, 51-200 Mitarbeiter
Verwendete die Software für: Mehr als 2 Jahre
In Betracht gezogene Alternativen:
Excellent Tool
Kommentare: The customer service is exceptional. Any time we have had a question or issue, we get a quick response and resolution. Edficiency listens to our needs and works to find a way to improve the program to meet those needs.
Vorteile:
Edficiency provides a very user-friendly way for our staff and students to schedule sessions for our intervention and enrichment period at school. The features provide many options for scheduling and it is very intuitive.
Nachteile:
Because of the size of our school, the text notifications to students about which session they are schedule in does not work. It is not an issue with the software, but rather with the text providers.
Antwort von Edficiency
letzten Monat
Thanks so much, Erin - we're glad you've found we can do everything you're looking for in regards to your flex schedule! Please don't hesitate to reach out if you need anything else in the future!
Jessica B.
Teacher in USA
Bildungsmanagement, 51-200 Mitarbeiter
Verwendete die Software für: 1-5 Monate
Malden High School Flex Leader
Kommentare: I really like this program and I am happy with how it is running so far. Right now it really is a trial and error situation and we feel our way through this new endeavor. Students who are engaged are really enjoying it. It is a matter of finding ways for students who aren't engaged (or are not choosing sessions) to buy into this new Flex period we have.
Vorteile:
I really love the variety of session we can put into the system and it is very user friendly. We have only been using this software for a few months so we are learning new things as we go. We have started using the groups feature and the require request feature which has really helped to limit where students can randomly be placed. The staff and students have integrated into this software pretty well, but I do not feel like we had enough time to really show the staff members how to use edficiency before the year started. I believe if we had the time to do a more engaging training for our staff members before we started the first round of Flex, we would have seen an even easier transition into this new endeavor.
Nachteile:
A couple of concerns I have so far is that edficiency is not really linking up with Aspen (X2) so the attendance isn't captured as well as we would like. Right now teachers have no way of knowing if a student in their Flex session is supposed to be absent or if they are just skipping. If they have students in their Flex who are not on their actual class roster, they have no way of looking a student up for basic information, such as attendance record, and any medical or special education notifications that would be helpful. I also wish there was a way for students who did not pick to be placed into one room dedicated to students who did not make a choice, instead of getting randomly plopped into different sessions. We would love to have students who are not choosing a session be placed with a couple of staff members who can have conversations with them about choosing sessions.
Antwort von Edficiency
vor 4 Wochen
Thanks for your input, Jessica. I'm glad to hear that the system is working well for you all as you start your first flex period, despite not having as much time to engage and train your staff on it as you would've liked. While we don't currently offer real-time syncing of attendance with Aspen or pull more information than needed about students into our system for privacy reasons, we will consider those as we continually build out new features. There also is a way already in the system to send students that don't make a request to specific teachers for conversations. Please let us know if you'd like to discuss that and we'll happily show you how to set that up to accomplish what you'd like. Thanks again for sharing your experience!