Was ist FOUNDATION?
Foundation Software bietet Auftragskostenrechnung, Projektmanagement und mobile Anwendungen sowie Gehaltsabrechnung und Beratung, um die Geschäftsseite der Baubranche zu betreiben.
Das Unternehmen entwickelt und unterstützt seit 1985 die FOUNDATION-Bausoftware, weil es sich dieser Branche verschrieben hat. Das ist der Grund, warum die Software basierend auf einer leistungsstarken Microsoft-SQL-Server-Datenbank für solide Berichterstattung, Datensicherheit und Flexibilität entwickelt wurde.
Entspricht die Software deinen Vorstellungen? Besuche die Website, um mehr zu erfahren.
Wer verwendet FOUNDATION?
FOUNDATION wird erfolgreich von gewerblichen, Regierungs- und Industrieauftragnehmer*innen eingesetzt. Viele Nutzer*innen haben 15 bis 250 Außendienstmitarbeiter*innen und generieren einen Jahresumsatz zwischen 3 und 50 Millionen US-Dollar.
Wo kann FOUNDATION bereitgestellt werden?
Cloud, SaaS, webbasiert, Mac (Desktop), Windows (Desktop), Windows (On-Premise), Linux (On-Premise), Android (mobil), iPhone (mobil), iPad (mobil)
Über den Anbieter
Foundation Software
Ansässig in Strongsville, USA
1985 gegründet
Telefon-Support
Chat
Erhältlich in diesen Ländern
Vereinigte Staaten
Über den Anbieter
Foundation Software
Ansässig in Strongsville, USA
1985 gegründet
Telefon-Support
Chat
Erhältlich in diesen Ländern
Vereinigte Staaten
FOUNDATION – Videos und Bilder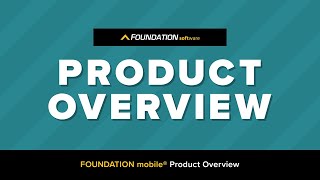 Kosten ähnlicher Produkte wie FOUNDATION vergleichen
FOUNDATION Funktionen
Abrechnung & Rechnungsstellung
Anpassbare Vorlagen
Arbeitsauftragsverwaltung
Audit Trail
Auftragnehmer-Management
Auftragskostenrechnung
Auftragsänderungsmanagement
Bestell-Management
Buchhaltung
Budgetverfolgung / Auftragskostenrechnung
Dokumentenmanagement
Echtzeit-Aktualisierungen
Forderungen
Für die AEC-Branche
Gerätenachverfolgung
Integration in die Buchhaltung
Inventarverwaltung
Job-Planung
Kosten-Datenbank
Mobiler Zugriff
Projekt-Nachverfolgung
Projektmanagement
RFI und Vorlagen
Schätzung
Terminplanung
Timesheet Management
Verbindlichkeiten
Alternativen für FOUNDATION
Bewertungen über FOUNDATION
Verifizierter Rezensent
Office Administrator in USA
Verifizierter Nutzer auf LinkedIn
Bau, 11-50 Mitarbeiter
Verwendete die Software für: Mehr als 2 Jahre
Project Management
Kommentare: It's been wonderful to implement a new software to our project management.
Vorteile:
This software is great for keeping all documents relating to a project in one spot. It links all the items I use daily to the project so I don't have to store them on my computer.
Nachteile:
Took a little navigation to find where and how to get things in there. As well as the form making, but overall, not much I don't like.
Antwort von Foundation Software
vor 2 Jahren
Thank you for your positive review and taking time to share your feedback with FOUNDATION. We are happy to hear our software is meeting your expectations and making life easier for you and your project management team. Let me know if you'd like to talk with someone about making those custom forms and reports easier for you. We are happy to help. -Robin, rmo@foundationsoft.com
John
CFO/Controller/Director in USA
Bau, 51-200 Mitarbeiter
Verwendete die Software für: Mehr als 2 Jahre
Quelle: SoftwareAdvice
In Betracht gezogene Alternativen:
Foundation Software makes construction accounting easy to understand.
Kommentare: Foundation has made record keeping easy and ready for outside auditors review procedures.
Vorteile:
Cost, user friendliness, help screens updated and online, and support is second to none.
Nachteile:
Absolutely nothing! Hope to expand our usage of Foundation software because we believe that we have not experienced the whole package benefit to date with different modules.
Antwort von Foundation Software
letztes Jahr
Thank you so much for the wonderful review. We are thrilled to hear you're finding our software and support to be a valuable asset in all areas of your business. We look forward to a continued relationship with you and your team. You mentioned you'd like to expand your usage with our software. Check out the many Sales Demos available to you on the Client Portal. If you have any questions about that, or want to have someone from our team contact you, please let me know. I'm happy to help. Again, thank you! -Robin, rmo@foundationsoft.com
Bau, 11-50 Mitarbeiter
Verwendete die Software für: Mehr als 2 Jahre
Quelle: SoftwareAdvice
Strong Program, lack of support and updates
Kommentare: There are better programs out there.
Vorteile:
The program does it all besides estimating. Has a good system of checks and balances and everything is tracked so very hard for employees to cover their tracks. It does a lot well but everything has its hiccups.
Nachteile:
There are several things I dislike about the product as it has so much potential to be 10x better yet they have no ambition to make it better. 95% up the updates released by foundation software are fixes to glitches or problems. Very rarely is there an actual new feature or upgrade to the program. There are several flaws with the program that would be easy to fix, which have been suggested but go unanswered. Such as the pages scroll very awkwardly, they jump at the end of the page onto the next page but not at the top of the page. Very difficult to review a report on the screen when it keeps going back and forth. Their support team must have a very high turnover as everytime I call I know more than the person who is suppose to be providing the support. To their credit they do go and get the right answer and get back to you but the typical resolution to a problem is 24 hours. For us 2 hours is a long time when your waiting on an important resolution such as payroll.
Antwort von Tracie
vor 5 Jahren
Hi Al. We appreciate you taking the time to provide your thoughts on FOUNDATION. Honestly it is not what we expected to hear from you and are deeply concerned about your disappointment. We strive to produce the absolute best product and service for our clients, although we understand at times using new software can be frustrating. One of our training managers will reach out this week to coordinate a time that's convenient for you and discuss your concerns in greater detail. We hope that you will take our call so we can work toward resolving any outstanding issues and make FOUNDATION a successful accounting investment for your construction business. We look forward to working with you.
Verifizierter Rezensent
Business Manager in USA
Verifizierter Nutzer auf LinkedIn
Bau, 11-50 Mitarbeiter
Verwendete die Software für: 1-5 Monate
Quelle: GetApp
I used to LOVE Foundation Customer Support.....Used to!!!!
Kommentare: When I get the help it so helpful but, getting it is the issue.
Vorteile:
I first began using Foundation in 2015 at a previous company and just loved it. I always got a call right back for customer support. The videos were fantastic, everything I was doing was interesting and with so much ease. When I took over the office for my current company it took over a year for me to finally get my boss agree to the change from Sage to Foundation but, I explained the significant increase in cost was so worth it! I finally got the green light and was sooo excited to have Foundation back! I was mostly excited about the customer service I was going to be receiving!
Nachteile:
Implementation has been AWFUL! Customer service response time has been a NIGHTMARE! Not what I was expecting :-( Initially, the training scheduled was a weekly thing, more often my meetings began to get cancelled. Once I sent an email to a different trainer in my group expressing a little frustration I was never again put on calendar for training. I was not even informed if it was all finalized. No month end close training, no bank rec training and today, (what compelled me to make this review) I put in a service call at 1PM PST, my project in HQ is not in the cloud so I cannot send an RFI with attachments that need to be addressed tomorrow. I am told I am first in que for a call back. Fast forward 3PM PST I follow up. I am told the next available will call me. It is currently 4:41PM PST and I still have not received a call back and I do not even have an account manager I can call to fix the issues since my implementation support has been no help either. Truly Truly disappointed and ashamed that I even suggested this to my owner.
Gayle
Office Manager in USA
Bau, 11-50 Mitarbeiter
Verwendete die Software für: Mehr als 1 Jahr
Quelle: SoftwareAdvice
In Betracht gezogene Alternativen:
Great Software, Very Good Value, Oustanding Support. Usually get call back within 30 minutes
Kommentare: We save time on payroll since we no longer had to manually enter time cards for all the field employees. Project managers can easily view their project reports, rather than have to wait for a report to be printed and given to them.
Vorteile:
Ease of use. Once we got past the implementation, which was really pretty simple, we were off and running. Payroll importing of timecards feature is outstanding, no daily data entry except for overhead employees. You create your menu an follow the steps. Accounts Payable features are easy to use and data input in quick and easy, allows you to attached copies of the invoices so others can see what was shipped and invoiced. Check writing is simple and automatically creates additional invoice stub if invoices exceed allowed space on check.
Nachteile:
Would like to see ability to create more reports and lists without all the other data on the report. Must import to excel for some things, which to me is an extra step that could be avoided. Ability to insert blank lines on lists to separate employees on custom employee lists. Doesn't have subaccounts for accounts that you want in more detail, such as repairs to your building or keeping auto expenses separately if you don't purchase the equipment module.