Was ist Descript?
Descript is an all-in-one audio and video editor that makes editing as easy as a word doc. Upload media or record directly in Descript to instantly transcribe your file into text, then tweak the text to directly edit your media clips. Edit out filler words and silent gaps with a single click. Record your screen and webcam for presentations and video messages and edit out mistakes before publishing. Export your project to other pro apps.
Wer verwendet Descript?
Made for content creators and businesses who are making podcasts, vlogs, videos, screen recordings, transcriptions, and social media assets.
Wo kann Descript bereitgestellt werden?
Cloud, SaaS, webbasiert, Mac (Desktop), Windows (Desktop)
Über den Anbieter
Descript
2017 gegründet
Telefon-Support
Chat
Erhältlich in diesen Ländern
Kanada, Vereinigte Staaten
Über den Anbieter
Descript
2017 gegründet
Telefon-Support
Chat
Erhältlich in diesen Ländern
Kanada, Vereinigte Staaten
Descript – Videos und Bilder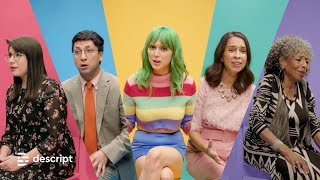 Kosten ähnlicher Produkte wie Descript vergleichen
Descript Funktionen
Anmerkungen
Audio Editor
Audio Manipulation
Audio Mixing
Audio- / Video-Dateiupload
Audioaufnahme
Audioaufzeichnung
Automatische Transkription
Bildschirmaufnahme
Filesharing
KI-Stimmen
Mastering
Medienbibliothek
Multi-Voice
Spracherkennung
Spracherkennungsanalyse
Stimmen-Generator
Textanalyse
Textbearbeitung
Timecoding
Verarbeitung natürlicher Sprache
Video-Erfassung
Videobearbeitung
Werkzeuge zur Zusammenarbeit
YouTube-Uploads
Alternativen für Descript
Bewertungen über Descript
Alice K.
Head of Content in Kanada
Verifizierter Nutzer auf LinkedIn
Computer-Software, 11-50 Mitarbeiter
Verwendete die Software für: Mehr als 1 Jahr
Descript is the only video editing software you will ever need.
Vorteile:
I'm not a video editor by any means. In fact, I've been using all sorts of different software over the past few years and I just didn't find anything that was really easy to use -- until Descript. As somebody who is a heavy content creator, I needed to start creating video content and it was really hard because I had to rely on others to edit the videos for me. Now with Descript I can do it myself which is super powerful and saves a lot of time. My favorite features are "shorten word gaps" and "remove filler words". Everybody thinks I'm a magician when I show the my videos post-production. Descript has changed the entire scope of my work and how I do my job. It's much easier than any other software tool that I've used. I love how easy it is to use, the interface is very intuitive, it's very quick and simple. My friends and teams love Descript too. Don't be scared! All you need to do is upload your original video or record a video directly in the software and then edit it out later or add text or change the voice if you want. It's really great. I also love the collaboration aspect of Descript.
Nachteile:
It takes a LONG time to download high-quality videos.
Cameron S.
CEO in USA
Verifizierter Nutzer auf LinkedIn
Marketing & Werbung, 2-10 Mitarbeiter
Verwendete die Software für: 6-12 Monate
The podcast editing tool that has helped us scale our podcast editing agency
Kommentare: Descript helps my team collaborate with clients on their podcast episodes. Hosts give us their recordings and then they leave us feedback in the form of comments on the transcript. It makes communication clear for everyone on our team and the collaboration features make it possible for us to have our remote team. We are able to help our clients sound their best with the filler word detection, something that would not be an effective option if we were editing with audio alone.
Vorteile:
I love how easy it is to edit audio using the auto transcription. It allows for other great features like filler word and word gap detection/removal. The integration with Zapier allows us to import new media, and the publishing integrations allow us to export to hosts and other apps we use in our clients workflows.
Nachteile:
For more advanced editing, I wish there were integrations with Adobe Audition that would make it easy to locate spots that have been commented on and then reimport or sync the changes. For our workflow, I would also love if we could utilize an API to directly integrate Descript with our workflow rather than needing to utilize Zapier.
Hossamudin H.
Founder in Ägypten
Verifizierter Nutzer auf LinkedIn
Bildungsmanagement, 2-10 Mitarbeiter
Verwendete die Software für: Kostenlose Testversion
A great tool for transcription (Videos - Meetings)
Kommentare: Great, but not the best. not yet at least. Need it to support Arabic
Vorteile:
How I can automatically transcribe my videos then translate them in an easy editor before uploading to youtube. Also I like how it has a generous free to use model.
Nachteile:
Well, not supporting the Arabic language mainly :((
Verifizierter Rezensent
Senior Producer in UK
Verifizierter Nutzer auf LinkedIn
Medienproduktion, 51-200 Mitarbeiter
Verwendete die Software für: 6-12 Monate
Not yet stable enough for professional use
Vorteile:
This is could be a game changing piece of software. it combines transcription and audio editing into one. The option to collaborate in the cloud like a google doc opens up many possibilities. But there is one big downside....
Nachteile:
It is not yet reliable enough. There have been two occasions in last few months where Descript just stopped working. I lost days' worth of work on broadcast critical projects. The first time an entire project wouldn't open and just hung. That meant all of the work for an entire podcast episode was inaccessible. I contacted tech support and tweeted them. I heard nothing back. After a friday and weekend of panic and frustration, the project did open. Perhaps stupidly, i carried on using Descript. A month or so later a Composition (their name for a document within a project) I was working on just stopped working. The error message just said press reload. But that did nothing. Because it is cloud based I had nothing on my hard drive to try and salvage. it just stopped working. i lost at least 8 hours of work. i contacted tech support and their discord server. Still haven't had a response. I had to do the work all over again. If you work in professional audio, sadly my advice is to stay away from Descript till it gets more reliable.
Zaiba S.
Freelance Data Annotator in Indien
Verifizierter Nutzer auf LinkedIn
Internet, 201-500 Mitarbeiter
Verwendete die Software für: 1-5 Monate
For Perfect Transcriptions
Kommentare: This is a must-have product that will simplify your life. You won't realize how much time it saves until you use it. Fortunately, there is a fantastic free trial to try it out. The shortcuts are really useful and will save you a significant amount of time. There is a lot to learn, but once you do, the software will save your life.
Vorteile:
1. Descript's key feature is how it transcribes your audio and converts it into an editable word document. I was astounded to discover how simple it was to effectively cut and paste words while simultaneously moving the audio waveforms. 2. It makes use of the Google speech to text engine, which has been demonstrated to be the market leader in numerous studies. 3. Transcripts are attractive and are designated by individuals. With just one click, you can securely send transcripts with video or audio.
Nachteile:
1. It becomes slow with time, and you must pay to utilize it on a regular basis. 2. Although the automatic, entry-level version of Descript has a transcribing accuracy of roughly 95%, there are still grammatical problems. 3. It takes longer than I expected to look over transcriptions and revise them later, so I have to spend more time correcting the transcripts even during my working hours.