Was ist Canvas X Pro?
Canvas X Pro does the work of numerous other applications combined by blending professional graphics tools with rich technical illustration capabilities. Enjoy easy to use 2D drawing, 3D CAD visualization, text flow, raster image handling, and vector graphics. Leverage intuitive one-click smart annotations, automatic measurements, and industrial accuracy.
Wer verwendet Canvas X Pro?
Companies across a wide variety of sectors, from start-ups to Fortune 50 brands, use Canvas technical illustration software to create optimized and cost-effective documentation workflows
Wo kann Canvas X Pro bereitgestellt werden?
Mac (Desktop), Windows (Desktop)
Über den Anbieter
Canvas GFX
1986 gegründet
Erhältlich in diesen Ländern
Vereinigte Staaten
Über den Anbieter
Canvas GFX
1986 gegründet
Erhältlich in diesen Ländern
Vereinigte Staaten
Canvas X Pro – Videos und Bilder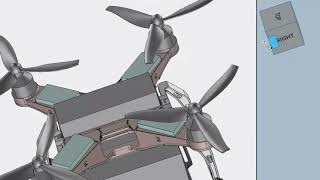 Kosten ähnlicher Produkte wie Canvas X Pro vergleichen
Canvas X Pro Funktionen
2D-Zeichnung
3D-Imaging
Anmerkungen
CAD-Werkzeuge
Daten-Import / -Export
Design-Analyse
Fertigungsdesign-Daten
Komponentenbibliothek
Mechatronik
Präsentations-Tools
Werkzeuge zur Zusammenarbeit
Alternativen für Canvas X Pro
Bewertungen über Canvas X Pro
Grafikdesign, 2-10 Mitarbeiter
Verwendete die Software für: Mehr als 2 Jahre
In Betracht gezogene Alternativen:
Canvas X used in the foil stamping trade
Kommentare: We have used Canvas X to design our beautiful business cards and all of our forms. This year we used it to design an outstanding Christmas card.
Vorteile:
We hot stamp foil onto paper and also do detailed embossing on cards and book covers and packages etc... Good and clean PDF files are required to produce the dies needed in our trade. Because we work with many printers we can not always control the graphic files we are sent for production. Canvas X has the ability to work with so many files types that in most cases we can open, alter and convert files to PDF format. Files with errors or glitches are usually easy to repair or alter with great precision.
Nachteile:
The trace feature has been greatly improved over the years but could still be better. It is so useful when doing design work.
Fotografie, Selbstständig
Verwendete die Software für: Mehr als 2 Jahre
In Betracht gezogene Alternativen:
After all these years . . .
Kommentare: I've never met a problem I can't solve, so, yes, it's a familiar old friend. But I'm very aware that Canvas has kept on progressing, and I need to catch up.
Vorteile:
I've used Canvas since it came on floppy disks, and its best feature has always been its ability to work with raster and vector objects smoothly and comprehensively. Even many years later, Canvas remains relatively simple to learn and use, whether it's photographic collages, technical drawing, graphic design, or document publishing — or any mixture of the these. When I need to do something that I've never done before, I can search through the Help topics, and find out that Canvas X could do that all along, I just never discovered that particular feature -- and there's probably already a tool in the toolbar to do that exact task.
Nachteile:
Its interface is a little old-fashioned, but that's not completely a bad thing. I'd very much like at least some 3-D or oblique features in the basic Canvas X, since I don't generally need the much more expensive full CAD capabilities.
David
Cardboard Engineer in UK
Verpackung und Container, Selbstständig
Verwendete die Software für: 6-12 Monate
My Year with Canvas
Kommentare: I really want to like Canvas X, and I know they have broken away from their previous [SENSITIVE CONTENT HIDDEN]and are trying to stand on their own, but I get the impression they are just bolting bits on to a very old Graphics program with no thought to usability. I want to carry on using it as it can do most of what I need in a Graphics program, but sadly I think when my next subscription is due I will go elsewhere.
I know there is no program that suits everybody, but this software really needs to move with the times.
Sorry Canvas.
Vorteile:
I liked the ability to create vectors and bitmaps in the same program. The ability to import my CAD files with very few issues. The cost/performance is good compared with the other Graphics packages available (especially when there is an offer on).
Nachteile:
The main issues I have are with the interface. There is no "export", only "save as", so you end up with warnings and "do you want to associate this file with the other file type". Why can't you just Export and then there is no confusion with file names or formats? You can only see one page at a time, so you are constantly clicking buttons to go from one page to another, rather than just scrolling from one to the other. The most annoying issue is with scroll wheel zooming when you have a selection highlighted. If you want to zoom in to a point you want to adjust, as soon as you scroll the mouse wheel, instead of zooming in to the point you want to alter, it zooms into the centre of your selection! This is totally impractical and makes adjusting shapes practically impossible. Lack of a proper multiple file interface is also frustrating; instead of having visible tabs of each file you have open, you need to go to the top menu drop down to access each file that is presently open. Lots of dialog boxes don't stay open when editing, so you have to keep reopening dialogs to perform the next edit. If you do a copy using right mouse button and ctrl, you can keep all the layers in your selection; if you use copy and paste everything is copied onto one layer, making editing difficult. The same is also true for groups; you can't ungroup back to your original layers. Finally I have an open support request, that after a bit of dialogue with one of the support staff has now gone cold.
Barry
President in Kanada
Umweltdienstleistungen, Selbstständig
Verwendete die Software für: Mehr als 2 Jahre
In Betracht gezogene Alternativen:
Still great!
Kommentare: My major benefits are three-fold: 1) I don't have to re-train on new software; 2) I can open all my previously-created files easily, and 3) updates and new versions are always cost-competitive with the competition!
Vorteile:
I have used this software since version 2.1 in 1990, and have always enjoyed it as a technical art and design program. Setup with new versions and updates is always easy. The sales team have always remained competitive, and have kept my business for 31 years!
Nachteile:
Nothing. It integrates well with my other programs where I need to insert artwork, and I can save my work in just about every known format, especially useful when artwork is used for GIS mapping icons.
Rechtsberatung, 2-10 Mitarbeiter
Verwendete die Software für: Mehr als 2 Jahre
In Betracht gezogene Alternativen:
My Goto Graphics Program
Kommentare: After using Canvas for more than 30 years, I still continue to recommend it for small businesses needing a graphics program that doesn't require a steep learning curve.
Vorteile:
I have been using Canvas since Version 1 came out for the Mac. It has been my go to graphics program since that time. We use the software at least once a month for projects, which means that we need a graphics software that doesn't require a steep learning curve. What I like about the software is the ability to quickly produce and output graphics, including floorplans, without having to be an expert with the software. Canvas has the features I need for almost all of my graphic needs and if needed, I can quickly learn an advanced technique to add to my graphics. If you don't have a dedicated graphics artist or marketing team on staff, this is a great product with easy to use features for most of your needs.
Nachteile:
The one part that I wish Canvas hadn't changed in a previous version was the output selection (landscape vs portrait). This selection was moved from the settings and I had to search to find it and make changes. All settings related to a document or project should be on or easily linked to one screen, not two.