Was ist Wholesale2B?
Ideal for online merchants, it a web-based tool that allows businesses to sync inventories and automate order fulfillment process.
Wer verwendet Wholesale2B?
Dropshipping automation solution that helps retailing businesses manage order fulfillment, returns, product sourcing or listings for eBay, Amazon, BigCommerce, Shopify & other eCommerce platforms.
Wholesale2B – Details
Onlinestorebiz
Wholesale2B – Details
Onlinestorebiz
Wholesale2B – Videos und Bilder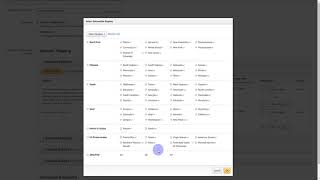 Kosten ähnlicher Produkte wie Wholesale2B vergleichen
Startpreis
29,99 $/Monat
29,90 $/Monat
4.395,00 $/einmalig
29,00 $/Monat
Wholesale2B – Bereitstellung und Support
Kundenbetreuung
E-Mail/Helpdesk
Wissensdatenbank
Training
Webinare
Dokumentation
Videos
Funktionen von Wholesale2B
API
Aktivitäts-Dashboard
Aktivitäts-Verfolgung
Auftragserfassung
Auftragsmanagement
Auftragsverfolgung
Berichterstattung / Analyse
Berichterstattung und Statistik
Beschaffungsmanagement
Bestandsnachfüllung
Bestandsoptimierung
Bestandsverfolgung
Bestell-Management
Daten-Import / -Export
Datensynchronisation
Drittanbieter-Integration
Dropshipping-Services
E-Commerce-Management
Echtzeit-Aktualisierungen
Echtzeit-Daten
Echtzeitüberwachung
Einzelhandel-Lagerverwaltung
Elektronischer Datenaustausch
Integration in die Buchhaltung
Inventarverwaltung
Kanalmanagement
Kostennachverfolgung
Kundenaufträge
Kundenservice-Management
Lagerhaus-Management
Lieferanten-Management
Lieferanten-Management
Mehrere Standorte
Mehrfache Datenquellen
Multichannel-Management
Onlinekatalog
Preis- / Margen-Management
Preisoptimierung
Produktdatenmanagement
Produktinformationsmanagement
Produktkatalog
Prognose
Sales Automation
Sendungsverfolgung
Statusverfolgung
Umsatzentwicklung-Analyse
Verkaufsberichte
Versand-Management
Versandetiketten
Überwachung
Durchschnittliche Bewertung
Preis-Leistungs-Verhältnis
---
Nutzerbewertungen nach Bewertung
---
Nutzerbewertungen nach Unternehmensgröße (Angestellte)
<50
51-200
201-1.000
>1.001
Jason C.
Manager in Kanada
Einzelhandel, 2-10 Mitarbeiter
Verwendete die Software für: 1-5 Monate
Waste of Time
Kommentare: Poor. There are a lot of items shipping from China and are out of stock and overpriced. Waste of time.
Vorteile:
Access to a lot of items. Nothing else.
Nachteile:
You cannot make money of this site. Nearly every single item they claim to offer to drop ship is sold to you for MORE than you can list on Amazon after Amazon fees. They are more interested in selling you a membership and their drop ship providers are already selling on Amazon so you cannot complete. A genuine waste of time.