Was ist DSM Tool?
Order management and dropshipping solution that helps businesses manage active listings, monitor stocks, and more.
Wer verwendet DSM Tool?
Dropshipping management tool that enables online retailers to search, import, reprice, and ship products from multiple suppliers as well as provide customer support through a centralized dashboard.
DSM Tool – Details
DSM Tool
2016 gegründet
DSM Tool – Details
DSM Tool
2016 gegründet
DSM Tool – Videos und Bilder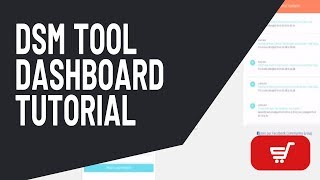 Kosten ähnlicher Produkte wie DSM Tool vergleichen
Startpreis
19,97 $/Monat
29,90 $/Monat
9,99 $/Monat
15,00 $/Monat
DSM Tool – Bereitstellung und Support
Kundenbetreuung
E-Mail/Helpdesk
Wissensdatenbank
Chat
Training
Live Online
Webinare
Dokumentation
Funktionen von DSM Tool
API
Aktivitäts-Dashboard
Aktivitäts-Verfolgung
Auftragserfassung
Auftragsmanagement
Auftragsverfolgung
Berichterstattung / Analyse
Berichterstattung und Statistik
Beschaffungsmanagement
Bestandsnachfüllung
Bestandsoptimierung
Bestandsverfolgung
Bestell-Management
Daten-Import / -Export
Datensynchronisation
Drittanbieter-Integration
Dropshipping-Services
E-Commerce-Management
Echtzeit-Aktualisierungen
Echtzeit-Daten
Echtzeitüberwachung
Einzelhandel-Lagerverwaltung
Elektronischer Datenaustausch
Integration in die Buchhaltung
Inventarverwaltung
Kanalmanagement
Kostennachverfolgung
Kundenaufträge
Kundenservice-Management
Lagerhaus-Management
Lieferanten-Management
Lieferanten-Management
Mehrere Standorte
Mehrfache Datenquellen
Multichannel-Management
Onlinekatalog
Preis- / Margen-Management
Preisoptimierung
Produktdatenmanagement
Produktinformationsmanagement
Produktkatalog
Prognose
Sales Automation
Sendungsverfolgung
Statusverfolgung
Umsatzentwicklung-Analyse
Verkaufsberichte
Versand-Management
Versandetiketten
Überwachung
Adam S.
owner in Australien
Kosmetik, 2-10 Mitarbeiter
Verwendete die Software für: 1-5 Monate
Review
Kommentare: DSMtool simply makes dropshipping nightmare world into a easy streaming online business with full potential of growth, thank you and thank you to the service team and [SENSITIVE CONTENT HIDDEN] for helping with teaching over the tolls functionality :)
Vorteile:
the auto paste functions with autmatic filling out address
Nachteile:
some functions not working at the moment due to maintenance
Lukas N.
owner in Indonesien
Einzelhandel, Selbstständig
Verwendete die Software für: Mehr als 2 Jahre
Great inventory management solution
Kommentare: no software is perfect - that being said DSM Tool consistently provides one of the greatest ROI in my toolkit. User of 2+ years
Vorteile:
- good customer service - does what it's supposed to - easy to set up user accounts for VAs - inexpensive all-in-one solution
Nachteile:
- good (not great) customer service - inconsistent price tracking (at times) - inconsistent in/out of-stock
Christopher P.
Manager in USA
Unternehmensberatung, Selbstständig
Verwendete die Software für: 6-12 Monate
Scammers
Kommentare: If you like a company taking advantage of their customers, you've found the right company!
Vorteile:
It's platform to utilize price changes even though, the prices changes didn't occur until several minutes later when I'm already losing in profits.
Nachteile:
Letting my account go! I tried for about 6 months to cancel my service and they charged me those FULL 6 months with no reimbursement..
Einzelhandel, 2-10 Mitarbeiter
Verwendete die Software für: 1-5 Monate
DSM Tools is probably an SCAM
Kommentare: This is not only the worst tool you can get for dropshipping (it does not work at all, basically and scam) but also customer service is very unprofessional and unethical, beware with their plans the webpage in intentionally tailored to be deceitful and get you to sign for a one year plan, any other tool is better than this.
Vorteile:
didn't find this tool useful at all, any other option out
Nachteile:
Integration is broken, customer service is rude and unethical
Sportartikel, 2-10 Mitarbeiter
Verwendete die Software für: Kostenlose Testversion
Scam Company
Kommentare: Very Bad - Unprofessional Rude Customer service- SCAM SCAM SCAM
Vorteile:
I registered for free membership soon after few days I started to notice so many errors in the monitoring. I contacted to cancel - no reply ..... after one month charged me through Paypal. Contacted again through Web chat (the only way to talk to these people) no satisfactory replied.- Reported Paypal Fraudulent Transaction. Beware this is s SCAM ..
Nachteile:
A software full of Error- Rude Unprofessional People - SCAM Company