Was ist Emailgistics?
E-Mail-Produktivitätstool für Team-Posteingänge, die nahtlos in Microsoft Office 365 Exchange Online und deinen Outlook-Mail-Client integriert werden können. Verwalte eine große Anzahl von E-Mails in Team-Posteingängen wie sales@ und customerservice@ mit automatisierter Zuweisung, Warnmeldungen für unbeantwortete Nachrichten und Berichterstattung schneller. Koordiniere deinen Team-Posteingang mit klaren E-Mail-Eigentumsverhältnissen und Transparenz und verpasse so nie mehr eine E-Mail und sende keine doppelten Antworten. Emailgistics optimiert deinen Team-Posteingang in Outlook.
Wer verwendet Emailgistics?
Jedes Team, das ein gemeinsames Office 365-Postfach in Outlook verwendet, um E-Mails zu bearbeiten.
Wo kann Emailgistics bereitgestellt werden?
Cloud, SaaS, webbasiert, Mac (Desktop), Windows (Desktop), Android (mobil), iPhone (mobil), iPad (mobil)
Über den Anbieter
Emailgistics
Ansässig in Mississauga, Kanada
2019 gegründet
Telefon-Support
Chat
Über den Anbieter
Emailgistics
Ansässig in Mississauga, Kanada
2019 gegründet
Telefon-Support
Chat
Emailgistics – Videos und Bilder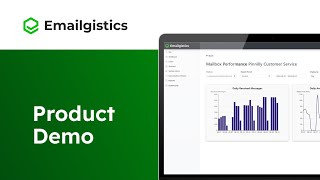 Kosten ähnlicher Produkte wie Emailgistics vergleichen
Emailgistics Funktionen
Archivierung & Aufbewahrung
Berichterstattung / Analyse
Datenwiederherstellung
E-Mail-Überwachung
Gemeinsamer Posteingang
Reaktions-Management
Routing
Suchen / filtern
Alternativen für Emailgistics
Bewertungen über Emailgistics
Verifizierter Rezensent
President in USA
Verifizierter Nutzer auf LinkedIn
Logistik & Lieferkette, 2-10 Mitarbeiter
Verwendete die Software für: 1-5 Monate
Emailgistics for team inboxes
Vorteile:
The software is easy and pretty straightforward. There aren't a whole lot of features cluttering up the design and functionality of what it was made for. Very easy to use.
Nachteile:
It feels like email goes a tad bit slower with the outlook add in. I've noticed that some outlook add ins can cause it to lag. It's not too bad, barely noticable.
Antwort von Emailgistics
vor 5 Monaten
Thanks for your review and the feedback regarding the add-in lag. Some good news our development team was able to take advantage of a Microsoft update earlier this year and created a new Outlook add-in. This new add-in has improved preformance and eliminated the lag in the earlier version of our add-in. If you would like some assistance to install Version 2 of our add-in please contact support@emailgistics.com.
Brad G.
General Manager in Kanada
Transport/Güterfrachtverkehr/Schienenverkehr, 11-50 Mitarbeiter
Verwendete die Software für: Mehr als 2 Jahre
Emailgistics
Vorteile:
How easy it is to use. How it has streamlined the flow of email in our office. How it integrates with outlook so easily. Your staff doesn't require any extensive training.
Nachteile:
It doesn't answer emails automatically. That was a joke obviously ... lol I can't honestly think of a con at the moment.
Antwort von Emailgistics
vor 2 Jahren
Thanks for the review Brad, delighted that we could help make your team more productive in Outlook. Happy emailing, The Emailgistics Customer Success Team
Connie B.
Marketing & Operations Manager in Australien
Finanzdienstleistungen, 11-50 Mitarbeiter
Verwendete die Software für: 6-12 Monate
Great piece of software for queue management
Kommentare: I couldn't efficiently manage our workflow without it.
Vorteile:
Integration was fairly seamless and the dashboard is easy to navigate around. The support you receive from the team is also great, especially at the start. They helped us work out the appropriate rules for our business and helped us through some initial technical teething problems. They are quick to respond to any queries you have as well.
Nachteile:
Some of the aspects in the dashboard could be improved for more complex scenarios like being able to add one holiday schedule for all users however the team are always open to constructive feedback when forwarded on.
Antwort von Emailgistics
vor 3 Wochen
Hi Connie, thank you for taking the time to share your feedback! We love helping teams get the most out of Emailgistics and their shared mailboxes so we are pleased to hear our support has been great. For holiday scheduling for all users, we recently improved our scheduling capabilities with the improvement to schedule a holiday for all users - we'll be in-touch to show you how you can take advantage.
Michael M.
Manager Operations in USA
Elektrische/elektronische Fertigung, 201-500 Mitarbeiter
Verwendete die Software für: 1-5 Monate
In the balance it is positve
Kommentare: Answered above
Vorteile:
Its general organization has led to an improved methodology for delivering responses: 1/ Respond within 4hrs. Close within 8 hrs. Use snooze if you expect to have an answer within 8 hrs. Close when you have provided the customer with an answer or your next step and timeframe. Use tasks to schedule you actions. Use the conversation ID in the Task title.
Nachteile:
Inability to have rules apply to the inbox. No association to tasks Inability to save a dash board view. Not having a count of snoozed items on the dashboard
Antwort von Emailgistics
letzte Woche
Hi Michael, Thanks for your review we appreciate your support! Happy to report that a couple of the items you mention are on our road mapu already. We have been considering the ability for workflow rules to trigger on messages that have been sitting in the inbox, not just when they arrive. Currently we are still investigating the best way to accomplish this goal. The ability to save a customized dashboard view is something we will look to address in the next few months. I'll also share your feedback on the snoozed gauge for our dashboard with our development team.
Elizabeth M.
Customer Service Manager in Kanada
Transport/Güterfrachtverkehr/Schienenverkehr, 201-500 Mitarbeiter
Verwendete die Software für: 6-12 Monate
Outstanding Service and Value
Kommentare: With the addition of Emailgistics we were able to remove the need to manually sort emails to the correct parties, resulting in an immediate increase in productivity. With their auto soft feature, you can easily apply rules to ensure that the email goes to the correct CSR. The reporting has provided insight into the volume of emails that we receive and has helped us be more productive in managing our email volume and also allows us to manage staffing levels more effectively. With visibility into our average response time, for both the hours of operation and the 24-hour period, we can measure our service level and ensure that our customers are receiving responses in a timely manner. Emailgistics is easy to use and if you have any questions, the team is always available to help. Members from the team regularly reach out to just "check in" and see how things are working. The service is very personal, making it easy to reach out when you have questions.
Vorteile:
The team offered a 30-day trial and then extended the trail for several months through the start of COVID. This extended time allowed us to fully test the system even through this unpredictable time. This thoughtful level of service was truly appreciated. The program works right in Outlook and our shared inboxes – no need to use a different program or change the way that we handle emails. Emailgistics support team is amazing, quick to respond and very open to ideas on how they can improve or make the program work for you. The "assign to previous owner" feature ensures that when a customer responds back on an email, that email will go back to that person. The Add-In feature allows the team to log in and out of the shared folder direct from their email, as well as easily assign an email to another team member, make comments for follow up and snooze the email for a later time.
Nachteile:
There are a few features that would be helpful that I know the team is working, such as being able to tag emails and more in-depth reporting. In the 7 months that we have been using it they have already added several features and they are extremely open to input and suggestions on how to make the program work for us. We did have some issues with installing the add-in with some of our users, however the Emailgistics support team was extremely helpful and solution orientated. There were also some lag issues in the beginning, but those bugs were discovered and resolved quickly.
Antwort von Emailgistics
vor 2 Jahren
Thanks for leaving a review Elizabeth, the team hear at Emailgistics is thrilled to hear such good feedback! Stay tuned for User Schedules and Advanced Reporting - two new features coming soon. Happy Emailing, Zack