Was ist Civil 3D?
Autodesk Civil 3D civil engineering design software supports BIM (Building Information Modeling) with integrated features to improve drafting, design, and construction documentation.
Wer verwendet Civil 3D?
Civil engineering design and documentation software
Wo kann Civil 3D bereitgestellt werden?
Windows (Desktop)
Über den Anbieter
Autodesk
Ansässig in San Rafael, USA
1982 gegründet
Chat
Erhältlich in diesen Ländern
Vereinigte Staaten
Über den Anbieter
Autodesk
Ansässig in San Rafael, USA
1982 gegründet
Chat
Erhältlich in diesen Ländern
Vereinigte Staaten
Civil 3D – Videos und Bilder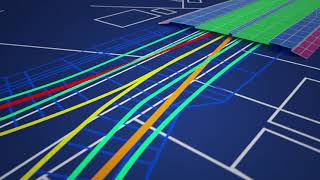 Kosten ähnlicher Produkte wie Civil 3D vergleichen
Civil 3D Funktionen
2D-Zeichnung
3D-Imaging
Berichterstattung / Analyse
CAD-Werkzeuge
Daten-Import / -Export
Design-Analyse
Dokumentenmanagement
Fertigungsdesign-Daten
Projektmanagement
Präsentations-Tools
Werkzeuge zur Zusammenarbeit
Alternativen für Civil 3D
Bewertungen über Civil 3D
André Luiz
CO in Brasilien
Verifizierter Nutzer auf LinkedIn
Tiefbau, 2-10 Mitarbeiter
Verwendete die Software für: Mehr als 2 Jahre
Great design tool.
Kommentare: After the use of Civil 3D, my infrastructure and topography projects have become more simplified and streamlined, since the implementation of BIM features makes the software itself very comprehensive and compatible with numerous other project platforms.
Vorteile:
Civil 3D is an essential software when it comes to designing infrastructure works and also in pure and applied topography projects. Its features range from the simplicity of the level curves to extremely elaborate projects such as an urbanization project. With it, it is possible to carry out projects in an automated way, saving time and adding value to the final product. In addition, everything has all the features of the already traditional and renowned autocad, using the fusion of two great tools.
Nachteile:
Autodesk products are undoubtedly highly acclaimed, however the products have a high price when it comes to small designers, the platform could provide more amortized plans when it comes to users with little volume of projects or recent graduates.
Joseph
Freelance Civil Engineer in Indonesien
Tiefbau, Selbstständig
Verwendete die Software für: Mehr als 2 Jahre
Genuinely Satisfied with Autodesk Civil 3D
Kommentare: In most cases, I utilize Autodesk Civil 3D for pipeline and structure design because of its accuracy and streamlined design process. Designing pipelines can be complicated and very time-consuming. Hence, I was glad that Civil 3D came to my aid as most of these minor pipeline details cannot be properly done on Autocad.
Vorteile:
I think it's really fun using Civil 3D because it can be connected to other Autodesk software, which helps me to switch accordingly when necessary in my projects. Also, Civil 3D made life really easy for me by simplifying the process in Pipe Network Part Replacement. Now, I can easily analyze the gravity flow and get size recommendations. After years of using Civil 3D, I can now properly understand the pressure parts in my designs.
Nachteile:
Still, very minimum tutorials are available online regarding the use of Autodesk Civil 3D with Navisworks. I believe Autodesk can make such tutorials available so that the time required to fix design challenges could be minimized.
Paolo
Engineer in Philippinen
Tiefbau, 501-1.000 Mitarbeiter
Verwendete die Software für: 1-5 Monate
3D is the only way to look at the world.
Vorteile:
If you're like me and you've been using AutoCAD for a long time, transitioning to Civil 3D is as easy as one, two, three. Instead of spending time learning the basics of a new app, I went straight to exploring the new functions 3D had to offer.
Nachteile:
Sometimes, functions are locked behind an internet connection. Like when I was out on the field with new survey data and I had poor reception, I couldn't integrate the new data to our existing network until I got back to the office and updated the survey database.
Kalitt
Architect in Panama
Verifizierter Nutzer auf LinkedIn
Bau, 2-10 Mitarbeiter
Verwendete die Software für: Mehr als 2 Jahre
Perfecto software to Engeniers and Arhcitects
Kommentare: Overall my experience with the software has been positive, I have used it for over 3 years and it has helped me to accomplish my work duties and tasks. It is a very complete and comprehensive software, you can always keep learning about it.
Vorteile:
This tool is perfect for people who work with point clouds, streets, topographies and others. The software is intuitive and on the net there are thousands of forums with help to develop projects. From sketch drawing to street planning it is the perfect software for civil engineers and structural architects.
Nachteile:
I could say that the function that I liked the least is the integration with some extensions. Also the software could be even easier to use and much more descriptive with its functions.
Audrey
Designer in Kanada
Tiefbau, 5.001-10.000 Mitarbeiter
Verwendete die Software für: Mehr als 2 Jahre
Mandatory for all design engineering firms
Kommentare: This tool has gone hand in hand with my growth as a civil engineer. Great design tool.
Vorteile:
In comparison to competitors, Civil 3D has a straightforward UI and short learning curve. Civil 3D has so many tools that I use daily, yet there are even more tools that I haven't even touched. In addition to drafting tools, Civil 3D's 3D tools saves a lot of time vs doing it by hand such as pipe networks and grading tools. There are also a lot of resources available online and very detailed tutorials. There is also a great online community.
Nachteile:
Geographic Coordinate Systems are the base of every drawing so it would be great if Civil3D had a straightforward built in tool to transform drawings between coordinates systems (similer to the tool that Microstation has)