Was ist FenixCommerce IDP?
The FenixCommerce Intelligent Delivery Platform (IDP) helps make and fulfill customer promises on the product, cart and checkout pages with real-time order routing and carrier rate shopping.
The benefits realized by our clients include:
* Improving conversion an average of 10%
* Reducing cart abandonment an average of 38%
* Reducing presales inquiries by more than 75%
* Increasing shipping revenue an average of 21%
Fenix clients range from startups to major retailers & DTC brands.
Wer verwendet FenixCommerce IDP?
eCommerce retailers and DTC brands looking to grow their topline faster than market growth, conversion and customer experience, increase shipping revenue, and streamline fulfillment operations.
FenixCommerce IDP – Details
FenixCommerce
2017 gegründet
FenixCommerce IDP – Details
FenixCommerce
2017 gegründet
FenixCommerce IDP – Videos und Bilder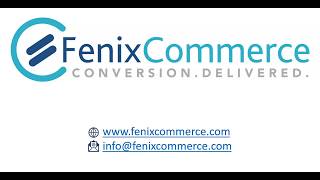 Kosten ähnlicher Produkte wie FenixCommerce IDP vergleichen
Startpreis
350,00 $/Monat
N/A
1.000,00 $/Monat
5,00 $/Monat
FenixCommerce IDP – Bereitstellung und Support
Training
Persönlich
Live Online
Webinare
Dokumentation
Funktionen von FenixCommerce IDP
API
Aktivitäts-Dashboard
Alarmfunktion / Benachrichtigungen
Angebotsmanagement
Anpassbare Vorlagen
Auftragsabwicklung
Auftragsmanagement
Auftragsverfolgung
Berichterstattung und Statistik
Bestandsverfolgung
Bestell-Management
Bestückung
CRM
Content-Management
Datensicherheit
Datensynchronisation
Drag-and-Drop
Drittanbieter-Integration
E-Commerce-Management
E-Mail Marketing
Echtzeit-Daten
Einkaufswagen
Einzelhandel-Lagerverwaltung
Elektronische Zahlungen
Inventarverwaltung
Kampagnenmanagement
Kanalmanagement
Katalogisierung / Kategorisierung
Kreditkartenbearbeitung
Kundenaufträge
Kundenkonten
Kundenspezifisches Branding
Mehrere Geschäfte
Mehrere Standorte
Mehrere Währungen
Mobiler Zugriff
Multichannel-Management
Multichannel-Marketing
Produktdatenmanagement
Rabattmanagement
Retourenmanagement
Review Management
SEO-Management
Social-Media-Integration
Treueprogramm
Umsatzentwicklung-Analyse
Versand-Management
Vorlagen
Vorlagen-Management
Website-Management
API
Aktivitäts-Dashboard
Alarmfunktion / Benachrichtigungen
Angebote / Schätzungen
Anpassbare Vorlagen
Auftragsmanagement
Auftragsverfolgung
Berichterstattung und Statistik
Daten-Import / -Export
Dokumentenmanagement
Drittanbieter-Integration
E-Commerce-Management
E-Mail-Vorlagen
Echtzeit-Aktualisierungen
Echtzeit-Analytik
Echtzeit-Benachrichtigungen
Echtzeit-Berichterstattung
Echtzeit-Daten
Echtzeit-Vergleiche
Echtzeitüberwachung
Etikettendruck
Etikettierung
Für E-Commerce
Für den Güterverkehr
Historische Berichte
Kostenanalyse
Kundenspezifisches Branding
Leistungsmanagement
Lieferanten-Management
Lieferprotokoll
Lieferschätzungen
Mobile Benachrichtigungen
Paket-Nachverfolgung
Prädiktive Analytik
Rechnungsmanagement
Rollen-basierte Genehmigung
Routenoptimierung
Self-Service Portal
Sendungsverfolgung
Standortverfolgung
Statusverfolgung
Supply-Chain-Management
Terminplanung
Transportmanagement
Versand-Management
Versandetiketten
Webseitenintegration
Wirtschaftsprüfung-Management
Zugriffskontrollen / Berechtigungen
Überwachung
Siehe die vollständige Software für Sendungsverfolgung Liste
API
Aktivitäts-Dashboard
Alarmfunktion / Benachrichtigungen
Angebote / Schätzungen
Auftragsmanagement
Auftragsverfolgung
Barcode / Tickets scannen
Berichterstattung / Analyse
Bestell-Management
Buchhaltung
Containerverschiffung
Daten-Import / -Export
Drittanbieter-Integration
E-Commerce-Management
Echtzeit-Aktualisierungen
Elektronischer Datenaustausch
Etikettendruck
Import- / Export-Management
Inventarverwaltung
Konnossement
Kundendatenbank
Kundenspezifisches Branding
Lagerhaus-Management
Lieferanten-Management
Lieferpreisberechnung
Luftfracht
Mehrere Standorte
Paket-Nachverfolgung
Paketversand
Prozess-/Workflow-Automatisierung
Rabattmanagement
Rechnungsmanagement
Reklamationsabwicklung
Retourenmanagement
Seefracht
Sendungsverfolgung
Sendungsverfolgung
Spedition
Statusverfolgung
Suchen / filtern
Transportmanagement
Versand auf dem Landweg
Versand-Management
Versandetiketten
Versandservice-Integration
Marc T.
Chief Relationship Architect in USA
Verifizierter Nutzer auf LinkedIn
Unternehmensberatung, 2-10 Mitarbeiter
Verwendete die Software für: Mehr als 2 Jahre
In Betracht gezogene Alternativen:
Best kept secret revenue finder
Kommentare: As with many retailers and thanks to Amazon, free shipping is the norm. We set the minimum cart value to trigger free shipping. This was OK but if a client ordered a small number/single item with some density and weight to them we could see profits dip. Fenix allows such a broad range of activations, triggers, thresholds, and types that we can create an extraordinary set of rules in the backend to minimize/eliminate any unnecessary losses, and often we can earn additional margin on shipping. The team is incredibly attentive and their developers turn around even the most complex tasks extremely fast to get me up and running. As the relationship developed and I see ways to optimize the backend the response team is nothing short of mighty.
Vorteile:
It's the core of cost savings when shipping, increased accuracy to alert customers when they can expect their deliveries, and ability to make money/NOT lose money on shipping costs by not only finding the most efficient options but also to charge for "expedited" delivery even if it costs me less AND I can get it to the customer faster. The tech is extremely well built in terms of VERY easily adapting to my business or any "special circumstances" I need to configure into the app. Plugging into my inventory is FANTASTIC and creates a sense of urgency that I am SURE led to and leads to more sales since using Fenix.
Nachteile:
I would like to see FenixCommerce add an app so I can monitor things easier. Not a big deal but logging in to the website from my phone is not the best experience compared to a well-designed app. Limited international shipping insights.
Mick B.
VP Ecommerce in USA
Bekleidung & Mode, 11-50 Mitarbeiter
Verwendete die Software für: 6-12 Monate
In Betracht gezogene Alternativen:
Great solution for increasing customer visibility of shipping estimates and times!
Kommentare: In a world where consumers are becoming more and more demanding on the fulfillment and ship expectations of ecommerce, Fenix helps translate backend strengths (or cover backend weaknesses) in a way that is more and more table stakes for DTC brands...without breaking the bank. Though it is somewhat difficult to imperically prove that their solution is boosting my conversion rate (at least it is difficult without complicated multi-variate testing that I can't afford right now), I rest a little easier knowing that, at worst, a lack of visibility on shipping times is no longer a major barrier to purchase on my site.
Vorteile:
This software gives small brands a chance to compete with larger ecommerce retailers when it comes to giving their customers a lens into shipping options and timing expectations. A smaller brand store can quickly start showing shipping estimates earlier in the funnel to help further reduce barriers to purchase. Fenix gives numerous options about where to serve that information including not only the checkout and cart but also product pages. I've looked at other solutions which do this but none came close to the value proposition that Fenix offered in terms of accessing this level of site sophistication with an affordable cost of entry for smaller brands.
Nachteile:
The dashboard and UI/UX are still being improved but some elements are not always intuitive or easy to find. To make edits, a user must first enable the edit functionality rather than simply make the edits and then get a confirmation screen which seemed slightly clunky. That said, their customer support is top notch and they've saved me on short notice with various fixes or custom coding to get business challenges solved in a pinch. And the self service aspect is getting better.
Antwort von FenixCommerce
vor 2 Jahren
Thanks Mick! We are proud to be a part of your DTC story and appreciate your thoughtful feedback. We are definitely working on improving the backend UX and will look forward to hearing your perspective on how we're doing as we roll out the improvements!
Muthukrishnan S.
Lead UI Engineer in USA
Einzelhandel, 10.000+ Mitarbeiter
Verwendete die Software für: 1-5 Monate
Fenix delivery estimate
Vorteile:
Accurate delivery estimate dates based on buyer's zip code.
Nachteile:
Not applicable as of now . Good product.
Antwort von Fenix Commerce
vor 2 Jahren
Thanks Muthu!
Sportartikel, 2-10 Mitarbeiter
Verwendete die Software für: Mehr als 1 Jahr
Excellent business tool for your website
Kommentare: It has been a real pleasure working with [SENSITIVE CONTENT HIDDEN] and his team. We are very demanding of our software partners and we couldn't be happier with Fenix Commerce.
Vorteile:
We sell outdoor games and sporting goods on five different websites. Fenix Commerce assists us in many different ways. It allows us to present expected delivery dates to potential customers on the product pages of our websites. I can adjust the delivery date based on the customer's location, whether the item is a stock item, customized item or an out of stock item with a future delivery date. The tool also allows us to accurately calculate and present expedited shipping on multi-box SKUs. We sell very large items with some of our SKUs shipping in as many as seven individual boxes. We challenged the Fenix staff with many things we wanted to be added to the tool. Their staff has been incredibly responsive and creative in helping us achieve our goals! Through this tool, we are able to give customers information they need to make informed decisions.
Nachteile:
We were an early user of this software. In the early days, the control panel was limited and everything had to be done on spreadsheets. The newer versions of the software have online options that allow you to make changes without the need to email the changes to Fenix Commerce's staff.
Antwort von FenixCommerce
vor 2 Jahren
Thanks so much Ken! It has always been a pleasure working with you and your team and your early feedback and requirements helped us to build a much more robust platform.
Sportartikel, 2-10 Mitarbeiter
Verwendete die Software für: Mehr als 1 Jahr
Helps ecommerce shoppers with accurate/data driven delivery expectations
Kommentare: It has been great working with [SENSITIVE CONTENT HIDDEN] and team. Very responsive.
Vorteile:
Shoppers feel far more comfortable making a purchase when they know when the product is going to arrive. Until now, this has been available only with large stores like Amazon. The product, cart, and checkout shows this prediction with high accuracy based on all your business data available. But more than that it optimizes, the whole ship time frame and ship cost based on your product data. It factors in more than weight and dimension... shipping lead times, cut off times per warehouse, holidays. If you are shipping from one location or multiple, it optimizes your data to show the best option to the customer.
Nachteile:
I would just like to see more reporting so we can build in an improvement routine to optimize our spend further.
Antwort von FenixCommerce
vor 2 Jahren
Raphael, thanks so much for the kind words...and for your longstanding advocacy, your collaborative spirit, and all your help making the platform better! We couldn't have gotten to where we are without you as a client. Be on the lookout for enhanced reporting functionality coming soon!