Was ist ReadySetAuction?
Unlike other products, ReadySetAuction is designed to allow nonprofit staff and volunteers to run their events themselves. This dramatically lowers the cost, making fundraising events affordable for virtually every nonprofit. ReadySetAuction was an early innovator in developing fully web-based solutions that handle all the major tasks for running a successful event including tracking attendees, donations of goods and services, catalogs, sponsorships, guest seating, mobile bidding, and check-out
Wer verwendet ReadySetAuction?
Designed for non-profit organizations of all sizes, it is a web-based solution that helps create online auction catalogs and custom event websites for receiving donations.
Wo kann ReadySetAuction bereitgestellt werden?
Cloud, SaaS, webbasiert
Über den Anbieter
SofterWare
Ansässig in Horsham, USA
1981 gegründet
Telefon-Support
24/7 Live-Support
Chat
Erhältlich in diesen Ländern
Australien, Kanada, Vereinigte Staaten
Über den Anbieter
SofterWare
Ansässig in Horsham, USA
1981 gegründet
Telefon-Support
24/7 Live-Support
Chat
Erhältlich in diesen Ländern
Australien, Kanada, Vereinigte Staaten
ReadySetAuction – Videos und Bilder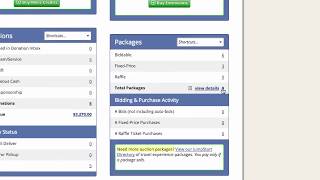 Kosten ähnlicher Produkte wie ReadySetAuction vergleichen
ReadySetAuction Funktionen
Abrechnung & Rechnungsstellung
Brief-Gebote
Gebot-Management
Mitgliedschaft-Management
Online-Gebote
Online-Versteigerung
Option "Jetzt kaufen"
Spender-Management
Website-Management
Alternativen für ReadySetAuction
Bewertungen über ReadySetAuction
Janine Z.
Administrative Secretary in USA
Verifizierter Nutzer auf LinkedIn
201-500 Mitarbeiter
Verwendete die Software für: 1-5 Monate
Mind blowing
Kommentare: Saved us time and money!
Vorteile:
Just about EVERYTHING! My company switched from Greater Giving to ReadySetAuction this year for our Fall Festival and Silent Auction and what a difference did it make. RSA saved me so much time this year, all I had to do was put the correct information in and the software did everything else for me (no more days of having to type the same information 3 different times in 3 different places). This software is EXTREMELY user friendly, their customer service is top notch and the price is right. Another benefit for me was it's compatible with DonorPerfect! I would highly recommend this to anyone!
Nachteile:
I really have no BIG complaints about this software. My only hiccup was that you can't have 2 packages with the same name (for instance, we do a silent auction of gift certificates and if you have 2 gift certificates for the same place and same amount but you want to separate them, you have to change the name of the second one slightly, even if that means just putting an extra space).
Antwort von SofterWare
vor 5 Jahren
Hi Janie, Thank you so much for the awesome testimonial! Our product manager submitted your suggestion for improvement to our Suggest & Vote, where clients submit their ideas and vote on those that are most important to them. Every release of ReadySetAuction has included at least one client suggestion, so we truly are listening to your feedback.
Dina R.
Director of Development in USA
Non-Profit-Organisation Management, 11-50 Mitarbeiter
Verwendete die Software für: Mehr als 2 Jahre
In Betracht gezogene Alternativen:
Made going "Virtual" easy!
Kommentare: I love Ready, Set, Auction and have not only recommended it to many people but have also had many people who participated in my events ask me about it. I highly recommend the telephone customer service with the package. I honestly think that should just be added into the cost and included, because you can save yourself hours of stress and frustration with one quick call. Their phone customer service is very good. One thing I like most about RSA is that they are very responsive and if you have an idea or a request for a change, they are very likely to listen and actually change it! That is rare. Much better than the systems I used to run events at much larger organizations. Money well spent. We eliminated the need to do a live auction AND a silent auction by putting all our big ticket items in a mobile auction!
Vorteile:
This product is easy to use from a auction standpoint and made having a mobile auction very easy! I have used it once in a Live event experience (with a mobile auction) and once in a 100% virtual event environment. Great turnkey process for a mobile auction!
Nachteile:
It is a little difficult on the Patrons to have them have to sign in and make a password every year. Many people ended up getting confused and making a duplicate profile with a different email. A link to the original profile for those that exist already with a "forgot password" option might be more streamlined.
Michael H.
Co-Founder | Creative Director in Kanada
Verifizierter Nutzer auf LinkedIn
Marketing & Werbung, 2-10 Mitarbeiter
Verwendete die Software für: 1-5 Monate
Good option for charities and non-profits
Kommentare: ReadySetAuction has been perfect for running auctions (both online and live) for various non-profit organizations. It's easy to set up and get running even for the non-technical people.
Vorteile:
First and foremost, ReadySetAuction is amazing solution for non-profits looking to run auctions. RSA integrates perfectly with DonorPerfect allowing you to keep track of everything under one roof. The interface is relatively easy to set up, but be prepared to invest a good amount of time setting up and adjusting your auction or event, as there's a ton of settings and variables that need to be adjusted.
Nachteile:
It takes a bit of time to set up an auction or event, and the flexibility/customization of the program is a bit limited.
Antwort von SofterWare
vor 2 Jahren
Thank you for completing a review of ReadySetAuction. ReadySetAuction integrates with DonorPerfect. We have many clients that use this software for their auctions. I am glad to hear you were successful using it for your auctions. I the Client Relations Team can be of assistance please call us at (800) 220-3537. Regards, Ellen Molon, Client Relations Specialist.
Tracie R.
Development Coordinator in USA
Non-Profit-Organisation Management, 11-50 Mitarbeiter
Verwendete die Software für: 1-5 Monate
So Easy!
Kommentare: Easy to understand and use.
Vorteile:
We are new to Ready, Set, Auction. We signed up and then had to have our auction the same week, and a holiday week at that. It was so easy to set up and use, when I did have a question the response was fast and helpful. Loved it. Almost excited to have another auction.
Nachteile:
too new to know but so far everything was great!
Sarah T.
Auction committee member in USA
Verwendete die Software für: Mehr als 2 Jahre
Organized data and payments give donors / bidders confidence and give staff sanity. Worth the $.
Kommentare: ReadySetAuction has enabled us to raise money for significant growth projects at our school.
Vorteile:
ReadySetAuction allowed me to lead a team of excellent high school students to complete our auction checkout very quickly, after only a couple of short training meetings (1 hr or less). Data entry also went very quickly and with minimal errors, thanks to good software design. ReadySetAuction allows many people to share the load of data entry, check in and checkout. It is not 100% foolproof but has good safeguards. It has all the features I needed to manage and present our auction data and take payments. The instant email receipts are my favorite feature, because they are useful and look professional to our guests. This system is very well designed and has been tested over years with many customers. We have had no serious problems in 3 years of use... no lost data or payments. Thankful for reliability! For 3 years we used the Complete plan (paper bid sheets, self checkout option), and it has gone so well that we are hoping to upgrade to mobile bidding next year!
Nachteile:
Event website design themes are limited and look a little dated. (Yet it's functional and we can't make it too ugly either, which I appreciate!) Guests must create an account before purchasing tickets or even seeing ticket price options. We finally realized we need to put prices into the main text of our event website to shrink this barrier. Both of these problems were true for us this year, but could be fixed before next year... a great thing about a web application!
Antwort von SofterWare
vor 4 Jahren
Hi, Sarah, Thank you for taking the time to write a detailed review, and I've passed your information onto the Product Manager for ReadySetAuction, Evan. He replied: "Please let Sarah know that it is on the development road map for this year to eliminate the barriers noted regarding creating an account before purchasing tickets and about displaying ticket prices." We're very happy that you have used RSA to save organization time and to generate more revenue at auctions, accurately, confidently and securely. We agree that a short training session with all staff prior to the event is a key to success. Thank you for your feedback! ~Susan Manager, Client Relations