Was ist ALERE?
Designed as a general-purpose ERP package, ALERE seeks to solve the day-to-day usability issues to allow organizations to run more efficiently. Infinitely flexible, with high levels of process automation and a user-friendly interface, ALERE provides a means to monitor an organization's workflows in real-time to provide the best possible data for decision making while minimizing redundant data entry. ALERE's manufacturing and inventory toolsets are second to none in the industry.
Wer verwendet ALERE?
Discrete manufacturing companies that run make-to-stock, make-to-order, or mixed-mode manufacturing environments. Organizations that require granular control over inventory levels and cost.
ALERE – Details
TIW Technology
1983 gegründet
ALERE – Details
TIW Technology
1983 gegründet
ALERE – Videos und Bilder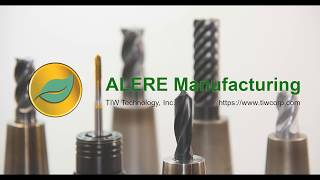 Kosten ähnlicher Produkte wie ALERE vergleichen
Startpreis
Nicht verfügbar
Nicht verfügbar
499,00 $/Monat
20,00 $/Monat
ALERE – Bereitstellung und Support
Kundenbetreuung
E-Mail/Helpdesk
FAQ/Forum
Wissensdatenbank
Telefon-Support
Einsatz
Cloud, SaaS, webbasiert
Windows (Desktop)
Windows (On-Premise)
Android (mobil)
Training
Persönlich
Live Online
Webinare
Dokumentation
Videos
Informationstechnologie & -dienste, 2-10 Mitarbeiter
Verwendete die Software für: Mehr als 2 Jahre
Alere Offers Robust Functionality Reflecting Decades Of Ongoing Development & Improvement
Kommentare: Alere's publisher, TIW Corp, has provided superb customer service, both to our company as well as directly to our clients. This is definitely a company who understands the importance of timely responses to issues and have always gone out of their way to provide thorough resolutions. Their annual software maintenance is one of the best investments our clients can make and we never hesitate to heartily recommend that our clients stay current in order to take advantage of the new features Alere consistently provides each year.
Vorteile:
Conative Information Technolgy specializes in providing software that accommodates and streamlines existing business workflow and assisting our clients to accomplish their stated goals and objectives. We often write custom programs that integrate with existing ERP systems. We've worked closely with Alere since the early 90's and have always been impressed with their technical depth and clearly evident commitment to providing software that preserves these custom changes even as their product evolves over time. Their custom development framework is the best we have seen in over 30 years in the business. Our clients have found Alere easy to use and navigate. Due to the design of Alere's library of intelligent objects , integration with other company systems has been accomplished with ease.
Nachteile:
Since we reside in Canada, we have had to integrate Canadian-specific payroll programs with Alere, but this has never proven to be much of an issue as there are several ways to integrate and analyze the data.
Matt R.
General Manager in USA
Groߟhandel, 11-50 Mitarbeiter
Verwendete die Software für: Mehr als 2 Jahre
Matt Rizzo Review of ALERE ERP Software
Kommentare: One of the biggest benefits we have realized is we have managed to reduce our inventory carrying costs by 40% while still stocking all the inventory we need. ALERE's robust inventory control helped us make sure we only purchase items when we need them whereas we used to stock too much slow moving inventory. We are closer than ever to "just in time" inventory control. ALERE's exceptional support of multi-tasking also allowed us to reassign 25% of our order fulfillment people to revenue generating positions such as sales and marketing which resulted in increased revenues.
Vorteile:
There are many pros including robust inventory control and order fulfillment functionality. In addition, there is tremendous consistency throughout the screens. The result was that once I learned the sales module, I essentially also knew the purchases module due to the consistency. This is important because I do a great deal of multi-tasking. One final pro is the comprehensive nature of ALERE which allows it to manage all facets of our operations including inventory control, order fulfillment, procurement, financial reporting and service operations.
Nachteile:
I really can't think of any cons but if I had to list something, I would suggest improved dashboard screens for increased data visibility.
Melissa F.
Finance & HR Mgr in USA
Chemikalien, 2-10 Mitarbeiter
Verwendete die Software für: 6-12 Monate
New User
Kommentare: Everyone is able to find out information through the system, instead of constantly asking if an order has been placed. There are less errors with duplicate orders because of the warnings. On my end, setting up the system wasn't as bad as I was imagining it, and the learning curve was short for new users. We are still learning new tricks, but people have picked up the system rather quickly.
Vorteile:
This software has so many capabilities that we didn't have available in our last software. The ease of finding information is great. We all love being able to have multiple windows up at once.
Nachteile:
Sometimes the different tabs of the modules can take time to load, and we had some problems with errors and the system freezing up. The most problematic area is mass emailing, currently there is a large work-around to be able to send out mass emails from G-Suite. Also, we would like to be able to input customer information when using the mobility app.
Antwort von TIW Technology
vor 2 Jahren
Hi Melissa, Thank you for the feedback. There shouldn't be a large amount of lag time between opening a tab and the feature set of the module loading. If you're experiencing that kind of issue, please let Technical Services know. We'll be happy to take a look at your data to see if it's something we can help rectify within ALERE. I'll be happy to float the idea of integrating with G-Suite past development when we compile the feature-set wish list for the next version. It may also be possible to add that integration as a customization for your organization if desired immediately. If there are other items, or functionality, you would like to see in ALERE as part of the base product, please feel free to email tech@tiwcorp.com with the feature request and we'll investigate it. Thank you again, Tim
Informationstechnologie & -dienste, 2-10 Mitarbeiter
Verwendete die Software für: Mehr als 2 Jahre
Excellent ERP Program for SMB Market
Kommentare: ALERE is excellent ERP solution for small to medium size business in distribution and manufacturing industries. Well organized and connected data structure provides powerful and easy to use ERP program without complex and confusing user interface. Reason pricing and low maintenance cost allow users to keep up with latest version which comes with new enhancements and better reports.
Vorteile:
Easy to learn and use in most area of company work including accounting, inventory management, distribution and manufacturing. Normalized data structure eliminates duplicate information stored in multiple places. Drill down allows auditing process or researching information work pretty simple and straight forward. Reasonable purchase price and low maintenance cost is the best in SMB ERP market. Fast and knowledgeable support team provides dependable assistance in problem solving.
Nachteile:
Front end program is still based on VFP9, which make some large transaction processing slow. VFP also creates ungraceful program crash in case of program or data error.
Dennis M.
Sales VP in USA
Computer-Software, 2-10 Mitarbeiter
Verwendete die Software für: Mehr als 2 Jahre
Great Value, ever improving, company that Listens
Kommentare: I have implemented ALERE for many companies converting from sage Pro, dynamics and older MAS 90/200.
for the end user customer, you get a software product that has been designed to be upgraded meaning you pay for business software maintenance and get to use with carrying any configurations over from version to newer version. Of course, recent change from ALERE v14 to ALERE v15 introduced multi line customer's and supplier's addresses but 3-4 hours of custom forms changes - cosmetics - and on the new version with some 50+ improvements, new document management features , better service tickets and dispatching. You as a customer get value
Vorteile:
In the world of software where every company buying software wants to implement and configure the software to meet business needs, ALERE makes this possible.
Nachteile:
Not well know in the industry and localized in Eastern PA makes it difficult for Central and mid west companies to know