Was ist AhaSlides?
AhaSlides eignet sich hervorragend für den Unterricht, Besprechungen, Workshops und jedes Ereignis, das von der Interaktion der Zielgruppe profitiert. Du kannst Umfragen, lustige Quiz, Wortwolken, ansprechende Frage- und Antwortsitzungen zu deiner Präsentation hinzufügen. Die Ergebnisse werden live in ansprechenden Formaten deiner Wahl angezeigt und aktualisiert. AhaSlides wird von Profis auf der ganzen Welt geschätzt, wenn es um beeindruckende Performances auf der Bühne geht.
Kostenlose Nutzer haben unbegrenzte Fragen und uneingeschränkten Zugriff auf alle Folientypen. Keine Kreditkarte erforderlich.
Wer verwendet AhaSlides?
Event-Gastgeber, Seminarorganisatoren, Lehrkräfte, Pädagogen, öffentliche Redner, Teamleiter, HR-Manager, Trainer
Wo kann AhaSlides bereitgestellt werden?
Cloud, SaaS, webbasiert
Über den Anbieter
AhaSlides
Ansässig in Singapore, Singapur
2019 gegründet
Telefon-Support
24/7 Live-Support
Chat
Erhältlich in diesen Ländern
Singapur, Vereinigte Staaten, Vereinigtes Königreich
Über den Anbieter
AhaSlides
Ansässig in Singapore, Singapur
2019 gegründet
Telefon-Support
24/7 Live-Support
Chat
Erhältlich in diesen Ländern
Singapur, Vereinigte Staaten, Vereinigtes Königreich
AhaSlides – Videos und Bilder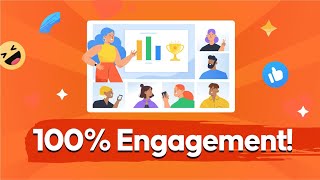 Kosten ähnlicher Produkte wie AhaSlides vergleichen
AhaSlides Funktionen
Animation
Anpassbare Fragen
Anpassbare Vorlagen
Audiodatei-Management
Befragungs-/Umfragemanagement
Berichterstattung / Analyse
Datenanalyse-Werkzeuge
Datenvisualisierung
Echtzeit-Daten
Feedback-Management
Kundenspezifisches Branding
Live-Ergebnisse teilen
Medienbibliothek
Mehrere Fragetypen
Online-Umfragen
Präsentations-Tools
Q&A Management
Quiz
Telefonumfragen
Umfragen & Feedback
Umfragen/Abstimmungen
Video-Unterstützung
Vorlagen-Management
Zugriffskontrollen / Berechtigungen
Alternativen für AhaSlides
Bewertungen über AhaSlides
Marc V.
Consultant in Niederlande
Informationstechnologie & -dienste, Selbstständig
Verwendete die Software für: 1-5 Monate
In Betracht gezogene Alternativen:
Easy to use, feature rich, interactive presentation software
Kommentare: For a client I wanted to have lots of interaction with the audience (around 150+ people) for a short period of time. With AhaSlides this was very easy, successful and for a good price! After the job was done I just discontinued the subscription ... until the next time I need to do something similar ;-)
Vorteile:
AhaSlides has many templates for different forms of interaction you would like to use in your presentations. Only open questions or only closed yes/no questions would be boring and inapplicable for all interactions. AhaSlides provides many means for all kind of interactions you would like to have. Besides all the features AhaSlides is really smart with data. During development of the presentation you have great options to test it, fill in some dummy data and reset all data just before the actual presentation. Afterwards it is very easy and convenient to export the data from a session and process it offline. Great, awesome tool!
Nachteile:
AhaSlides is a tool for building presentations with online interactions with your viewers. It is not a tool to build 'broadcasting' presentations with.
Antwort von AhaSlides
vor 9 Monaten
Thank you so much for your sharing! Glad that we were able to help you interact more with your audiences. The reason we created AhaSlides was to encourage more interactions between people, regardless of the physical distance. Cheers!
Jeremy C.
Worship Leader in USA
Religiöse Einrichtungen, 501-1.000 Mitarbeiter
Verwendete die Software für: 1-5 Monate
The best large group game out there
Kommentare: AhaSlides is way more that a game software. However, the ability to host a massive game of 100's or even 1000's of participants is excellent. This is a strong feature that many seek, the ability to engage and interact with your large audience, and to have them interact with you in a meaningful way. AhaSlides deliver on just that.
Vorteile:
AhaSlides was the best program I've used so far for large group activities. We were seeking a live host driven "Jackbox" experience, and AhaSlide made that super easy! I've used Kahoot before, kahoot is clunky, goofy and unprofessional. And I hate Kahoot's stupid song and sound effects. AhaSlides was completely customizable! I said it when I was interacting with your support team, you aren't the cheep alternative to Kahoot. But I'll go one step further, Kahoot is the lower quality, more expensive alternative to AhaSLides.
Nachteile:
On my first use with their software, I had small issue with hardware compatibility on different Mac computers, and our projection system. AhaSlides would not display all the graphics on screen depending on the type of computer and browser we showed it on. We have a state of the art $10,000,000 broadcast facility with up to date video switcher systems. At the end of the day, it appeared that AhaSlides was very inconsistent with the way it displays across different browsers and computers (the most stable environment was a PC running Chrome, the least stable environment was a iMac running Safari) At the end of the day, I am a PC user, but I know that the vast majority of the time when I show up to any venue of any size, that Apple products are going to be used for video. So I need to be ready for any PC or Apple situation I find myself in, and so does AhaSlides. To thrive, your program needs to be airtight across all major platforms. Do not expect all organizations to be able to change platforms and browsers to get AhaSlides to work. Most aren't will to go through that work, and many don't even have that felxibility.
Antwort von AhaSlides
vor 2 Jahren
Glad to know that you enjoy our product! The AhaSlides team works very hard to ensure that you, the customer, would have the best experience. Our product also aims towards business professionals such as yourself, so knowing it helps you is great news to us! Regarding the compatibility issue that you mentioned, we are still trying our best to make AhaSlides run smoothly on all platforms. Stay tuned!
Guisselle C.
Grant writing officer in Nicaragua
Non-Profit-Organisation Management, 51-200 Mitarbeiter
Verwendete die Software für: 1-5 Monate
In Betracht gezogene Alternativen:
AHA slides: my first experience with this type of software
Kommentare: It was a good experience overall. It made my presentation very dynamic and everyone enjoyed the trivia while also learning about the exposed topic.
Vorteile:
That it was easy to use and understand. It was my first time ever using it, and the meeting I had was kind of a last-minute thing. Thus, I didn't have a lot of time to thoroughly familiarize myself with the software, but everything ran smoothly.
Nachteile:
That a lot of the customizable settings were very limited, and it didn't quite fit into the aesthetic that I was going for. Additionally, I started working on the question templates first, for a trivia kind of activity. I then imported my PowerPoint presentation, and I had a hard time organizing each slide because the interface was just too simple.
Antwort von AhaSlides
vor 8 Monaten
Thank you for using AhaSlides! We really appreciate your kind review. We are working to add more customization options to AhaSlides in the future, so stay tuned!
Paul G.
Owner in Niederlande
Finanzdienstleistungen, Selbstständig
Verwendete die Software für: 1-5 Monate
Economic solution for sporadic user with all the features from much more expensive KAHOOT
Kommentare: Provided a training for a group of 10 people. Was familiar with KAHOOT, but had decided to forego an interactive element in my presentation due to the costs.
Discovered AhaSlides the evening before my training session.
Without having used the software before, I was able to set up various polls and quizzes to support and enhance my training. Was also very pleasantly surprised with the ability to export responses to excel, but also, export all sheets including participant's responses in a pdf slide package, which can then be shared with participants after the presentation together with the presentation itself.
Vorteile:
Easy to quickly set up. My use revolved around simple quizzes and polls. My use is sporadic, so was not interested inexpensive and long term subscriptions. The 1-day option was exactly what I was looking for without breaking the bank. Reporting feature after your presentation is very useful.
Nachteile:
Animations in imported Powerpoint are not taken over. Therefore, I had to switch between my Powerpoint presentation and the interactive website. Not a huge issue, but had animations also been copied, I would have had only 1 interface during my presentation, which would've been a huge benefit!
Hochschulbildung, 1.001-5.000 Mitarbeiter
Verwendete die Software für: 1-5 Monate
In Betracht gezogene Alternativen:
Great for one-off Slide Share and Trivia Needs
Vorteile:
I liked that I could purchase a one-day use package instead of having to purchase a monthly or yearly subscription like most other software requires (ie. Kahoot!). I do not have a daily or even monthly need for this kind of software, but when I do need it, I am very willing to purchase the one-day option. I also appreciate the education pricing options. The Trivia works very similar to Kahoot!, but Ahaslides seemed easier to use overall.
Nachteile:
I don't think there was anything negative about my experience with Ahaslides for my current needs.
Antwort von AhaSlides
vor 2 Jahren
Thank you so much for the review! The reason we created the one-time plan was so that our customer can have some fun with AhaSlides, while not having to worry about any long-term commitment. We understand that flexibility is very important to many of the users, so we always try to help you to the best of our ability.