Was ist Zebrunner?
Mit dem cloudbasierten Selenium Hub können Nutzer bis zu 1.000 Web-, Mobil- und API-Tests parallel auf mehreren Plattformen durchführen. Mit Zebrunner kannst du interaktive Videositzungen aufzeichnen, Protokolle und Screenshots veröffentlichen, die Erfolgsquote, die Infrastrukturnutzung und die Leistung des Automatisierungsteams mit wenigen Klicks verfolgen. Das zentralisierte Sicherheitsmanagement ermöglicht es, den Zugriff auf bestimmte Informationen zu beschränken und den Workflow immer stabil zu halten. 30 Tage kostenlos testen.
Wer verwendet Zebrunner?
Zebrunner wurde für Entwickler und Tester entwickelt, die vollständige Kontrolle über den Release-Zyklus und die Produktqualität benötigen. Verschaffe dir aufschlussreiche Einblicke in die Projektergebnisse in einer zentralen Automatisierungstestplattform.
Wo kann Zebrunner bereitgestellt werden?
Cloud, SaaS, webbasiert, Windows (On-Premise), Linux (On-Premise)
Über den Anbieter
Zebrunner
2020 gegründet
24/7 Live-Support
Chat
Über den Anbieter
Zebrunner
2020 gegründet
24/7 Live-Support
Chat
Zebrunner – Videos und Bilder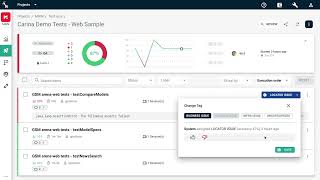 Kosten ähnlicher Produkte wie Zebrunner vergleichen
Zebrunner Funktionen
Anforderungsbasiertes Testen
Parametrisierte Tests
Sicherheit testen
Unterstützt parallele Ausführung
Alternativen für Zebrunner
Bewertungen über Zebrunner
Victor
Lead QA Engineer in Republik Moldau
Verifizierter Nutzer auf LinkedIn
Informationstechnologie & -dienste, 11-50 Mitarbeiter
Verwendete die Software für: 1-5 Monate
Arguably, the most complete tool for automation testing
Kommentare: Zebrunner helped a lot, made for us easier to test, report, and asses the quality of the product, thus saving costs and time. Their team was very quick in solving problems and offered a great support with encountered challenges.
Vorteile:
Let's start with the fact that most of the time, for achieving desired results in test automation you need to integrate with a lot of technologies. Zebrunner supports all that under the hood, for different levels of testing, be it UI, API, Mobile, Database. Also detailed reports, statistics, integration in CI/CD process and more. And this was done using open source tools.
Nachteile:
Of course nothing is perfect and needs vary by business case, hence you should try and see it yourself. For our purpose, it mostly covered it all.
Maxime
QA Specialist in Kanada
Computer-Software, 501-1.000 Mitarbeiter
Verwendete die Software für: Kostenlose Testversion
In Betracht gezogene Alternativen:
Everything you need out of the box
Kommentare: Just Awesome!
Vorteile:
I've set-up many QA Testing Infrastructure over the years and It was always long to set-up with custom code everywhere. Now you have a complete out of the box solution. This is what QA specialists need! Less time to set-up and start testing. You have all the tools you need with this solution and it comes all connected to one another. The documentation is good and the support on Telegram is just awesome!
Nachteile:
Seriously I don't see any flaws so I will simply suggest more connectors to external systems.
Tien
Technical Systems Engineer in USA
Computer-Vernetzung, 10.000+ Mitarbeiter
Verwendete die Software für: Kostenlose Testversion
Wish I could enter an excellent one
Kommentare: I think your team is quite awesome with following up with me persistently showing that your company cares about the quality of the service. Now, that I think about it, I would recommend others in checking you guys out for a selenium grid service.
Vorteile:
(I signed up for the free trial but couldn't really get started with it and was getting help to get it working with Copado Selenium Testing tool that my automated tests were going to run against your service). I'm sure if I had more time or ran out of options, I would have follow thru with your service.
Nachteile:
I supposed if Copado Selenium Testing supported your service like they do with BrowserStack and Sauce Labs then connecting with your free trial license would have been no big deal. Ultimately, my leadership team approved and we'll be using Sauce Labs like other teams at Cisco are also using Sauce Labs.
Frederic
Automation Expert Consultant in Kanada
Computer-Software, Selbstständig
Verwendete die Software für: 6-12 Monate
Zebrunner: the only tool for your complete test automation needs
Kommentare: Absolutely delightful. Every time something gets a little bit too complicated, like migrating a major version, I find all the help that I need with their support team. They are really professional and will help you solve any problem!
Vorteile:
What I like most about it is how complex it is, yet how simple it is to use it. Even the complicated components are fairly easy to use and their support team is always there to help. It is a complete stack of tools that will provide anything you need an even more. It makes writing tests easy, efficient and faster, while also making the bigger picture so simple: the small tests that you add to your project can be executed really easily on Selenoid with the built-in Jenkins that comes with it. That's not even mentioning the very impressive reporting tool that lets you review and analyze the test runs with screenshots and even video feed. You can even start test runs directly from the reporting tool, as well as use the built-in VNC to interact with a running test to see what the server sees (extremely useful for debugging).
Nachteile:
There's nothing that really comes to mind, since the support team helps with everything that's complicated for me and if anything is problematic (a bug for example), it is always already known and will most likely be fixed in the next release.
Leonid
Sr. Automation Engineer in Israel
Computer-Software, 1.001-5.000 Mitarbeiter
Verwendete die Software für: Mehr als 1 Jahr
Excellent tool for full CI/CD environment
Kommentare: Using zebrunner among with carina automation has granted me a full automation infrastructure with CI/CD abilities within a day!
Such project could take a year for a full automation + DevOps t4eam to develop on their own that will also require maintenance that could be very time consuming.
By using zebrunner, one could simply start writing automated tests (preferably using carina automation) and adding them to the CI/CD(/CT) pipeline
Vorteile:
Ease of deployment of the environment that fully supports all CI/CD requirements. Fully configured containerized Jenkins, a "Zafira" web based dashboard to show all results, SonarQube for code analysis and time saving for creating the environment for testing and running multiple tests. The support team is very responsive and can be reached directly on Telegram.
Nachteile:
Zebrunner version upgrade process might be sometimes a time consuming task. Deploying SSL based internal infrastructure is not easy.