Was ist Stackby?
Business process management software that offers spreadsheets, databases and business APIs in a centralized work management platform.
Wer verwendet Stackby?
Designed for organizations to plan, manage, and automate diverse types of work for small to large teams, enterprises, companies, SMB's, agencies, and more.
Wo kann Stackby bereitgestellt werden?
Cloud, SaaS, webbasiert, Mac (Desktop), Windows (Desktop), Android (mobil), iPhone (mobil), iPad (mobil)
Über den Anbieter
Relytree
2018 gegründet
24/7 Live-Support
Chat
Erhältlich in diesen Ländern
Vereinigte Staaten
Über den Anbieter
Relytree
2018 gegründet
24/7 Live-Support
Chat
Erhältlich in diesen Ländern
Vereinigte Staaten
Stackby – Videos und Bilder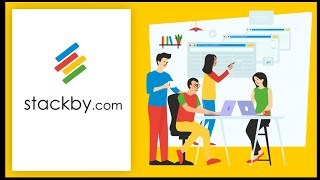 Kosten ähnlicher Produkte wie Stackby vergleichen
Stackby Funktionen
Aktivitäts-/Newsfeeds
Alarmfunktion / Benachrichtigungen
Anpassbare Vorlagen
Aufgaben importieren
Aufgaben-Fortschrittsverfolgung
Aufgaben-Tagging
Aufgabenbearbeitung / -aktualisierung
Aufgabenmanagement
Aufgabenplanung
Ausgabenmanagement
Automatisierung von Geschäftsprozessen
Backup und Recovery
Balkendiagramm
Bearbeiten in Echtzeit
Berichterstattung / Analyse
Berichterstattung / Projektverfolgung
Berichterstattung und Statistik
Budgetmanagement
Content-Management
Dashboard
Datei-Verwaltung
Daten-Import / -Export
Datenaggregation und -veröffentlichung
Datenbank-Umwandlung
Datenkatalogmanagement
Datenmanagement
Datenspeicher-Management
Datenvisualisierung
Dokumentenmanagement
Drag-and-Drop
Drittanbieter-Integration
Ereignisgesteuerte Aktionen
Erstellen von Unteraufgaben
Etikettierung
Farbkodierung/Symbole
Filesharing
Formular-Automatisierung
Fortschrittsverfolgung in Prozent
Ideenmanagement
Integrationsmanagement
KPI-Überwachung
Kalenderverwaltung
Kampagnenanalysen
Kampagnenplanung
Kanalmanagement
Kanban-Tafel
Kommentare / Notizen
Kommunikationsmanagement
Kontakt-Datenbank
Kontaktmanagement
Kundenmanagement
Leadmanagement
Marketingkalender
Medien-Planung
Meeting-Management
Mehrere Kampagnen
Meilensteinverfolgung
Mobiler Zugriff
Multichannel-Kampagnen
No-Code
Portfoliomanagement
Priorisierung
Projektmanagement
Projektplanung
Projektplanung/Terminierung
Prozessmodellierung & Design
Regelbasierter Workflow
Remote-Zugriff/-Kontrolle
Ressourcenmanagement
Roadmapping
Suchen / filtern
Terminplanung veröffentlichen
Umfragen & Feedback
Verfolgung der Kosten bis zur Fertigstellung
Visual Workflow Management
Vorlagen
Werkzeuge zur Zusammenarbeit
Wissensmanagement
Workflow-Management
Zeit & Kosten Verfolgung
Zeitverfolgung
Zielsetzung / Nachverfolgung
Zugriffskontrollen / Berechtigungen
Paul
Co-Founder in Australien
Verifizierter Nutzer auf LinkedIn
Unternehmensberatung, 11-50 Mitarbeiter
Verwendete die Software für: 1-5 Monate
By far one of the the best of breed productivity tools to enter the market for a long time
Kommentare: Stackby has been super responsive and most importantly helpful and effective. When you get the customer experience right across the entire landscape the rest falls into place, and so far that's what these guys/gals have done.
Vorteile:
Whether you want to organise data, create systems, keep track of your sales, your marketing, your business assets, and the use cases go on and on and on, this tool can help you achieve that. Also with the new Zapier (Beta) integration it opens up possibilities to bring data to and from the rest of your technology ecosystem. The two main use cases I've started using with Stackby are as a Digital Asset Management System (for my business and I've set up one of my clients in the same way ... they purchased multiple codes also) and as a Deal Management System for financial transactions. Given I'm in the PE/VC space I was pleasantly surprised that the system had relevant templates for this industry already out of the box, in addition to loads of other (what look like) very useful templates. I've poked around several and love how the one's I've checked out have been put together. It feels like whoever created them knows the requirements of the respective industries.
Nachteile:
Is it all fireworks and champagne? No. Not yet. There are a few functional things I've encountered that need improvement. The good news about this though is the company is super responsive and get's to work fast to solve stuff.
Marketing & Werbung, Selbstständig
Verwendete die Software für: 1-5 Monate
In Betracht gezogene Alternativen:
Stackby is great
Kommentare: So I've been researching different project/task management software as business is just wild right now. The app I was previously using simply doesn't have the functionality to hold up, and I tried Stackby and Airtable. While Airtable is an institution, Stackby is just as good in nearly every way, offering plenty of functions and customization, easy to learn to use, and great to keep up with. There's a few things that I want it to do that it's not doing yet, but I'm not sure whether that's because the program doesn't have the capability or because I simply haven't found it yet.
Vorteile:
ease of use, functionality, feel of dashboard
Nachteile:
still some features that I want and it doesn't have (or I can't find)
Angel
Manager in Philippinen
Versicherung, 2-10 Mitarbeiter
Verwendete die Software für: 6-12 Monate
I thought that I could rely on stackby
Vorteile:
The app appears promising, and it's very similar to airtable. I like that it's affordable than airtable. I am using it for monitoring applicants. If it doesn't delete my files, I will love this product.
Nachteile:
At first, when the records are not yet too many, I don't experience problems. Yet now, I experience it often. The product seems not yet mature, that's why it has lot of bugs and downtimes. I do hope that later on they will improve the product. For now, I still use it but I need to back up a lot.
Marketing & Werbung, 2-10 Mitarbeiter
Verwendete die Software für: 6-12 Monate
In Betracht gezogene Alternativen:
Loving this SaaS!
Vorteile:
We've found uses for this product in almost every aspect of our marketing company. Content, Design, SEO, SMM, everyone uses their own boards on stackby.
Nachteile:
I'd love to be able to bring our own APIs to the tables, but this isnt released yet. Its on the roadmap though.
Antwort von Relytree
vor 2 Jahren
Thanks Ilan for the review. Constantly striving to be better.
Dr Paul S.
Executive Search Director in UK
Verifizierter Nutzer auf LinkedIn
Unternehmensberatung, 11-50 Mitarbeiter
Verwendete die Software für: 1-5 Monate
Heading the right way (and I like it already)
Kommentare: Keeping track of sales leads and talent pipelines
Vorteile:
Very easy to set up and use VERY shallow learning curve - less technical people are not as apprehensive about using it as say Excel/Access. The form view means adding new rows can be done with zero technical effort. A large number of templates that can be customised. The ability to develop and save customised filtered views of data is good. The layout is easy to read compared to spreadsheet software like Sheets. Rows of data can be expanded and viewed sequentially like a CRM where reminders, checklists, notes and internal conversations can be entered.
Nachteile:
Moving data around between tables is a bit frustrating but fixing this is on the roadmap
Antwort von Relytree
vor 2 Jahren
Thanks Dr. Paul. Really appreciate you taking the time for the review. Constantly improving the copy/paste functionality across tables. Glad you found value :)