Was ist Auditrunner?
Auditrunner bietet eine nutzerfreundliche und umfassende Low-Code-Softwareplattform, die alle Facetten des Risiko-, Governance-, Compliance- und Qualitätsmanagements abdeckt.
Die Architektur ermöglicht es Unternehmen jeder Größe, Personen und Systeme miteinander zu verbinden, um Prozesse nahtlos zu entwerfen und auszuführen.
Diese Technologie digitalisierte über 3.000 Geschäftsprozesse in mehr als zehn Branchen, darunter:
Bankwesen, Versicherung,
Finanzdienstleistungen,
Energie,
Biotechnologie,
FMCG,
Herstellung.
Wer verwendet Auditrunner?
Kleine bis große Audit-Teams, die nutzerdefinierte Auditprozessautomatisierung, unschlagbare Integrationszeit und eine erweiterbare komplette GRC-Lösung suchen, die mit ISO, COSO, IAA, NIST, DIN, BSI usw. kompatibel ist.
Wo kann Auditrunner bereitgestellt werden?
Cloud, SaaS, webbasiert, Mac (Desktop), Windows (Desktop), Android (mobil), iPhone (mobil), iPad (mobil)
Über den Anbieter
Auditrunner
Ansässig in Santa Clara, USA
2016 gegründet
Telefon-Support
Chat
Über den Anbieter
Auditrunner
Ansässig in Santa Clara, USA
2016 gegründet
Telefon-Support
Chat
Auditrunner – Videos und Bilder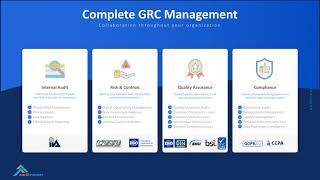 Kosten ähnlicher Produkte wie Auditrunner vergleichen
Auditrunner Funktionen
Alarmfunktion / Benachrichtigungen
Archivierung & Aufbewahrung
Audit Trail
Auditplanung
Aufgabenmanagement
Beschwerdemanagement
Compliance Management
Compliance-Verfolgung
Corrective and Preventive Action (CAPA)
Dashboard
Dokumentkodierung & -kontrolle
Formularverwaltung
Geräte-Management
Instandhaltungsmanagement
Kommunikationsmanagement
Kontrolle des Genehmigungsprozesses
Kontrollprüfung
LieferantenQualitätskontrolle
Management by Exception
Mobiler Zugriff
PIA / DPIA
Prozess-/Workflow-Automatisierung
Reaktions-Management
Richtlinien Managemen-
Risiko-Scoring
Risikoberichte
Risikobewertung
Risikomanagement
Störfallmanagement
Trainingsmanagement
Versionskontrolle
Veränderungsmanagement
Wirtschaftsprüfung-Management
Workflow-Management
Alternativen für Auditrunner
Bewertungen über Auditrunner
Uğur
Internal Control and Risk Manager in Türkei
Versicherung, 201-500 Mitarbeiter
Verwendete die Software für: Mehr als 2 Jahre
Efficient software
Kommentare: We have been using the Auditrunner, which is a product for Internal Control and Risk Management, for about 3 years. The product works in accordance with the basic rules specified in COSO and ISO 31000. The biggest benefit of Auditrunner is that we conduct our work faster also it is easier to follow-up the works. With the action tracking system, we could follow-up all the actions defined in the system in very comfortable way. Together with the risk screen, we observed that the risk awareness significantly increased within the company. In short, it made the business processes of Internal Control and Risk Management Department faster and more efficient.
Vorteile:
Auditrunner is a tailor-made software which means the supported may revise the software as you like. Internaal Control, Risk Management and Audit departments could conduct their business processes integrated. It allows us to make easier action monitoring.
Nachteile:
At the beggining it took a short time for them to make the integration between Audit runner and our software. Our company got a unique product, this is the main reason of this problem. EVentually they worked hard and solve the problem.
Mustafa
Manager in Türkei
Versicherung, 201-500 Mitarbeiter
Verwendete die Software für: Mehr als 2 Jahre
a smart solution for the audit department
Kommentare: It is time & cost effective and provides transparency
Vorteile:
Auditrunner makes it simple to communicate with different departments, auditors and the executive team alike. Everything is contained within the system. There is no need to send attachments or questions through regular email. It is intuitively designed for the auditor so you do not need to have a tech master to use it. It is an integrated system, so you can run internal audits, risk, compliance and quality audits on the same platform. The automatic follow-up system creates tasks for control owners and sends them to related departments and follows them up automatically. The Dashboard provides a quick and easy way to show info on who completed what tasks as well as the status of controls, in real-time. I like how the controls are associated with risks, opportunity and heat maps are populated on the system. It is designed to save time for the audited department as well as the auditor. Everything is transparent on the platform. Documents are in one place and access control is simple. There is also an information asset inventory. One great feature is that it generates audit reports automatically with all the info attached inline with IIA. All work can be presented for external audits or executive review. This is a very flexible environment. It is possible to add-in new modules as you need them. Auditrunner team is very receptive of customization requests. They have a great experienced team you can reach out anytime.
Nachteile:
We had been recommended of their work by others in the finance industry. I cannot think of anything that I do not like about this software.
Finanzdienstleistungen, 11-50 Mitarbeiter
Verwendete die Software für: Mehr als 1 Jahr
Head of Auditor
Kommentare: In the personalization process, we took enough support from the developers, we demanded some extra functions, we did not face any difficulties.
Vorteile:
The easy use, its simplicity, and the availability of personalization options were the reasons that we choosed this product. It was easy to set up integration between tools and functions.
Nachteile:
For us, the use of efective and aoutumatic triggers that would be feeded from the database directly, (such as the automatic alerts etc.) would be an enormous improvement.
yunus emre
head of internal audit department in Türkei
Versicherung, 201-500 Mitarbeiter
Verwendete die Software für: Mehr als 2 Jahre
Yunus Emre Gürbüz
Kommentare: We were using manual methods like Office, Excel, Word. Action follow-up was done with e-mail. Specifically, we were having problems to follow-up findings during and after external audits. Now, reports are available anytime, and in a format that can be presented to external audit teams when needed. A few years ago, KPMG audited our system. The only problematic area was the use of manual tools for the processes. Therefore, we decided to look for a solution. We had already collected several proposals but Auditrunner was the only integrated and complete GRC solution. They had a great team that would give us support.
Vorteile:
We customized and gave constant feedback to Auditrunner according to our needs as the system enabled flexibility. We added AI components and all processes were automated. Reporting and action follow-up dashboard is very intuitive, clear and fast. KPMG was greatly appreciative of our joint efforts and TIDE- IIATurkey, presented us an Awareness Award for using Auditrunner Software.
Nachteile:
There is nothing to say least about this software
Unternehmensberatung, 2-10 Mitarbeiter
Verwendete die Software für: Mehr als 2 Jahre
I Like Auditrunner
Kommentare: They were quite quick to prepare a POC for us and we had a chance to test out our unique requests. Their staff is quite knowledgeable and accessible.
Vorteile:
They are part of a Business Process Management Software company. So they know software very well. This is evident in the ease of use and customization possibilities they offer.
Nachteile:
I haven't used the software long enough